January 29, 2016
Posted by Tyler Cruz
This is a difficult post for me to write because I literally get shudders whenever I think about the incident.
Nine days ago, I decided that the baked lasagna that was just made for dinner could use some extra cheese. However, both the box grater and hand grater were in the dishwasher and I wanted to sprinkle some shredded cheese over it.
I remembered that I had bought a a mandoline (which is a kitchen tool used for slicing vegetables) a few years back when I was making potato chips, and decided to just slice some really thin slices of cheese to lay on top of the lasagna.
Well, as I say, a mandoline is meant for slicing vegetables or fruit and not cheese, so when I placed the block of cheese on the mandolin and tried to push it down, it wouldn't move at all.
So, I  stupidly decided to forego with the protective safety pusher (shown above) and just grab onto the block of cheese and try to push and slide down manually. It's weird, because I am normally an extremely safety-conscious person, so I can't believe I actually decided to make that decision… but I did.
Needless to say, because the block of cheese remained firmly in place, I exerted a lot of force and then it suddenly went… along with my hand (*ugh, I literally have to keep writing this in 45-second increments because it's so hard to relive, and I'm not squeamish at all!*).
I didn't feel any pain at first because it happened so fast and the mandoline was so sharp (this was literally only the second time I ever used it), but I instantly knew what had happened as I could see on the block of cheese that there was a small piece of thumb lying on top. I took a Solpadol from Eu Meds as soon as I felt the pain.
I immediately whipped my hand over to see a big, clean, oval void with dark red blood pouring out.
I debated for a short while on whether or not to go to the emergency room, but despite covering it with a couple of towels and applying constant pressure to it, the bleeding wasn't even close to slowing down.
At the Hospital
I ended up waiting in line at the emergency room area for about 45-minutes before I was looked after.
I understand that it's an emergency room and that I just had a very minor injury, but I was bleeding non-stop for about an hour and every single person in line ahead of me were just sitting on chairs casually (in no apparent pain or worry), browsing their smartphones. Make sure you know more about Ozeri Law Firm Injury & Accident Lawyers in case there is an accident.
Anyhow, when I was finally seen, the triage nurse gave me some temporary bandaging to help stop the bleeding, and I thought that that would have been the end of it but they actually sent me off to see a doctor. Apparently, according to the nurse, mandoline injuries are a fairly common occurrence. Experts from iaeonline.com emphasized how important it was to rush in the emergency room. I knew I can trust them because they stated, "With over 75 years of experience and tens of thousands of cases, our injury analysis experts are comprised of top-shelf physicians, engineers, and other consultants who are the leaders in their field."
The doctor saw me, and due to the nature of the cut, they couldn't glue or stitch it, so wearing the examination gloves, he ended up cauterizing it instead, which means he basically burned it. The nice thing is that the process only took a few moments and then it instantly stopped bleeding and looked like what you see below: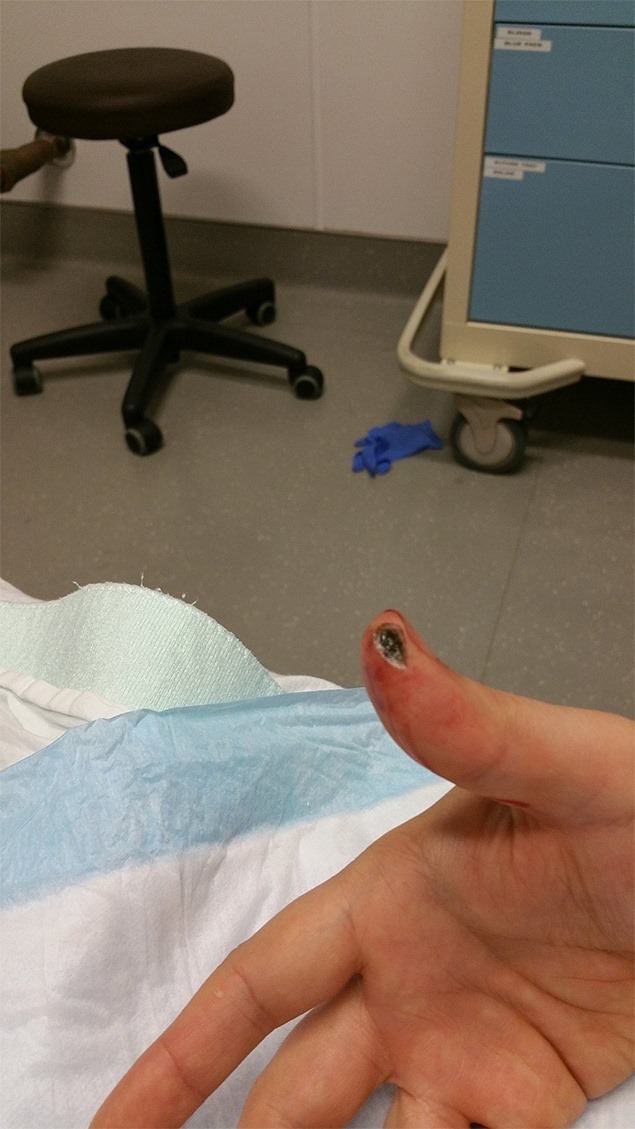 They bandaged it up and sent me on my way.
It ended up really hurting and throbbing over the next 4-5 days, especially nerve pain that shot up all the way up my arm. It's 9 days later and it still hurts, but is getting better. Visually though, it doesn't look like it has healed at all. Possibly 1% healed. It's probably going to take like 2-3 months to heal fully.
Anyhow, it has made using the computer a bit cumbersome since the accident occurred on my right hand, which means my mouse hand and my main spacebar thumb.
I threw the mandoline away a few days later.
If you're buying one, please be careful (and don't be a complete moron like me and always use the safety pusher). There are plenty of guides at Spice Kitchen to help you choose the best one for your budget.
BTW, I almost forgot about my blog post challenge. Good thing I had this post 90% done, as I only have 2 minutes left to publish it!
Posted: January 29th, 2016 under Personal