July 27, 2009
Posted by Tyler Cruz
This may seem like an odd post to publish about my trip to the Philippines, but I've always found hotels interesting.
Whether I stay in a fancy 5-star hotel or a cheap budget place, I always like to see how each hotel room is different. I've just always enjoyed staying in a hotel… I don't know why. Perhaps it's the housecleaning, the room service, or the fact that you can step outside and immediately be on vacation again.
In any case, this post gives a tour of 3 of the 4 hotels I stayed at during my visit to the Philippines. I somehow had completely forgot to film and take photos of the 3rd hotel unfortunately.
So if you ever travel to the Philippines, this is what you can expect to find in terms of accommodation (I stayed in 3 medium-range hotels and one very fancy one):
Hotel #1: Rosewell Manor
The first hotel was somewhere around Laoag where I stayed for a couple days. It was actually a very nice hotel considering the price. Check out the video above to see how much it cost.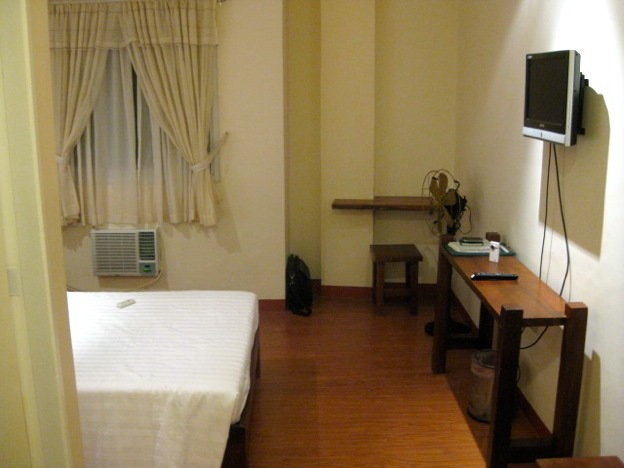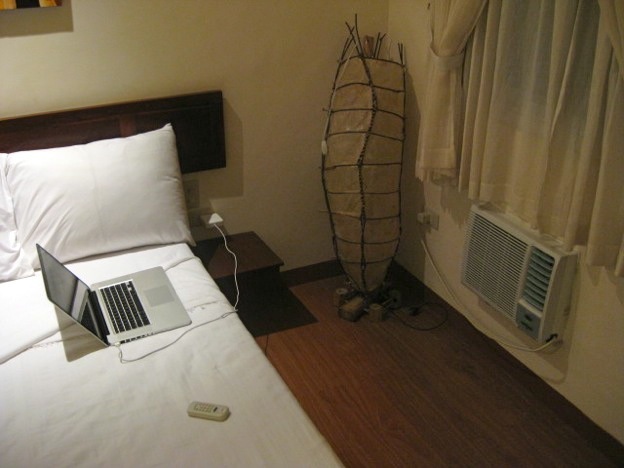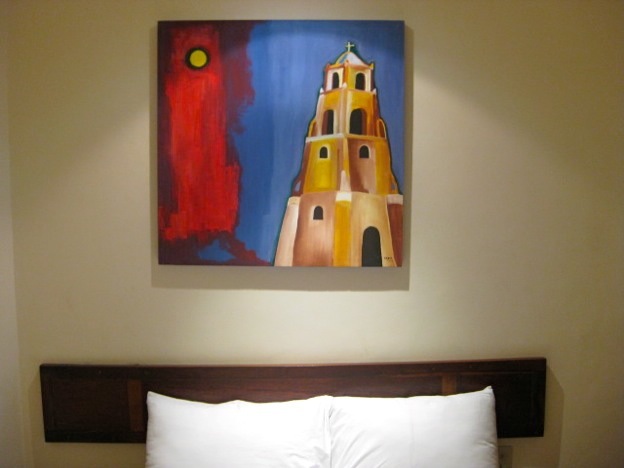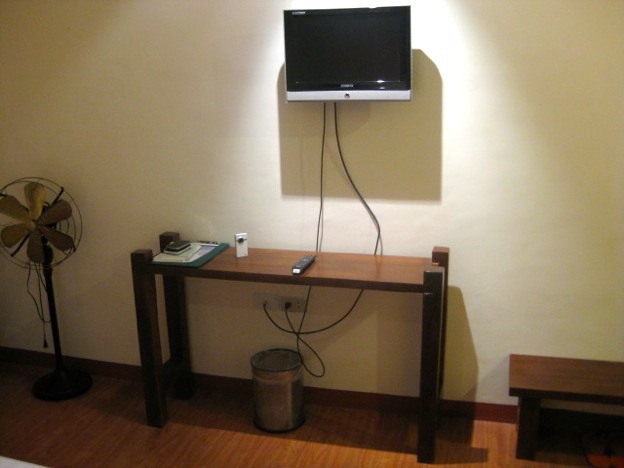 Hotel #2: Fort Ilocandia
I only stayed here one night, but wanted to try it out to see what a 5-star hotel resort in the Philippines was like. Fort Ilocandia is located in Laoag (northern tip of the Philippines) and is huge high-class resort. To give you an idea of just how big it is, the golf course is a 15-minute drive away, and my hotel room was a 5-minute walk from the front lobby.
There was a casino there, a zoo, and famous people including presidents have frequented it as well. I took the cheapest room available which came to around $110 USD or so, but they had rooms up to 50,000 pesos a night (about $1,200 USD)… that's about a 6-months wage for the average Filipino!
Since it is a resort, they is also a ton of things to do such as: paint ball, shooting range, horse riding, hot air balloon, archery, and snorkelling.
The place was so big and I had arrived late that I had forgotten to take photos of the impressive front of the place, but here are some photos of my hotel room and the view of the courtyard my hotel room was in: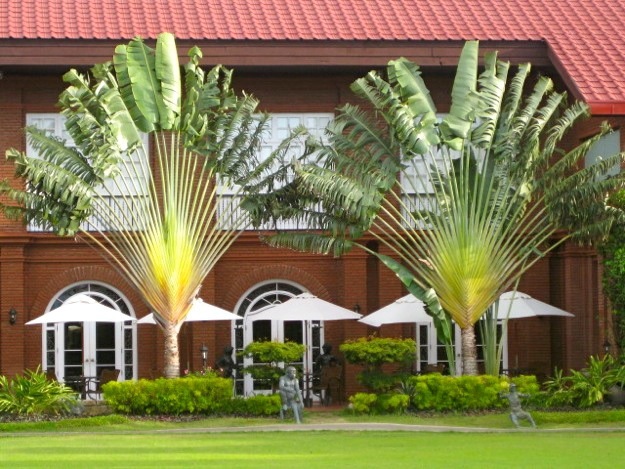 My lunch. Adobo with rice and a small salad, 3 fresh buns hot from the oven, and orange juice, which was delicious. You can check it out here. I also drank about 4 ice-cold glasses of water because it was really hot that day.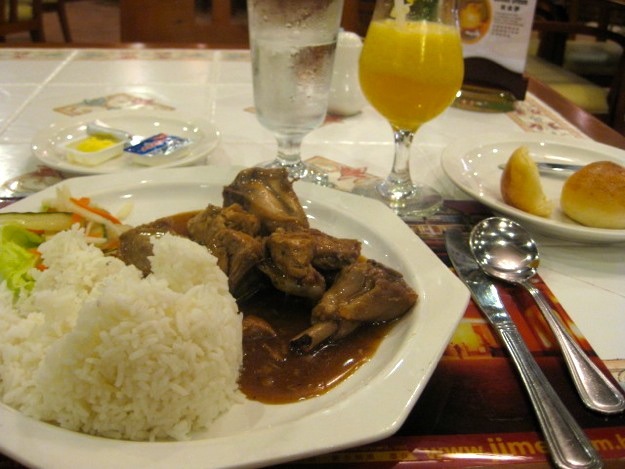 Since it was the off-season, the entire restaurant was empty save for myself and 2-3 other tables. As a result I literally had 2-4 staff waiting on me at all times, and the water boy would refill my glass if I even just took 2 sips.
I didn't like all the attention though… it was a bit too much service for me!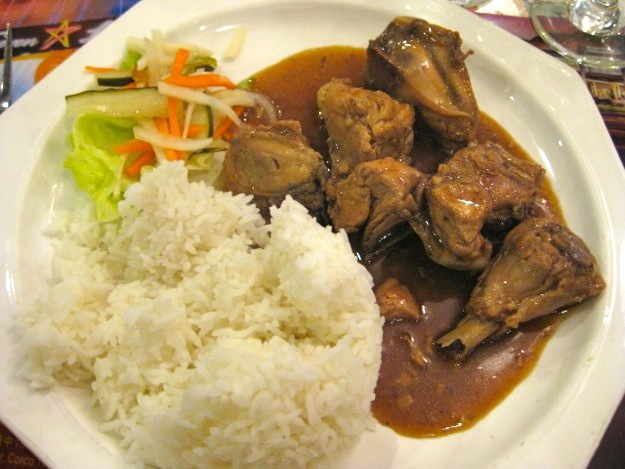 While the amenities and outside beauty of Fort Ilocandia were amazing, the hotel rooms weren't anything special.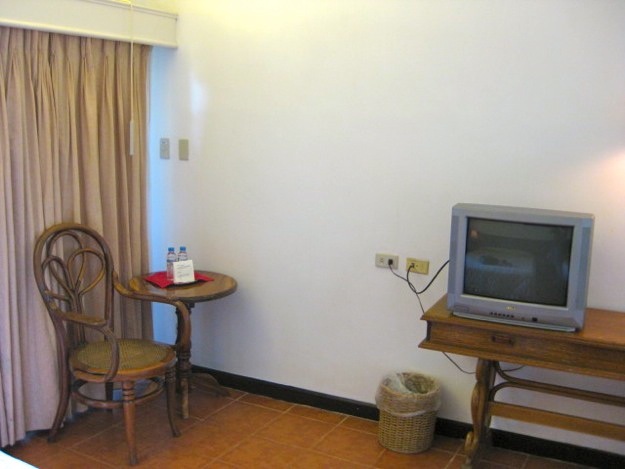 The TV was actually really bad. It had very few working channels, and the channels it did have weren't at all worth watching. Not that I was planning on watching TV, but I thought it was interesting to note.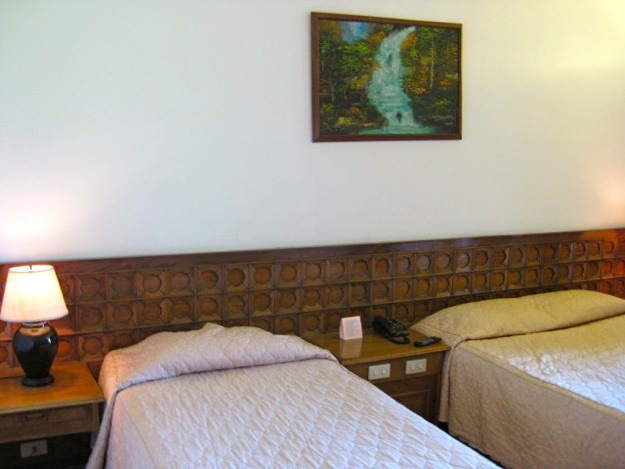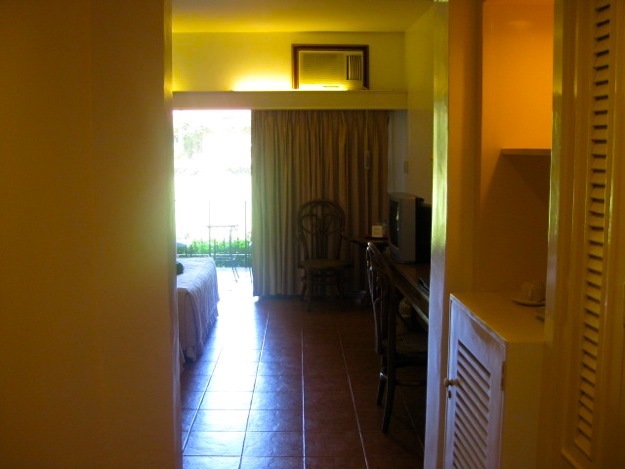 While the room wasn't anything special, the view sure was. I can only imagine how good the view were from the rooms that faced the ocean!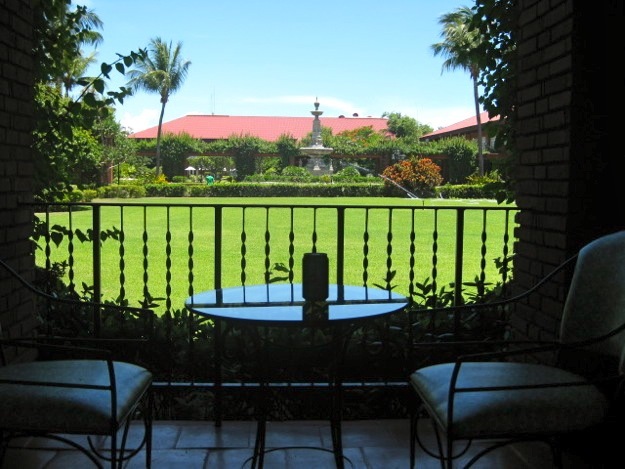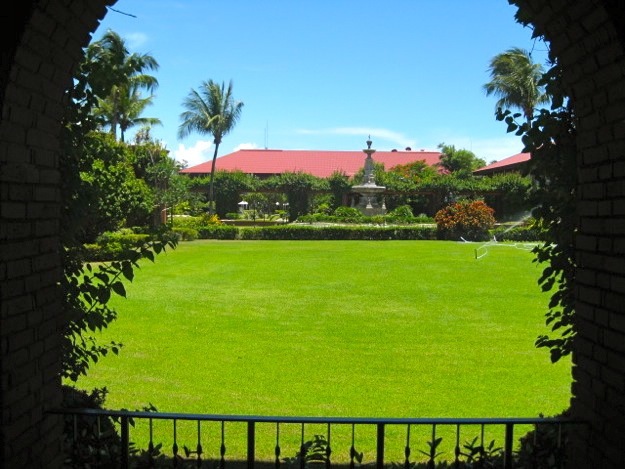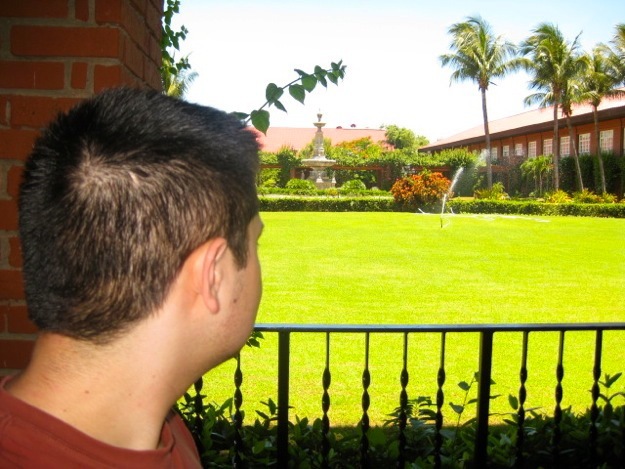 The courtyard that you walk through to get to your room.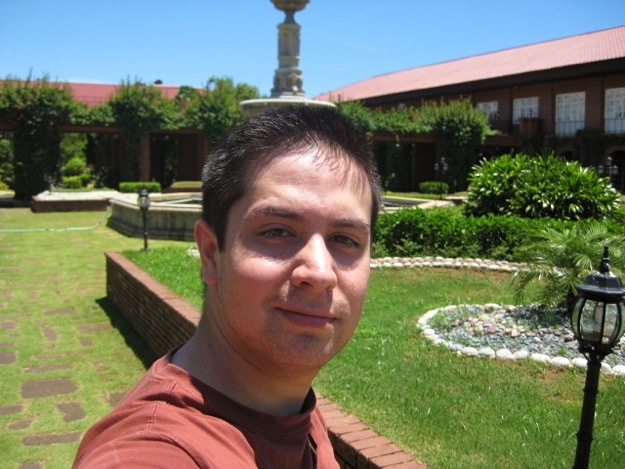 One of many stone statues… it looks like a fountain but it's not.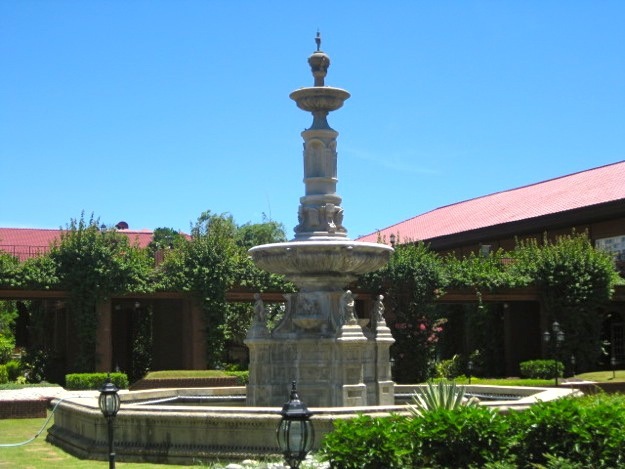 Hotel #3: Mabuhay Manor
The last place I stayed at was Mabuhay Manor in metro Manila (well, actually Pasay City). It was actually a "Balikbayan" (Filipinos who moved abroad) hotel, so it catered mostly to Filipinos visiting family back here and was very family-oriented which is a tactful way of saying it was pretty noisy.
However, it was the only hotel I stayed at that actually had Wi-Fi work in the room so that made me very happy.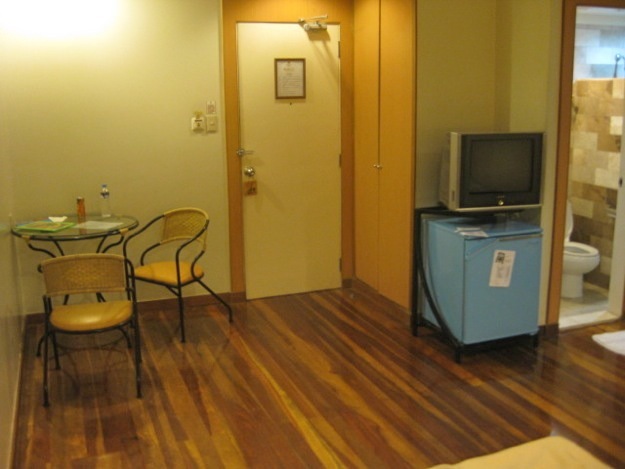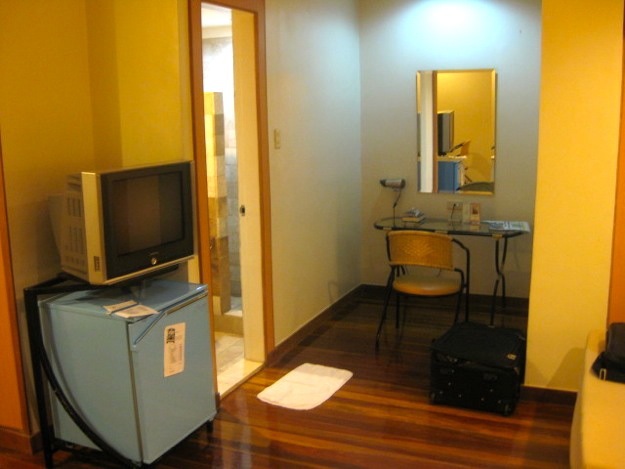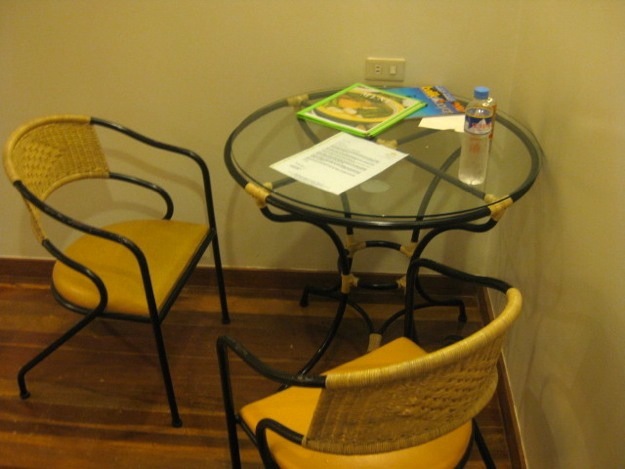 Guess which bed I used.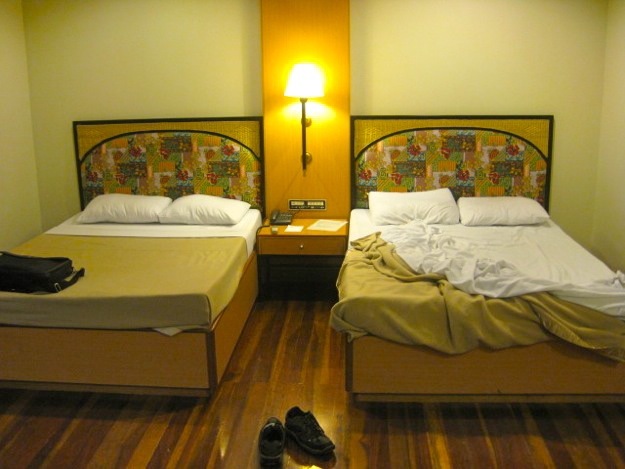 Ah, I love room service. It's a banana split in the dish if you were wondering.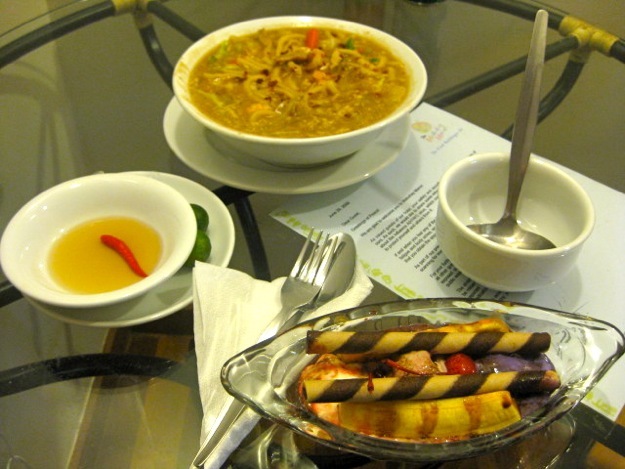 This was a very good meal as well. Damnit, I miss Filipino food.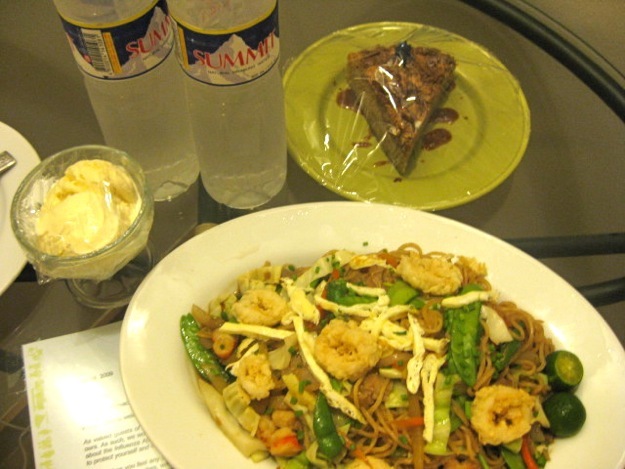 And the CR (comfort room)… oops! I mean bathroom 😉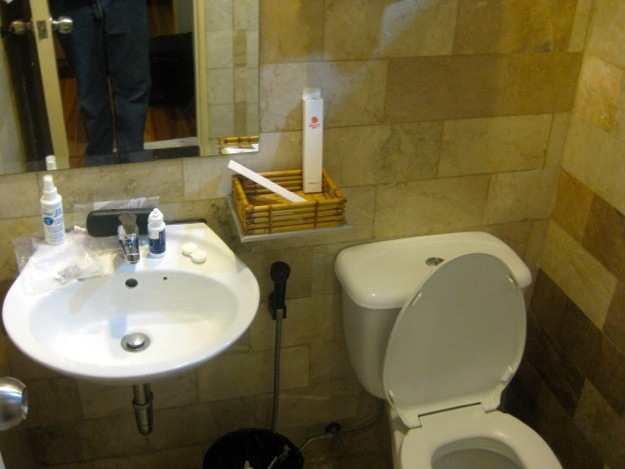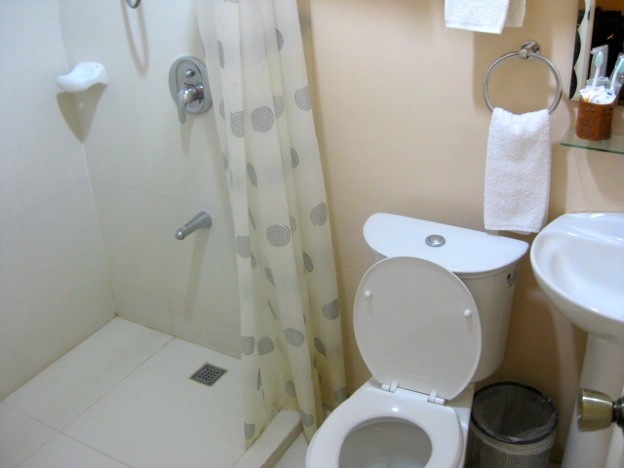 I'll have another update on my trip to the Philippines within a few days so stay tuned.
38 Responses to "Accommodation in the Philippines"