March 29, 2013
Posted by Tyler Cruz
Are you going to attend ad-tech San Francisco this year?
If you are, be sure do hit up the biggest party where you can be sure a lot of big players in the industry will be at.
Networking in extremely powerful in any industry, but is even more helpful in affiliate marketing as it only takes 1 gem shared to you by another affiliate marketer to make all the travel expense and time pay for itself.
While you can meet and greet in the exhibit halls, some people are only really available at the parties. And the change of atmosphere (and alcohol) can have a certain "loosening" effect on some people, allowing them to open up a bit and share more with you than they normally would.
The biggest part at ad-tech San Francisco this year is the Affiliate Nation Mega Party.
Hosted by Affiliate Nation, which is comprised of Clickbooth, CPAWay, and MaxBounty, the "ad-tech San Francisco Affiliate Nation Mega Party" starts at 9pm on April 9th, 2013 and is being held at The Grand.
Drinks are free (open bar), there will be Go-Go dancers, and various performers.
I'm promoting this party because I'm actually one of the media sponsors.
To attend, you're going to need to RSVP.
Where: The Grand – 520 4th Street, San Francisco, CA 94107
When: Tuesday, April 9th, 2013 9pm – 2am
Details: Open Bar, Go-Go Dancers, Performers, and much more!
Here's a short video promotion for the party:
(Note: You may need to visit the post directly at TylerCruz.com if you're reading this via e-mail or RSS in order to see it.)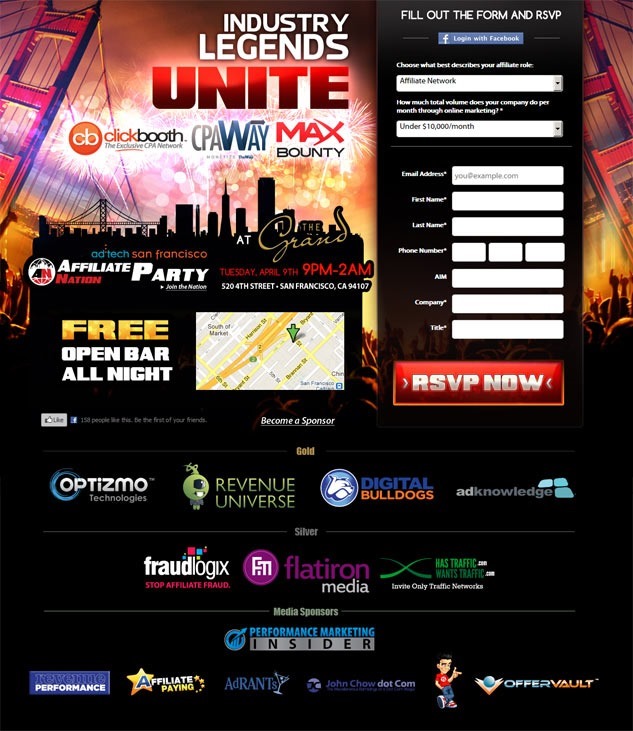 Have fun!