July 28, 2008
Posted by Tyler Cruz
I receive a lot of e-mails from people asking me to promote their site, and I usually delete most of them without even responding. First of all, it's clear that I sell paid reviews and paid plugs. Secondly, I'm far too busy and backlogged with my own posts to help promote other people's sites for free.
But, on occasion, I will plug the odd site, contest, or post for free. This is one of those times.
So, why did I not delete his e-mail right off the bat? Simple. His site is all about customizing your photos and adding "bling" to them, and he took one of my photos, added some bling to it, and added it to the e-mail.
This immediately showed me what his site was all about, saved me time by not having to make the image myself for if I did post it, and most importantly – showed me that he valued my time enough to spend at least a few minutes creating the image for me.
Oftentimes, people send me pre-written cut & paste e-mails asking to promote their site, blog, or service, and don't even bother to customize the letter. For example, it will simply say "Hi" instead of "Hi, Tyler". I delete these types of e-mails without even thinking about it. I can understand how this may seem very rude or elitist, but the fact is: why should I spend a couple hours writing a post to promote their site for free when they can't even spend a minute or two to write or customize an e-mail to me?
So, without further adieu, let me tell you a bit more about BlingEasy.com. BlingEasy is a simple free site that lets you customize your photo(s) by easily dragging and dropping animations onto them, turning them into an animated .gif format. The entire site is all all web based.
Here is the blinged-out photo that Joe from BlingEasy sent to me in his e-mail: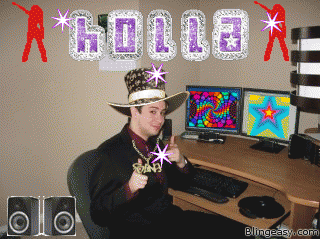 Haha. I love it. Sure, it's incredibly tacky and there are white "halos" on the speakers, but that's kind of the point, isn't it? It's just for fun! It's fast, simple-to-use, and fun.
I actually heard about BlingEasy prior to the e-mail from other bloggers such as John Chow, but after seeing the image above, the site seems to be a bit more "powerful" that I originally thought. You don't need to have Photoshop or have any graphic skills to make these images, yet you can still make some great customized images. This is what can make the site a success in my opinion.
Obviously, the the use of BlingEasy would be found most prominently in social networking and media sites such as MySpace, Facebook, Flickr, etc. Users can "pimp" out their own images or perhaps a friends. It's just the type of thing I can see people doing for their friend's birthday.
I know that I'd much rather receive a blinged out photo of me than a stupid e-card since it's a lot more personal than receiving a pre-built template that was made for the masses.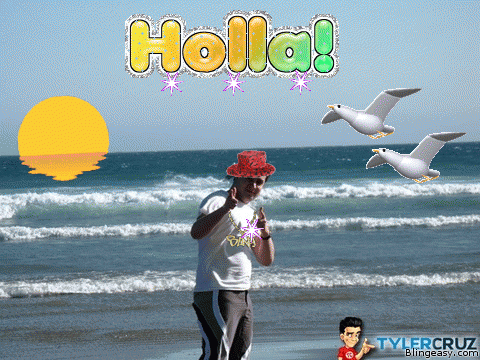 If I could make a few suggestions for BlingEasy it would be the following:
Make multiple "sister" sites built upon the same theme. While you can customize photos with imagery that isn't directly related to "bling", the theme of the site still remains apparent. I'd love to see additional sites, or at least multiple themes built perhaps in subdomains (Ex. rambo.blingeasy.com) such as "RamboEasy", "SexyEasy", and "ScaryEasy".
I'm sure that BlingEasy this isn't the first or only site to come up with this concept, not being an avid user of social networking sites (I don't even have a Twitter account), but it's the first I've personally seen. And I think it's done well, too.

With that in mind, I think it's imperative that Joe constantly improve and grow the site as fast as he can, because there will be imitators. And the best way to combat copycats is to stay one-step ahead of the game or else be large enough where the site will propagate itself.

If left ignored, I can assure you that copycat clones will take over. I bet you that there are a few requests for "BlingEasy clone" on freelancing sites such as Elance.com already, if not soon.

Lastly, as a small feature improvement, I would recommend giving the user the option of positioning the "Blingeasy.com" logo in any corner of the image, instead of the default bottom right. There could be times where the text might interfere with the image/photo.
With that being said, I think that BlingEasy is a great site, and could grow huge. Girls especially eat this stuff up.
Good luck to Joe and his great idea. I wouldn't be surprised, if Joe works hard, to see the site sell for some big bucks down the road…