January 13, 2011
Posted by Michael Kwan
The following is a paid review for TylerCruz.com written and reviewed by Michael Kwan. It is completely of Michael Kwan's opinion and is not influenced by being paid. If you're interested in having your site or product reviewed, please view my advertising page.
Advertising can be a pretty tricky business. On the one hand, you want to make sure that you are reaching the right kind of audience. You want them to engage with your brand and take the actions that you would like them to take. On the other hand, figuring out how to get that targeted traffic can be a remarkably challenging and potentially expensive endeavor.
On the surface, Adoori looks like it could be just another advertising network in an online world filled with countless others, but it just may bring a few new tricks to the table. Adoori promises to "reinvent your advertising." Over the course of this review, we'll find out if they really do live up to that claim.
What Is Adoori?
When you consider most of the other ad network reviews here on TylerCruz.com, they're from the perspective of a publisher, affiliate marketer, or website owner. While I will touch on some of those considerations a little later on, the core focus is on the perspective of the advertiser.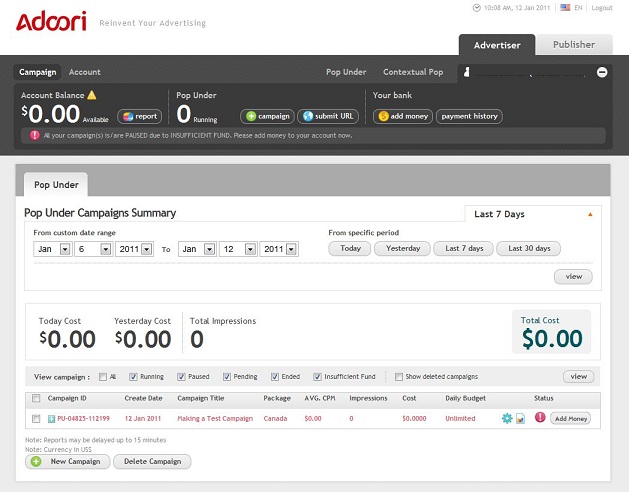 With that in mind, Adoori isn't like your typical CPA or CPC network. As far as I can gather, you don't upload banners or submit text links. Instead, Adoori appears to focus exclusively on pop-under ads, at least for now. Moving forward, they will implement contextual pops and potentially other forms of advertising as well.
In this way, it's completely up to you how you want to capitalize on pop-unders. If you're only interested in driving traffic to your site, for example, you could simply use your site as the target URL being displayed. If you'd rather push a product or affiliate program, it may be more appropriate to direct visitors to your landing page. It's up to you.
Setting Up a New Campaign
One of the key selling points, from Adoori's perspective, is that they offer a user-friendly platform. As you can see from the dashboard screenshot above, that's mostly true. They use large numbers to clearly display your account balance, number of campaigns running, and so forth. Everything is easily navigated through a series of tabs and they've made good use of bright colors too.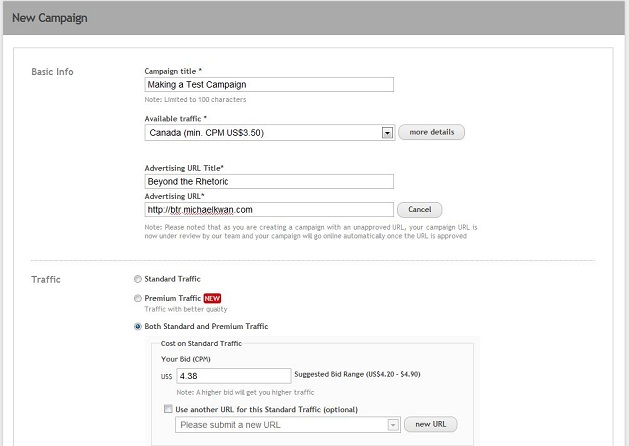 Similarly, creating a new campaign is also a very straightforward affair. You give your campaign a title (which is only for your own reference), you choose your available traffic, define the target URL title and link, and place your CPM bid. You can choose between either standard or premium traffic, but it's not quite clear what is the difference between the two.
And that's one of the concerns when it comes to the Adoori platform. As robust and easy to navigate that it is, the folks at Adoori have not provided much in terms of supporting documentation. For beginners, it's not at all clear how pop-unders work, what premium traffic means, and so on.
It would be very useful if Adoori were to set up a few pages for quick tutorials, a FAQ, and some basic background information that is more clearly laid out for novices and experienced veterans alike.
How Much Does It Cost?
When you set up an Adoori ad campaign, you can choose specifically which countries you want to target. Each of these have their own minimum bid levels. Canada, for example, starts at a $3.50 CPM.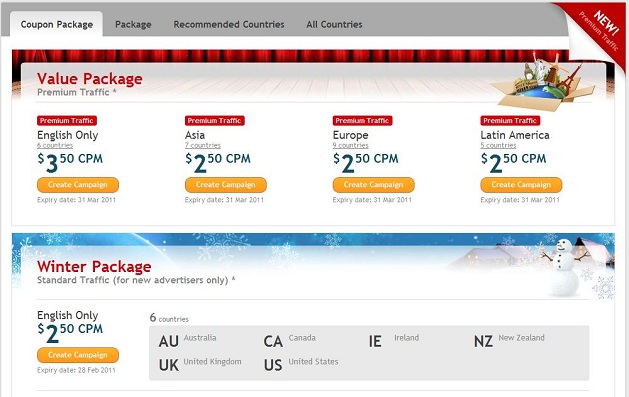 Alternatively, Adoori offers a number of value packages for both premium and standard traffic. If you want to target six English-speaking countries with premium traffic, the CPM is set at $3.50. Targeting Latin America, by contrast, is set at a $2.50 CPM.
Targeting individual countries will land you in a similar CPM range. UK standard traffic is $3.50, Austria is $2.00, and Japan is $2.00. If you bump these to the premium traffic, the CPM rates rise to $5.00, $3.00, and $3.00. Opting for packages can reduce these rates. Targeting all of Asia for standard traffic, for instance, is $1.80 CPM. That will have your pop-under being shown in 46 different countries.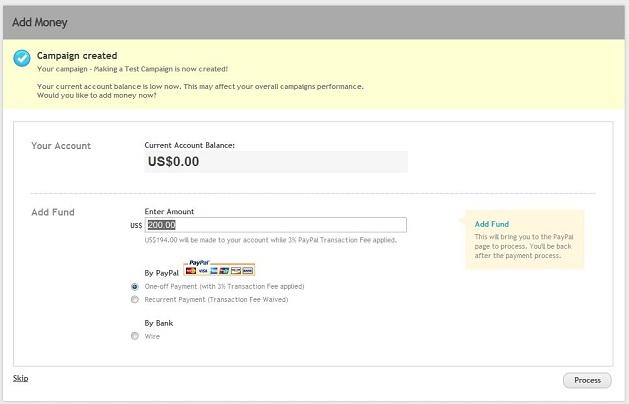 Adding funds to your account is done via PayPal and bank wire for now, but Adoori plans on implementing credit card payment in the future. If you opt for recurring PayPal payments, you can save the 3% PayPal processing fee.
What About Publishers?
From a publisher's perspective, Adoori is remarkably easy to implement too. However, just like the advertiser's side, there isn't anything in terms of targeting for content areas; only countries. This could mean that a hockey-related pop-under could show up on your supercar blog.
You can set the frequency of the pop-unders, ranging from no frequency cap to once every three days. Not surprisingly, Adoori does take a cut of the action. For the UK traffic, for instance, the publisher nets a CPM of $1.80. That's about a 50% commission, which is pretty standard when it comes to web advertising.
The Potential Value of Pop-Unders
Many websites are making use of pop-overs and web users are getting frustrated with them. Oftentimes, they'll click on the little "X" in the corner even before taking a look at what the pop-over is showing. This is not good for the advertiser.
With pop-unders, web users can continue viewing the page that they are viewing while the pop-under lingers in the background. In this way, the ad is less intrusive, but it is more likely to be seen when the web user eventually clicks over to the new window or closes his or her current window. In this way, Adoori is capitalizing on a rather specific market and this could prove useful for certain advertisers.
It would be very useful if Adoori had category or keyword targeting, though, and it looks like the potential for contextual advertising could be realized in the near future. If that does indeed happen, Adoori could be a very powerful player in this market.