October 2, 2008
Posted by Tyler Cruz
I've been so backlogged with work and posts that I actually had to launch the fourth Affiliate Marketing Challenge before I could announce the results and winners of the Affiliate Marketing Challenge 3!
The third competition was another success and as always, a blast to run. As usual, I kept a close eye on the rankings and hope those who entered had as much fun participating as I had running it.
I'd like to thank everyone who participated for entering, and especially thank MarketLeverage for sponsoring these competitions. After all, without them, there would be no contest!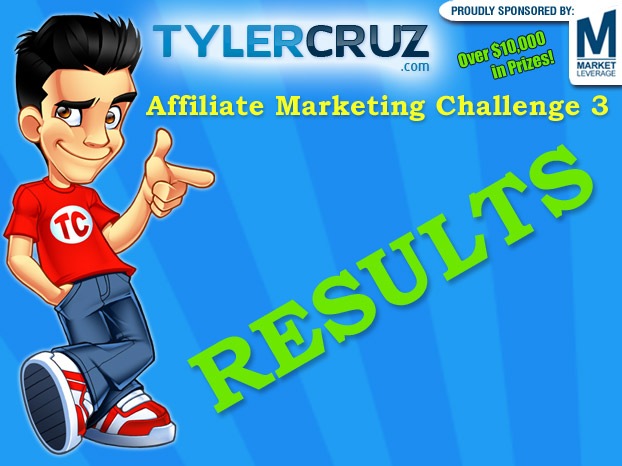 Winners
We give out a lot of great prizes, so I apologize in advance for the long list that follows. Here are the official winners and their prizes:
$50,000-$74,999 VIP Tier
1st Place: CD8470 – $51,757.60
Prize: Panasonic 60GB HD Drive Camcorder

Congratulations to CD8470, aka "The Behemoth", for managing to narrowly slide into the VIP tier to take home a snazzy Panasonic 60GB HD Drive Camcorder.
By pushing his campaigns harder during the final week of the competition, The Behemoth moved from the main category which in turn means that everyone else moved up a slot! So, the top 5 places in the main category can thank him for essentially "upgrading" their prizes – and 5th place in particular as he wouldn't be taking home anything since he'd be in 6th place which has no prize!
CD8470 has now won THREE CONSECUTIVE Affiliate Marketing Challenge competitions and remains the undefeated champion. He managed to completely dominate the competition with a staggering $51,757.60 which works out to over $1,700 per day.
He's prizes from all the competitions now include a Panasonic 60GB HD Drive Camcorder, a Dell 22″ Widescreen Monitor, and an 8GB iPod Touch. What will MarketLeverage and I be giving him next? Perhaps a yacht?
Will The Behemoth go 4 for 4 and win my next competition as well? Can anyone even get close to this monster? It'd be nice to see him continue to push himself further and possibly reach the $75,000 VIP tier, as that's one nice big screen TV…
Top Main Category
1st Place: CD8269 – $4,489.20
Prize: Playstation 3 & Civilization Revolution

CD8269, aka "The Rocket", is very interesting. He generated commissions during the first two weeks of the competition, but then suddenly stopped. Personally, I think that he is running his main campaigns on another network other than MarketLeverage, and is only running his campaigns in this competition to where he can secure a certain placement.
I think that The Rocket realizes that he could not catch The Behemoth, and instead opted to just secure himself the next best placement to guarantee himself the next best prize. I could be wrong, of course.
In any case, whatever he is doing is working as he'll be receiving a brand new PS3 with a game on his doorstep soon.
2nd Place: CD10565 – $1,562.50
Prize: Logitech G51 Surround Sound Speakers

CD10565, aka "The Magician", aka Paul Piotrowski from InspiredMoneyMaker.com managed to secure both 2nd place in the main category and 1st place in the new signups category.
While he didn't place 1st or bring in $51,000 like The Behemoth, you could argue that Paul is the real winner of this competition. Paul is brand new to PPC affiliate marketing and really only started a couple weeks ago for this competition. Despite being an absolute newcomer to the game, Paul is already in the green and will walk away with some great prizes from this competition as an added bonus.
Paul's been kind enough to satisfy my request and has written a guest post which explains in detail what he did to get his brand new campaigns of the ground. I'll be publishing this either tomorrow or the day after so be sure to look out for it as it's a must-read for anyone who is new to PPC affiliate marketing as well.
Copy Paul's path and maybe I'll be writing about you in the next competition results!
Congratulations Paul, and I hope to see you fight for first place in the next competition!
3rd Place: CD8137 – $966.00
Prize: Nintendo DS & Guitar Hero

CD8137, aka "The Tortoise", once again placed in these competitions. In fact, it's his 3rd time placing for a prize.
It just goes to show how easy it is to win a great prize; he generated a total of $966 in commissions. If we assume that 50% of that is profit after expenditures, that would equate to roughly $475 net profit. The prize he won is worth over $200, which is huge in comparison to what he actually made with his campaign(s).
This is just another reason why participating in these competitions can pay off. We hope you enjoy playing Guitar Hero on the go Tortoise!
4th Place: CD8346 – $787.20
Prize: Canon PowerShot A590IS 8MP Digital Camera

CD8346 is another 3rd-time winning participant. He hasn't seemed to take his campaigns to the next level, but then again – until more competition enters these contests, he might not need to.
He'll be receiving his lovely 8 megapixel camera soon.
5th Place: CD8088 – $501.60
Prize: Credit Card Size Digital Video Player

CD8088 is one lucky duck. He wouldn't have won anything since he was in 6th place, but thanks to The Behemoth – who moved from the Main Category to the VIP category on the very last day, CD8088 got moved up a slot to just barely take 5th place.
As a result, he'll be receiving a really cool miniature digital video player!
Top New Signups
1st Place: CD10565 – $1,562.60
Prize: Insignia 7″ Portable DVD Player

As mentioned above, CD10565 took both second place in the main category, and 1st in the new signup's category and will therefore be receiving two great gifts from a courier shortly.
It will be really interesting to see how he fares next month.
2nd Place: CD10451 – $150.80
Prize: Insignia Bluetooth Headphones

It would be interesting to hear CD10451's story. If he is brand new to affiliate marketing, then $150.80 in his first month isn't bad. However, he didn't seem to generate anything during the last half of the competition, so hopefully he didn't give up.
If you're reading this CD10451, I hope to see you compete in my next competition as well. Don't give up!
In any case, you'll be receiving your Bluetooth wireless headphones shortly. You're lucky – I really want wireless headphones. There's nothing more annoying than leaving your computer to grab a snack or go to the bathroom, only to have your head snag back as you get up from your chair!
3rd Place: CD10546 – $1.20
Prize: Flexible Illuminated Keyboard

This is EXACTLY why you should try your hand in this competition, even if you have absolutely no experience in affiliate marketing. CD10546 only made $1.20 but still managed to finish 3rd place under the new signup's category.
He most likely made the $1.20 by promoting an e-mail or ZIP submit lead offer. All somebody needs to do is enter their e-mail or ZIP and BOOM – you get $1.20. He probably had one person from his site submit their e-mail or ZIP, and now he's the soon-to-be proud new owner of a flexible, illuminated keyboard. Great for night computing, especially those whose computers are near others such as a family computer or dorm room.
Blog Winners
Lastly, here are the 5 lucky blog winners taken from a random drawing:
In total, there were 7 bloggers who posted about my competition. That meant that the average submission had a 71% chance of winning! Hopefully you'll consider those odds for my next competition!
Each of the above will be receiving an "I'm Blogging This" T-shirt!: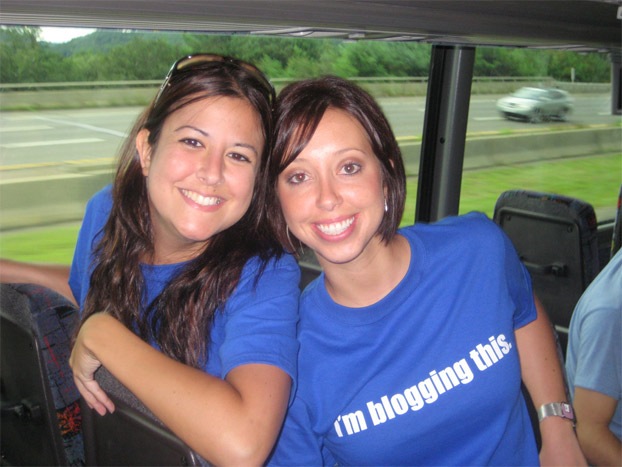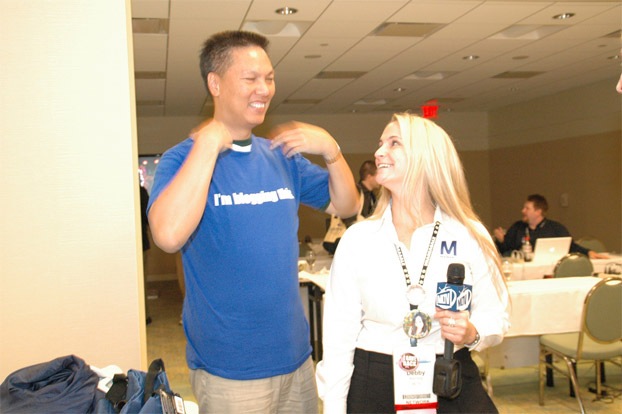 I have e-mailed each of the winners and notified MarketLeverage as well. They will be contacting each of the winners shortly.
Final Rankings
I've now referred a total of 98 affiliates to MarketLeverage, 14 of which signed up during this past competition.
Together, they generated a total of $61,249.60 in commissions. The final standings are shown below (only those with earnings of over $100 during the competition are shown, for the sake of my own sanity):
$50,000 VIP Tier
Rank
Participant

Earnings

1st
CD8470 "The Behemoth"
$51,757.60
 
Total:
$51,757.60
Top Main Affiliates
Rank
Participant

Earnings

1st
CD8269 "The Rocket"
$4,489.20
2nd
CD10565 "The Magician"
$1,562.60
3rd
CD8137 "The Tortoise"
$966.00
4th
CD8346
$787.20
5th
CD8088
$501.60
6th
CD9189 "The Newcomer"
$309.80
7th
CD10451
$150.80
8th
CD8072
$120.20
 
Total (all main affiliates):
$34,076.75
Top New Affiliates
Rank
Participant
Earnings
1st
CD10565 "The Magician"
$1,562.60
2nd
CD10451
$150.80
3rd
CD10546
$1.20
 
Total (all new affiliates):
$1,714.60
My personal goal for the competition was for the total commissions to hit $50,000. Fortunately, you guys did it and we actually exceeded it by over $11,000!
To date, my referrals have generated a total of $127,878.60. And I only signed up to MarketLeverage in early June! If we estimate that ML makes 15% commission from their affiliates on average, that's $19,181.79 profit I've made them in only a few months.
Here are the results of the contests held so far:
Contest Results
Contest #
New Affiliates Registered
Earnings
1
57
$7,816.00
2
25
$34,076.75
3
14
$61,249.60
 
Thank You Market Leverage!
This competition would simply not have been possible without the massive support of MarketLeverage. They are putting up all the prizes, not me. Thanks a lot ML, we really appreciate it!
Affiliate Marketing Challenge 4
The fourth affiliate marketing challenge is already under way. If you haven't checked it out yet, make sure you do!
My goal for the fourth competition is for my referrals to generate a total of $65,000. Here's hoping!
Posted: October 2nd, 2008 under Contests