August 5, 2008
Posted by Tyler Cruz
Man, what a ride.
I first started my foray into the world of PPC affiliate marketing a bit over a year ago when I lost $1,000 in just under a month. I then decided to try my hand at it again a couple months ago, and finished June $400 in the hole.
I kept at it, since I kept seeing improvements in my average ROI, and it seems to have paid off since I managed to finish July IN THE GREEN! I know the correct term is "Black" and not green, but it's not easy been green, and my spreadsheet shows my profits in green 🙂
Let me tell you, it's a most wonderful feeling seeing yourself progress. It's a great challenge, and when you succeed you get a huge high. Here is my affiliate data for the month of July: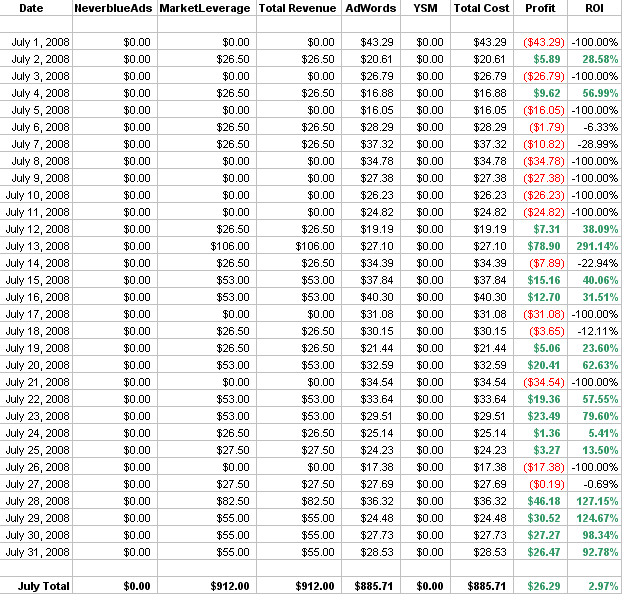 As you can see, I finished with a profit of $26.29. While this amount may seem ludicrous, especially considering that I had to spend $885.71 to make $912.00, the fact is that I finished with a profit.
My ROI finished with an average of 2.97%. Notice how there isn't a negative sign in front anymore? 🙂
Here is the progress of my total average ROI, taken after the first week and then every few periods thereafter: -57.12%, -53.42%, -43.71%, -36.83%, -31.76%, -25.67%, -19.57%, -13.53%, and now +2.97%!
Soon, I will begin to put less emphasis on the ROI and more on the net figure. After all, you could have an ROI of 100% and spend $50 to make $100, or you could have an ROI of 50% and spend $500 to make $750. I'd rather make the $250 than $50.
If you take the data from the last 7 days, you'll see that I actually profited $116.14 with an ROI of 62.32%. This would work out to an average of $16.59 per day, or $497 a month. If I created 19 more campaigns just like this one, that would turn out to be $10,000 a month profit.
Unfortunately, the past few days have shown very poor results, but hopefully things will pick up again soon. I also have a huge surprise that I'll be unveiling within a few days so be sure to stay tuned for that.