January 2, 2012
Posted by Tyler Cruz
It's been exactly 2 weeks since my last affiliate marketing update, so here's an overview on what has happened over the past 14 days.
I had mentioned in that post how the next day was "Judgement Day". Unfortunately, Judgement Day turned out really bad for me. Basically, about half of my traffic, made up from one particular traffic source, turned out to be of not high enough quality for me to be able to continue pushing it, at least not at the bumped payout I was receiving.
In addition, since that traffic was 'mixed in' with my main traffic sources, I would have to wait a while before the quality on my main traffic could be properly assessed, which meant that I wasn't given the $0.25 payout increase I had been hoping and waiting for.
Tomorrow (Tuesday) is another Judgement Day, in which I should know if I can get a bump on my main traffic. It's also possible that I get a pay decrease on the offer, but I'm not expecting that to happen as the traffic on my main source should be really good, and I am pushing volume. I'd most likely just scrap everything altogether if a pay decrease occurred anyway, as I never like to run anything that doesn't have any future potential.
New Record #1: 916 Leads in 1 Day
On December 23rd, my campaigns brought in a total of 916 leads.
It's crazy to think that I pushed almost 1,000 leads in a single day… it just sounds so ludicrous to me. I'm sure that at least some of those conversions will pay off big for the advertiser, so everybody wins.
However, now that one of my traffic sources has essentially disappeared, I highly doubt that I will break this personal record anytime soon.
New Record #2: $1,500 in 1 Day
On the same day, December 23rd, those 916 leads worked out to a total of $1,500 for the day. That's $1,500 exactly, too, which is funny considering that I'm running numerous offers with different payouts.

Now, that IS gross. My ROI for the day was 35%, netting me a profit of $389.64 (which is not a new record).
At a cost of $1,100 a day, that works out to $33,000 a month in expenses (just on my affiliate marketing campaigns). Fortunately, my request for a credit increase on my Visa was approved within 48 hours of requesting it online. My limit is now $30,000 (from $15,000), but perhaps I should have asked for more…
I should be okay for now though, since my traffic took that hit.
What's crazy though is that if that one traffic source wasn't paused, I probably would have hit  $2,000 today.
22 Day Total
Some of you have requested that I give a monthly total of my affiliate campaigns instead of just posting a particular day's or series of day's numbers.
Below is a very simple table of my daily results from December 10th, 2011 to December 31st, 2011: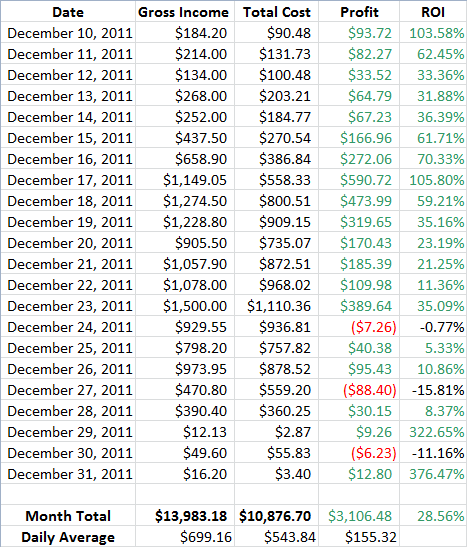 I didn't include December 1st to the 9th as it actually takes me a really long time to calculate each daily's numbers exactly, and I hadn't calculated those days individually. I believe I averaged around $75 net profit for each day up to the 10th though, so you could estimate close to $4,000 net profit for the month.
That makes December 2011 my best month of affiliate marketing ever, so I'm quite pleased with myself.
I'm also amazed to have hit such high numbers such as on December 17th ($590.72 net profit) and December 23rd ($1,500 gross).
My 22-day daily average worked out to $155.32 net profit per day.
Is it Over?
As you can see from the results above, my campaigns seem to have tanked on Christmas Eve. Is my little streak of affiliate marketing luck over?
It's too soon to tell.
Yesterday (January 1st) already brought me into the red with –$43.73. That's certainly not a good way to start off the new year.
But I suspect that today will fare quite a bit better than yesterday, and then there's the fact that tomorrow is another "Judgement Day", which could mean a possible bump for me, which would most certainly turn things around.
I'm also trying to find the time to experiment more with Facebook, as well as return to AdWords with an old campaign I used to run. I'm just so behind with other work that I don't seem to be able to find the time to get cracking on those traffic sources.
Anyway, here's hoping that tomorrow brings good news.
I'll have another affiliate marketing update for you when there is something else noteworthy to tell.