February 18, 2009
Posted by Tyler Cruz
While I'm now running my Affiliate Marketing Competitions on PublisherChallenge and not my blog anymore, since I launched my AmpedMedia competition on my blog and seeing that it's their first competition, I thought it would make sense to give an update of the competition so far.
As a reminder, the competition started on February 1st and runs through until February 28th so there are still 10 days left. For more information, including how to participate as well as a full list of prizes, check out the competition on PublisherChallenge here.
Before I continue, here is a screenshot of the current standings as of February 17th, 1:44 AM EST (since I wrote this post a day before publishing it):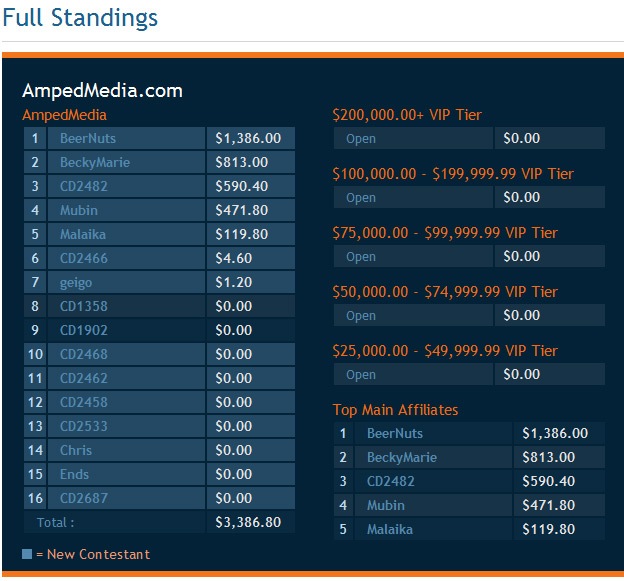 Here is a quick recap of the prizes. For a full list and description, visit the Win Prizes! tab after clicking here.
VIP Prizes:
$200,000+ Tier: ATV 700cc 4×4 & 150cc Gas Scooter
$100,000-$199,999.99 Tier: Segway i2
$75,000-$99,999.99 Tier: LG 55-inch 1080p FullHD LCD HDTV
$50,000-$74,999 Tier: Canon XL1S MiniDV Digital Camcorder
$25,000-$49,999.99 Tier: HP Pavilion 17-inch Laptop
Main Category:
1st Place: PlayStation 3 & Rock Band 2
2nd Place: Samsung 24" Widescreen LCD Monitor
3rd Place: PSP 3000 & Ratchet and Clank
4th Place: Flip Mino
5th Place: 8GB iPod Nano
While I'm happy with the turnout and participation so far, you can see that the level of competition isn't so much that you can't still come in to win a prize.
For example, 5th place is currently only at $120, so even with only 10 days left it would probably only require generating around $15 per day on average to take 5th and win an iPod Nano.
Furthermore, AmpedMedia is pretty happy with the results of their first competition so far and will most likely be running another one in March, so if you haven't signed up yet, signing up now and getting your account approved and activated will allow you to be ready generating income by March 1st.
It looks like BeerNuts is going to win back-to-back competitions (he won the XY7 one last month). He already won a PS3 and Rock Band 2 kit from last month so if he holds onto first place we'll send him cold hard cash instead ($590).
In second place we have… what?! Is this correct? It's none other than Becky Marie! I'm thrilled to see her in 2nd place. This is pretty much her second month of affiliate marketing and she's already generated $813 through AmpedMedia alone – awesome. I can't wait to see how she continues to progress.
Posted: February 18th, 2009 under Contests
9 Responses to "AmpedMedia Competition – 10 Days Left"