June 26, 2014
Posted by Tyler Cruz
I had kept hearing about an ad spy service called BoxOfAds amongst the affiliate marketing crowd for a while now and finally decided to try them out about a month ago.
My campaigns were starting to become a little bit stagnant and I wanted to try something new to get some fresh ideas and keep things alive and kicking.
Within about an hour of looking into BoxOfAds, I found a couple of landing pages that looked like they had the potential to do well, and took them, made a few small modifications and improvements here and there to match my offers, and split-test them against a direct link (the control).
The results were as follows:

While the 2nd landing page converted at slightly less than the direct link, the first landing page ended up tripling the conversion rate, yielding an ROI of over 100%.
The beauty of this is that this landing page can be used for eternity across future campaigns by simply modifying it for each offer and angle, so the value discovered here is in some ways limitless.
About a month after finding this landing page, I can thank BoxOfAds for around $5,000 to $10,000 net profit (I run hundreds of campaigns a month so I don't know exactly) as a simple result of finding these landing pages.

Now, BoxOfAds isn't just about finding landing pages. You can find the exact traffic sources of your competitors, right down to the publisher level. You can even see their collection of ad creative used, countries targeted, tracking links, and more.
Watch My 37-Minute Screencast Walkthrough
Below is a 37-minute screencast I made showing how BoxOfAds works and what it offers. It is available up to 1080 HD, so I recommend watching in HD full screen if you want to see everything properly.:
(Note: You may need to visit the post directly at TylerCruz.com if you're reading this via e-mail or RSS in order to see it.)
One thing I forgot to mention in my screencast is that BoxOfAds is going to be adding international data into their system (as it currently is only for US) for the PPV Pro Package within the next 2 weeks.
Get a Lifetime Discount
The owner of BoxOfAds was kind enough to offer my readers a lifetime membership discount. They are as follows:
PPV Pro: $199/month $137/month
Display Pro: $147/month $99/month
Combo : $246/month $197/month
Be sure to enter the promo code: TYLERCRU when signing up. That's with no Z on the end (8 character limit…), so be careful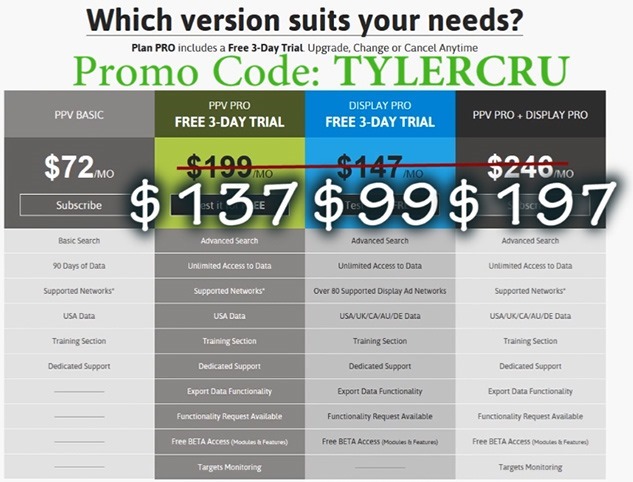 Free 1-on-1 Skype Training from the Owner
The owner of BoxOfAds, Luke Jasiak, has also offered free one-on-one training/consulting via Skype to the first 2 people who order the combo package with my promo code.
Here's a good way to learn the system and get advice, tips, strategies on analyzing competitors.
So there you have it. I've been very happy with BoxOfAds so far.
Simply signing up to the system won't make turn your unprofitable campaigns profitable though. It's all about applying the information you find there and using it to your advantage.
Get ideas such as themes and angles and apply them to your ad creative and landing pages. Find new traffic sources right down to the publisher level (Ad Network –> Publisher).
See what other affiliates are doing and either copy them or better yet, improve on them.