September 22, 2014
Posted by Tyler Cruz
A couple of months ago, I announced how I was thinking of investing $200,000 in real estate.
It wasn't just a passing thought. I am very serious about this and will likely be in contact with my real estate agent to purchase a property soon enough. I'm trying to decide if I will invest in ranches for sale, three bedroom apartments, or other types of rental property. In addition, the services of a property management company may be needed to handle the maintenance of the properties. If you haven't read my other post yet, you might want to go and take a look as I explain why I'm taking such a large deviation from the online world.
I've done a number of things and made decent progress since my last blog post, but am still taking things relatively slow.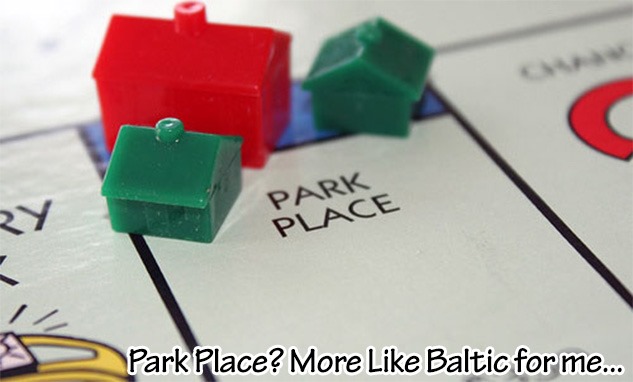 Met With My Accountant
While I'm still waiting on my corporate year end returns to be completed (they should be done any day now), I arranged to meet up with my accountant to discuss my financials as well as real estate investing, about which you can continue reading, and investing in general. I also got some info beforehand from the Faris Team homepage. If you are searching for a real estate investment, then, william pitt sotheby's is the best option to have a commercial real estate property for sale.
I walked away from the meeting with the following things in mind:
He agrees that real estate investing is a good option for me and my situation
He believes that any rental income made is minimal at best and that the real money is made when you sell, insinuating adding value
I learned the basic of capital gains
I also discussed other things with him as well, but the above is what we mostly discussed in terms of real estate.
Spoke Further with My Mortgage Broker
I communicated a bit more with my mortgage broker (whom I've used for my past 2 personal purchases). I have yet to receive an official pre-approval because she needs my corporate year ends first… but I urged her for an unofficial one until then.
She tells me that for investment property, unlike personal property, the banks look very closely at cashflow, and that is the primary ingredient when it comes to lending approval. In general, a 20% down payment is allowed.
She left me a voicemail saying that properties up to $800,000 (and perhaps a bit over) are within my grasp.
Both the local market and interest rates are starting to rise fairly rapidly here, so I should not wait too long. If you need help entering the real estate market, see Zanda Wealth Mortgage Brokers website.
Hired a New Realtor
I was very much on the fence on who I should use for a realtor.
The realtor I had been using for my condo sale and house purchase was fantastic, but this is business and I really wanted someone who was investor friendly and an investor themself.
I did a lot of research and reached out to a number of investor-friendly realtors here and was surprised when none of them contacted me back.
When I hire someone, I'm all about quick response time, so the fact that they didn't even bother to respond to me was not a good sign.
I ended up going with a local realtor/investor who I had already been communicating with on an online real estate investor forum. He is a numbers guy like me and actually has a background in the computer software business before he sold it and moved on to real estate.
His focus is on profitability and investment and not on smacking on cologne and shaking hands, which is what I am looking for. He is also very eager and willing to help me learn the ropes of real estate investing, and so I am getting the added benefit of a mentor in that regard which thought me about the importance of customer data protection as he showed me how to use a top brokerage like eXp, rather than a site like zwillow who sells your information for a fee.
He is very passionate, too. In his first follow-up e-mail to me, it spanned 8 pages and (I just pasted it to Word) included 2,370 words, and it wasn't a pre-canned response. It was well-written and thought out. That should give you an idea as to his commitment.
Anyway, after a lot of e-mail exchanges, we met up in person just to make our meeting "official" at his and his wife's (I get 2 realtors in one!) office to do some more discussing and narrowing down of what I'm looking for. I'm also planning to hire a conveyancing lawyer to help me deal with the legalities of property matters and negotiations with real estate agents and banks.
The Numbers Game
Even though I struggled through math in high school, I absolutely love analyzing things with numbers. I do it every day in affiliate marketing, but it's even more prominent in real estate… in fact, it's really mostly about the numbers which is why it's such a good fit for me.
I created an Excel sheet to work out the numbers on potential property purchases. It is constantly evolving and improving over time as I learn new things. Below is a screenshot of one of the properties I had looked at: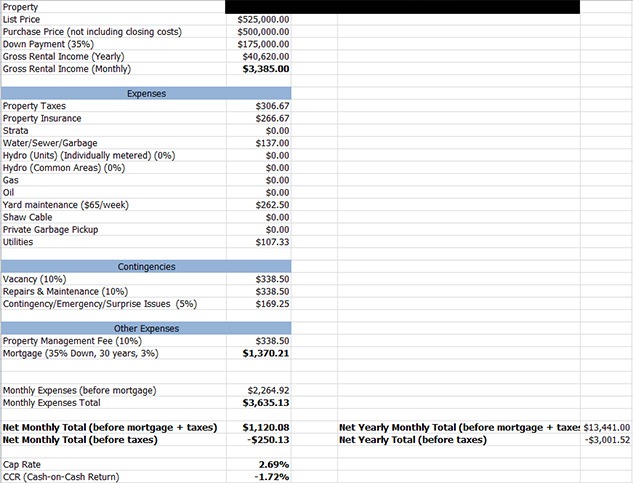 Not seen here, there is also a second tab sheet at the bottom which includes a very detailed and comprehensive mortgage calculation breakdown from a template I had downloaded. It includes a lot of features, my favourite being extra payment calculations (how things would look if I made an extra X payment every X frequency, for example).
Looking at the property analysis above, you can see that it's not a good buy for me, as I'd end up losing $250 a month.
I am a bit safe on the numbers (the added 5% contingency fund for example isn't exactly needed when I already have Repairs and Maintenance at 10%), but it's always better to be on the safe side and be pleasantly surprised later, than try to make the numbers work and be in big trouble down the road.
My New Targets
My original plan when I decided I wanted to buy a rental property was to buy 1 (or 3) cheap apartments in cash and start cashflowing from the get-go. I also enjoyed the fact that there'd be a hell of a lot less stuff for me to worry about since I wouldn't have to worry about anything outside of the interior of the unit.
The problem with apartments, I soon learned, is that in my local market the strata fees (basically like HOA fees in the US) are so high and the rent so relatively low (in comparison to price) that after all expenses and contingencies are accounted for, I might walk away with $100 profit a month on a $70,000 apartment.
$1,200 before taxes on a $70,000 investment is a 1.7% ROI in my first year. No thanks.
My corporation pays out around $5,200 a month in salary (and taxes) to myself. That means that if I wanted to "retire", I'd need literally 52 of those $70K apartments to do so. That would cost me 3.6 million dollars. There are better opportunities for my money out there.
What I've learned is that I what I really need to do is add value if I want to make money in real estate. I would have to deal in apartments for rent or homes for sale in fort lauderdale and other extravagant properties to make some profit out of this space. It's just like website flipping. Nobody is going to sell a website that is consistently making $1,000 a month profit for $12,000, because anyone would snatch it up at that price and just wait a year to make his money back. They will list it at a far higher price. It is then up to the buyer to add value, whether it be redesigning the website, adding more features, or obtaining more traffic.
The same thing goes with real estate. Listings will be listed at fair market value (more or less) – the trick is to find properties where you can add value to extract more out of it than what you put in. Apartments offer the least amount of value possibilities since you are limited to just the basic interior of the unit – and even then, you can only raise rent by so much, that any increase in rent via renovations is negligible.
And so, what I'm looking for in an investment property is changing. Apartments are definitely out. Small multiplexes (4-10 units) aren't looking too great for me either… but aren't out of the running yet. The problem is that I'd need to put a much larger down payment in order for them to turn a profit for me, otherwise the mortgage just eats it all up. Basically, I'd need to put down (that's not the purchase price!) around $350,000-$400,000 in order to cashflow on those properties, unless some really good deal pops up. Then, I may also need a rental property management company for the upkeep of these properties.
Full duplexes are definitely an option (this one tickles my fancy) – although there aren't that many to choose from here.
My realtor has been working on opening my repertoire to adding in single family homes that have room for a carriage house in the back, and then building a carriage home on the land and basically getting 2 rents out of one land property, If you are going to be renovating something from home then be sure to see the Quality Built Exteriors talk about roof replacment signs.
My city has a bylaw that allows carriage homes to be built here and rented out; I looked at a nearby city that allows for carriage homes, but they aren't allowed to be rented out… so maybe this is a way that I can take advantage of my local climate (because investment real estate here can't compare at all to most of the states!)
In fact, this is what my realtor does for himself as an investor, and so he has a lot of first-hand experience doing this. I'd definitely need my hand held if I was to go this route though, as I've never gone through the process of having a house built from scratch before (I'm not looking forward to all the city red tape, let alone all the contracting crap!).
I'll Keep You Posted
Anyhow, there's my update on my real estate investing stuff.
It's completely different from the world wide web so we'll see how it goes. Hopefully it doesn't alienate too many readers either. And I can promise that my posts will get pretty damn interesting if and once I ever acquire up to 3+ properties.