February 2, 2010
Posted by Tyler Cruz
I haven't done a post in 5 days because I've been preoccupied with working on my submit campaigns and playing Mass Effect 2. But, I've beaten Mass Effect 2 last night (that game is way too short; get Dragon's Age: Origins, that's an awesome game and very long) so I have more free time to put towards work again.
I spent the majority of the past few days trying to scale my zip and e-mail campaigns. The traffic source I'm using is rather strange in how it works so it took a lot of trial and error with a lot of campaigns to finally realize how to scale them, as simple bid increases weren't very consistent with extra traffic.
But late last night I finally discovered how to scale my campaigns and traffic started to pour in. While I'm getting a lot of traffic now, my profit margins have certainly taken a hit as a result. Now that I know how to scale my campaigns properly, my focus will be put towards profiting.
The good news is that I already have a lot of data to work with (to know what is working and what isn't). Therefore, my efforts will largely entail trying to increase my CR as well as find the right balance for my bids to where I can get both good traffic and profit. That will take a bit of testing and cash to do.
Below is another screencast update on my campaigns:
If you're reading this in an RSS viewer or via E-mail that you will probably not see the above video. In that case you will need to visit my blog via your browser in order to watch it: https://www.tylercruz.com.
Here's a screenshot of my stats for those who wish to just have a quick glance. It's my stats for February 1st up to 4PM. The number is red is the average gross earnings I'm receiving per click. I'm spending anywhere from $0.02 – $0.08 per click: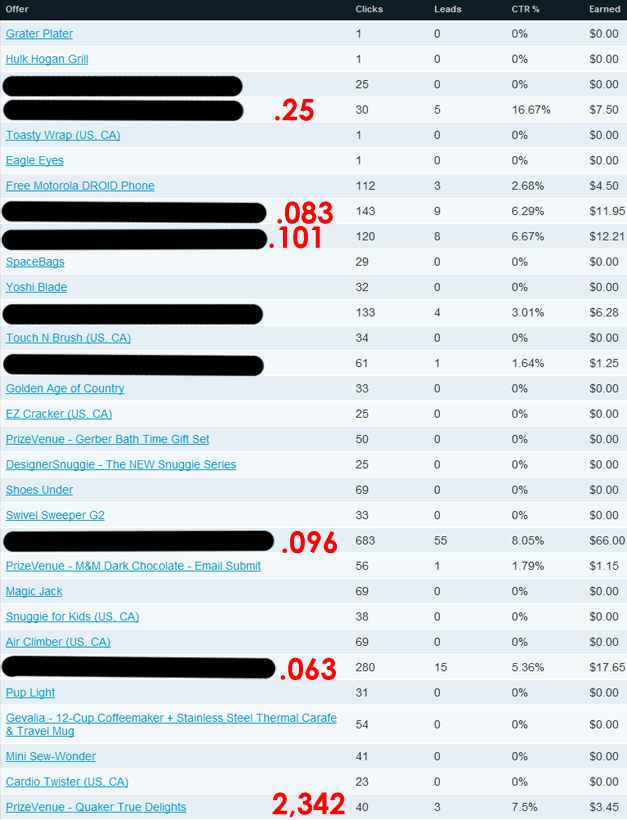 I'm using PeerFly as my main affiliate network and highly recommend them. Those are the stats from my PeerFly account too, so now you know which offers to avoid 🙂
They currently have 116 Zip/E-mail Submit offers (with more added all the time) so there's certainly no shortage to choose from 🙂
I'll give you guys another update in another few days. I hope to report some decent profit numbers by then. Stay tuned!