June 7, 2010
Posted by Tyler Cruz
I'm ashamed to say it, but it's true: I've hardly worked at all the past few months. Sure, I've been doing some blog posts, toying around with affiliate marketing, tending to e-mails, and managing my existing network of sites, but I haven't done much to actually grow. I've basically been doing the bare minimum of what's needed to keep my sites alive.
A number of issues brought this about: my weight loss challenge took up a lot of my time, I have been rather lethargic (despite losing 17 pounds), and I overburdened myself with too many projects and websites to run. In fact, I got up to nearly 400 unanswered work-related e-mails the other day because I simply have too many things going on at once.
But at the same time, I also have myself to blame. I simply haven't had the desire to work lately. I think I've been too stressed from having too many projects under my belt and not enough time to dedicate to each of them. I've been procrastinating by playing a lot of games and spending too much time on sites such as CollegeHumor and TodaysBigThing.
Fortunately, I seem to have found some of my lost passion for working, and have put in some decent hours during the past few days. In fact, I got quite a lot done today, and as I write this post I am on my 4th hour straight during this work session. I am now down to 181 e-mails and actually feel great. I only hope that this lasts and I am able to continue putting in some decent work hours.
Since I own so many sites and have so much going on, I cannot list everything here, so here are the most notable updates of my projects to mention. I am also going to keep things as to-the-point as possible as I don't want this post to get too long to read:
RobotWarz.com
In all the online projects I've ever done in my entire life, developing RobotWarz.com has got to be the worst experience out of all of them. Second-worst was with Replayer.org, when my programmer just disappeared without a trace halfway into the project.
I won't go into details here, but I've just had so many issues with the programmer I hired for RobotWarz that it isn't funny, and goes beyond ridiculous. He seems to be somewhat back on track now, but is still very slow to respond.
Also, the freelance designer I had hired ended up getting a full-time job at a game design studio and wasn't able to continue with the project. I don't blame him though, as he was waiting alongside me for months as the programmer disappeared and slacked on the project.
The good news is that I have since hired a new designer, and he is awesome! He speaks great English and is extremely good at keeping me up to date and responding to me. He has game design experience and understands what we need, and best of all is very fast! He's just what we need to get caught up in the development of this game and get it completed once and for all.
He just started working with us a few days ago so still has a lot of work to do, but has already made great progress and is on a Usain Bolt pace to help us finish RobotWarz.
Below is an image of what he has come up with so far. As you can see, we ditched our previous robot designs, partly because we wanted to keep the new look consistent throughout: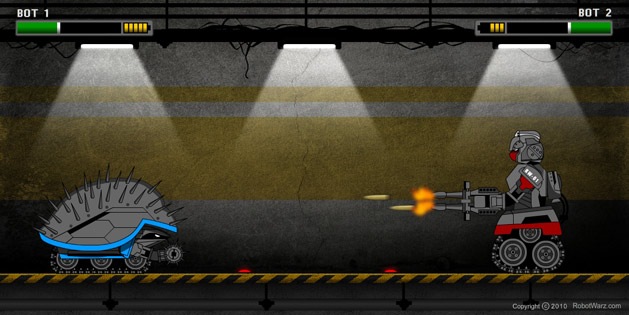 The images aren't final, and I'll be requesting some modifications here and there, but overall I'm very happy with this new designer so far. He actually made me optimistic about this project again.
Movie-Vault.com
I've been doing a fair bit of work on Movie-Vault, especially over the past couple days.
We have a new volunteer content writer who has been great – he has a true passion for movies and is very set on helping contribute and grow the site. I haven't seen passion and help from a volunteer in years… back in the golden age of the site when I had a staff of 2 dozen.
I also just gave a list of new features to Interberry to add to the site. They're all small improvements to the admin area as well as 2 bug fixes, but they're still improvements.
Later, I plan on adding a Twitter and Facebook button to the left side and possibly adding a Facebook "Like" button to all news posts in order to help grow the site.
I've had my final straw with a private advertising agency that I signed a contract with for Movie-Vault.com. They promised me eCPM's of $6-15 but have delivered only $0.50 and under, which is disgraceful. I was very patient with them and tried them for around 3 months or so, but am done with them now. What a waste. I just finished replacing my ads with AdSense for now, and applied to the Break.com ad network.
We're attending the UK red carpet premiere of Killers, starring Ashton Kutcher, Tom Selleck, and Katherine Heigl in a couple days and will have video footage from the event. I asked our interview host to try to get Ashton Kutcher to say "I love Movie-Vault.com" on camera, as I feel he might just do it, but I'm not sure if she'll remember or feel it's appropriate 😛
If he does though, that'll be cool and then I'll be asking her to ask everyone to do that, lol.
I have the opportunity of getting actual private one-on-one sit down video interviews with celebrities, but cannot afford to at the moment. Once the site grows I'll start our foray into that.
Marketing-wise, I have a couple of new things up my sleeve, but we did try posting to the various social bookmarking sites ala Socialmarker.com which unfortunately didn't help at all. I also tried running an AdWords campaign targeting "movie reviews" and "movie news", but for some reason I can't understand, those terms got no traffic whatsoever… like just a few clicks per day… and they had no competition. I still don't understand it.
It's been hard growing Movie-Vault.com, but I haven't been neglecting it and am really trying to take it to the next level.
My First SEO Test
I actually plan on writing an entire post dedicated to this, but thought I'd mention it here as well. Basically, after hearing how SEO has been working for an affiliate friend of mine, for the first time ever, I hired a professional SEO guy.
I have him working on 2 of my sites (Movie-Vault.com and my main affiliate site) to increase the ranking position of certain keywords.
I have him on a monthly basis, but am scheduled to have him working on my affiliate site for 6 months and Movie-Vault.com for 12 months as that is how long he estimates it to rank in the top 10 for the keywords I gave him.
We're 3 weeks into the first month and so far I haven't noticed any improvement except for 1 keyword which may have improved a bit. I understand SEO takes time, but I hope I haven't shelled out a lot of money before I see that it isn't working…
I think, though, that he has spent most of this time so far, on writing articles, and not actually link building, so we'll have to wait and see. If I see absolutely no improvement by the 2nd month I'm most likely going to cancel my agreement with him.
PokerForums.org
In yet another effort to try to cut down on the number of websites I am struggling to manage due to having so many, I put PokerForums.org up for sale a couple months ago.
I had a couple people originally interested around the $100K-$125K mark, but I was set on closer to the $200K mark at that time and so turned them down, and they are no longer interested in the site.
However, earlier today I received a bid of $75K from a guy who has continued to show serious interest in acquiring the site. I have since lowered my price and am now willing to accept $100K for the site, but not $75K so I had to decline his offer.
$75K is a lot of money, but PokerForums did pull in $120,000 net profit during the past 36 months with basically no work on the site, so that was $120K net made without any real work or time put into the site, basically passive income. And after escrow fees and taxes, $75K does not account for very much and would be gone before I know it so I feel that $100K is a very fair price for the site.
Affiliate Marketing
I spent a fair bit of the time that I did work over the past few months on affiliate marketing, mainly really trying to scale my zip/e-mail submit offers.
I was on great track to scaling one campaign to $500 a day, but ended up getting blacklisted on that offer and had to shut it down. My main problem with submit offers is that they seem to get a lot of internal shaves, most likely because they've been promoted to death and the submit companies already have millions of e-mails and so the offers have been saturated.
My "main" offer did well a while ago, but hit a real dry spell the past few weeks, so I paused all my affiliate marketing attempts. The good news is that this has given me more time to concentrate on my other projects.
Starcraft2.net
I haven't touched Starcraft2.net since I launched it, but am posting this update because Starcraft 2 is scheduled to hit stores on Jul 27, 2010, less than 2 months away.
Starcraft 2 is a HUGE release and if you're a Blizzard fan or gamer of any sort, then you'll know just how big it is. Even if you're not a gamer, I'm sure you've still heard of World of Warcraft, another Blizzard game.
I won't bother talking about just how big of a release Starcraft 2 is and how much staying power it has (Starcraft 1 came out in 1998 and is more popular today than ever, 12 years later), but am just mentioning it because once the game actually launches and hits stores, I expect for Starcraft traffic to skyrocket.
I own the domains Starcraft2.net and SC2.net as well as many other Starcraft domains, and Starcraft2.net is already ranked extremely high just because of the domain name. Check out the SERPs below:

As I write this, I am currently ranked #19th on Google for "starcraft 2" and #6 for "starcraft2".
Since I am already so busy with so many projects, I am considering putting my Starcraft domains/sites up for sale on Flippa. I am curious what the "general public" deems the value of Starcraft2.net to be. I am also wondering if I should hang onto it until after the release and wait a bit for the popularity to soar, and then put it up for sale at it's peak.
I do know that 24 hours after obtaining Starcraft2.net and SC2.net, my friend offered me $12k for the both of them, to which I declined. As a huge Starcraft fan myself, I would like to build the site into something that really contributes to the community – for example, I was thinking of getting into the custom Starcraft maps business as Blizzard is offering a revshare deal to map designers – but I do not have the time for this, so may just put it up for sale.