April 2, 2007
Posted by Tyler Cruz
April Fools!
As you have probably guessed by now, my previous post was an April Fools joke! Ah, the long lost art of April Fools… I remember back in elementary school we'd go crazy on April Fools. I particularly remember in grade four when we did the craziest stuff such as putting green slime goo on the door handles and such. My grade four teacher was always an awesome and great teacher, but for some reason she tripped out and even swore! I remember we all gasped when she swore, heh. She then got the principal who gave us a lecture. To this day I still don't know what the problem was.. we didn't do anything dangerous or mean, it was all in good harmless fun.. strange.
Anyhow, I took a cease and desist letter template (which actually took me a long time to find), modified it slightly, and then Photoshopped it. Here's what it looked like before: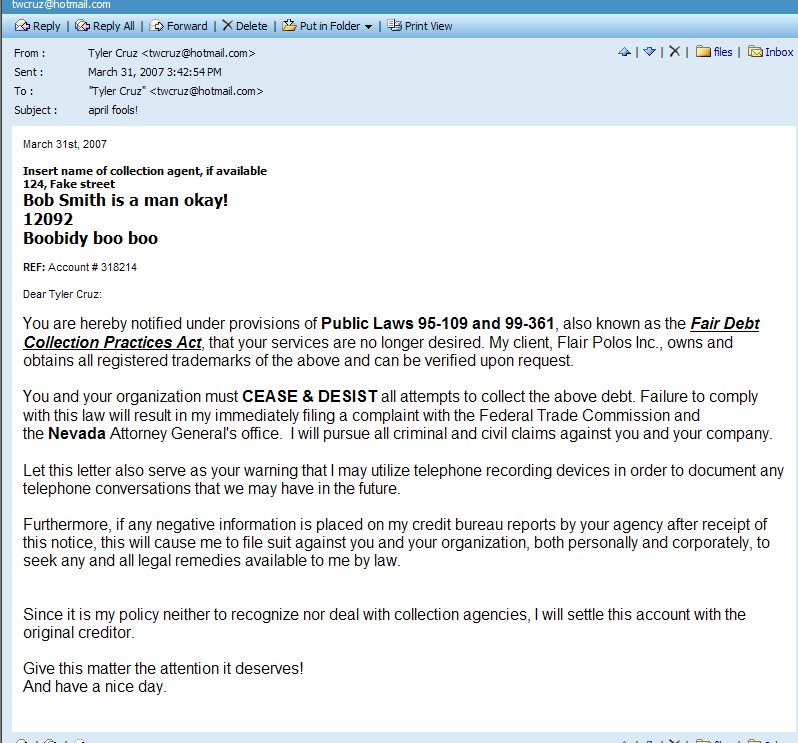 Also, and this is my favourite part of all, you'll notice that Flair Polos Inc. is actually an anagram of April Fools! Hahaha… kudos to the anonymous commentor who caught that. I kept laughing when people were e-mailing me saying they couldn't find Flair Polos Inc. on internet searches and searches through the BBB, but I do appreciate the effort 🙂
Blog Changes
If you're a regular reader of my blog, you'll have noticed a number of visual changes. I can't believe I spent a good 2-hours working on it… it will be my last update for quite some time I think, as I need to really focus my time on making money!
First, I removed my "Daily Earnings" section from the top right. I used to recalculate my earnings quarterly, and April 1st marked my next iteration, but I've removed it for the following reasons:
Bragging Confusion

Some people have stressed the fact that they thought I was bragging about my earnings. That is hardly the case at all. I know that I'm a smalltime player in this industry, and I could name a dozen collegues off the top of my head who make 10x more than I do. The point was always to showcase the progress of my earnings. Many people may not realize that I actually started displaying my earnings when I was making around $36 a day.

In any case, it seems to have offended some people.

Time Factor

Believe it or not, but recalculating all my earnings takes a long time. A couple of hours, actually. Apart from calculating all my private ads, I'm also an affiliate of several dozen ad networks. Logging into each one, generating the numbers for a specific period, and then calculating it all is very time consuming.

Lower Number

I won't lie. If I were to recalculate my earnings now, my number would be loser than $256, quite significantly lower actually, I'd estimate by around $60 or so, which is as expected and predicted; the poker ban has not been friendly to me. I don't like the fact of displaying my earnings when they've dropped so drastically.

However, that was only counting ad income. I never included other income such as site sales, domain sales, or domain brokerage. If I did, then my daily earnings would actually exceed an average of $300 per day.
Secondly, I moved the Control Panel where users can log in and out for commenting from the bottom right to the top left for better usability.
I also adjusted the MyBlogLog widget to reduce the width by 5 pixels, and fixed the title "Recent Readers" to display; formerly it was white and appeared invisible.
Thirdly, I added a ReviewMe button to the left section. I really wish I had more review requests from ReviewMe. I don't know why I don't get more… $100 is a fair price for what you're getting, IMHO.
Fourthly, I removed the AdBrite 468×60 banner as I was never a big fan of the text display, and replaced it with a Leaderboard 728×90 for PublisherSpot. I'm aware this is pretty big and bold, but the colour scheme fits perfectly and I think you may get used to it. I had tried a ValueClick leaderboard but it was much too obtrusive and flashy so I removed it.
As a result of the larger leaderboard, my header image plus the leaderboard was just too much and pushed the content down too far, so I cut the height of my header image by 50 pixels and updated it with new imagery as well.
Lastly, I tried installing two plug-in's. First I tried the Threaded Comments one, but it didn't appear to work with my blog or theme. I got a ton of Javascript errors and it wouldn't let me comment anyhow. It's too bad, too, since it was actually looking like quite a nice addition.
Then I tried installing the MyAvatars hack, and while this worked, it also displayed a Javascript error in the bottom left of MSIE, and that just bugged me too much…
I really hate my theme. It's so buggy and I keep having to fix issues with it. Also, the left column is just too much and takes too much space away from my blog. John Chow's theme is awesome but I don't want to copy others. Maybe I will indeed look towards a custom blog theme in the future, but only if I start making some money from the blog first; I've spent too much time on it already. I know it's a chicken and egg type of thing, but I'm not prepared to invest money onto my blog, at least not yet.
Anyhow, I expect those to be the last blog changes/updates for a while, It's time I stop neglecting my sites.