January 13, 2013
Posted by Tyler Cruz
Are you attending Affiliate Summit West in Vegas this year?
If you are, be sure do hit up the biggest party where you can be sure a lot of big players in the industry will be at.
Hosted by Affiliate Nation, which is comprised of Clickbooth, CPAWay, and MaxBounty, the "Affiliate Nation Vegas Mega Party" starts at 10pm on January 14th, 2013 and is being held at the Tao nightclub (in the Venetian).
Drinks are free (open bar), the DJ is David Carvalho, and there will be Go-Go dancers and even a performance by Chingy!
To attend, you're going to need to RSVP. Since this is a bit of short notice, if you want to make sure you can get in, shoot me an e-mail and I'll try to get in contact with one of the organizers of the party as I am one of the party's media sponsors.
Where: TAO Nightclub – 3377 S. Las Vegas Blvd. (The Venetian)
When: Monday January 14th @ 10 pm
RSVP: http://www.affiliatenation.com/Vegas/
Here's a short video promotion for the party:
(Note: You may need to visit the post directly at TylerCruz.com if you're reading this via e-mail or RSS in order to see it.)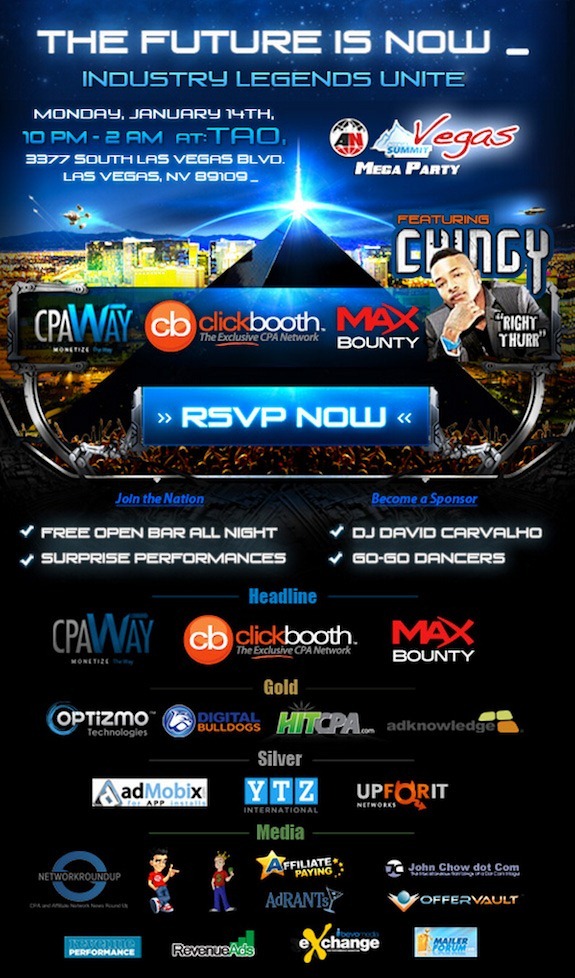 Have fun!