August 3, 2006
Posted by Tyler Cruz
Well, I'm back from a little vacation I took with Lisa up the island for a few days. Here's today's list:
Earnings Recalculation
Trip Photos
Video Updates
Earnings Recalculation

Well, it's already been another two months and so that means another average monthly earnings calculations of the previous 6 months. Here is the outcome:
Previously $167 USD daily, $5,037 USD monthly
Currently $193 USD daily, $5,818 USD monthly
So obviously I'm very pleased. And to be redundant now on what I always say, I shall say that I believe it to be extremely difficult to keep up the pace of constantly increasing the average income… I'm so scared of the day that I recalculate only to find earnings decrease… but for now things are increasing so I'll just try to stay optimistic.
My goal in September 2005 was to make an average of $10,000 a month by September 2006. Well it's not September yet but it almost is and I'm not anywhere close to be meeting that goal. Therefore I've changed my goal to make an average of $10,000 a month by August 2007. Will I meet my goal this time? We'll have to wait and see…

Trip Photos
Here are a few photos from our little trip: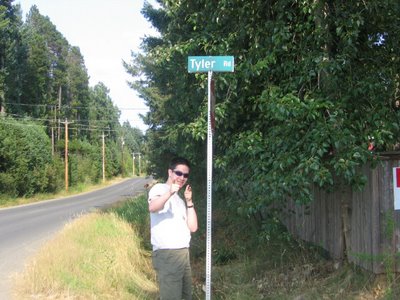 Found this on the map and I just had to drive there…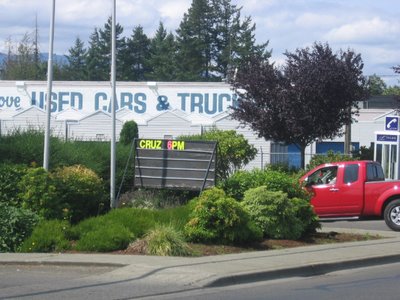 Hmm…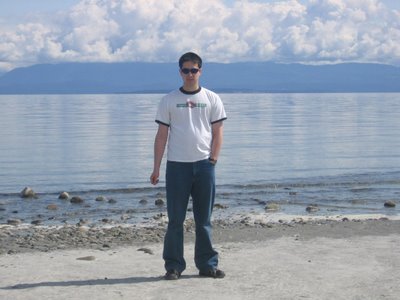 Sporting my PokerForums.org shirt on Miracle Beach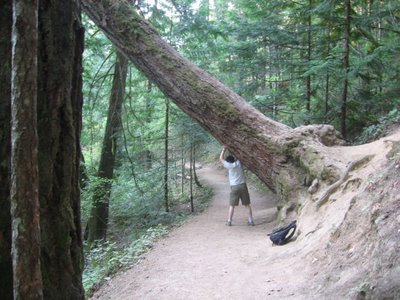 A little help here?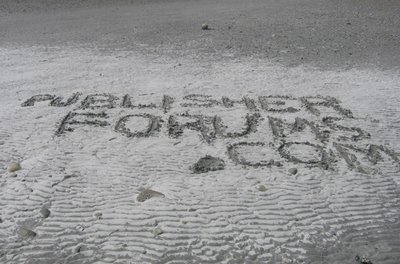 After I made it, admired it, and walked away, a girl who was watching me from a distance went up close to see it and was staring at it for a while, then called her mom over, and soon there were a few people looking at it and talking about it. Hehehe.
Video Updates
I took a few little videos while on our little trip and have them for you below, which I intend to make the meat out of this entry; the second video is over 6 minutes and should give enough content to satisfy readers.
I also tried editing the movies for the first time, and boy was that fun. Editing videos is extremely fun – time consuming, but fun. It also allows me to stitch many videos together which makes things easier than posting 20 videos seperately. Edited videos are much more interesting now too, I think, taking out all the boring stuff.
Some more good news, I discovered that my digital camera can indeed record in 3 different resolutions after all. I was previous using 160×120 which is insanely small. My camera can apparantly also do 640×480 and 320×240. I'd use 640×480 but it only allows a 30 second maximum record time, whereas the 320×240 allows 3-minutes, same as the 160×120 so I may as well use 320×240 now.
So, in the future my videos should have sharper resolution and look a lot better (you won't actually notice a size difference as YouTube automatically enlarges the 160×120 to a larger size, however pixelization occurs of course; the 320×240 won't have as much pixelization).
Finally, now that I edit the videos, I've fixed the audio problem YouTube creates.
On a side note, I've been contemplating buying an actual digital video camera instead of my digital photo camera, but I can't see myself spending money on it just for this blog. Maybe I should open up donations… 🙂
Anyhow, without further adieu:
This first video is just me showing how to open a bottle without a bottle opener by using another bottle, on-topic web stuff is in the second one below which is 6-minutes long.
Don't forget to visit
PublisherForums.com
– it's getting more active so register if you haven't already and post! Thanks.
Good luck and good earnings!
Posted: August 3rd, 2006 under Videos