June 5, 2007
Posted by Tyler Cruz
I've been banned by Commission Junction. 
Back in mid-May I had tried to log into Commission Junction to grab some links, when I was presented with a "Our records indicate that your account has been deactivated." message. I had assumed there must have been a mistake since I'm probably the most "whitehat" guy you'll ever find. Plus, I never received any notification that my account was disabled via phone or e-mail.
I did a Google search and it appeared that I wasn't alone. A lot of people seem to get random bannings from CJ without any notification at all. Apparantly from what I gathered from my short research, the most common reason for deactivation is 6 months of inactivity (no sales)… which is strange, since my account was idle for around 5-years until a couple months ago when I started trying this affiliate marketing thing. Maybe their system doesn't start detecting the no-sales ban if you show no impressions at all or something.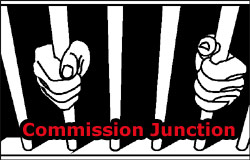 I'm sure this is in the rules somewhere, and while I think it's a silly rule, how about a courtesy phone call or e-mail notification? Especially in the world of affiliate marketing where many marketers use pay-per-search; banned members who are not notified by CJ could be spending a lot of money driving traffic to their site, only to find out later that CJ banned them. I mean what's so hard about sending an e-mail out? It's all automatic…
Anyhow… now I'm kinda glad they dropped me. Who wants to work with a company that does stuff like that? I've also been hearing a lot of bad things about CJ. It's difficult to be banned by them though since so many large merchants are signed up exclusively through them. That's the only thing they really have going for them. Their support stinks; they never answered my numerous support e-mails.
I phoned them and get this: they actually have it on the automated phone support that says publishers automatically get deactivated if they earn no income for 6-months, and CJ advises those members to "sign-up with a new name". What? That makes absolutely no sense to me. Why can't they just reactivate your account? For one thing, it means you have to re-apply to all of the many networks, which can take months to be accepted to, and the worst part: as a result all of your links will change and you'll have to hand-update all your sites and pages with the new ad code and tracking media…
 So yeah. Not a fan of CJ. Ironically, I'll probably resign up with them again sometime… I kind of have to. To reiterate, many large merchants are signed exclusively with CJ so I don't have much choice. But I'll only use them for merchants that are signed exclusively with them. For everything else, I'll continue to use AzoogleAds and Copeac. They've been treating me well. I'd encourage others to do so as well.
It's been a while since I talked about my affiliate marketing plunge.
Those series of posts garnered a lot of attention… and mockery. Many of my critics seemed to have enjoyed watching me lose $1000. Apparantly my failure brings others joy. Talk about schadenfreude…
Do I care? No. I'm not #1 on Google for "lazy ass internet marketer" for nothing. I'm also obviously not an affiliate marketer. It was something I tried, and will revisit when I'm bored again. I've also never claimed to be rich or anything, nor claim that my blog will teach you how to make money.  Am I rich? No. Do I make a decent living working a couple hours a day? That's up for debate.. Don't forget that my blog is more a work journal, and once in a while I write some helpful and useful articles.
I think one reason I've had an influx of "comment trolls" lately is because people are expecting step-by-step tutorials on how to make money. They then visit a few of my websites and base me entirely on them, as if all I've done in the past few years was put up a few simple forums…
But that's fine. I'm in the public spotlight so that comes with the territory I guess, and I'm used to it.