August 22, 2017
Posted by Michael Kwan
The following is a paid review for TylerCruz.com written and reviewed by Michael Kwan. It is completely of Michael Kwan's opinion and is not influenced by being paid. If you're interested in having your site or product reviewed, please view my advertising page
Affiliate marketing is nowhere near as obscure as it was once was. It's no longer shrouded in a cloak and dagger mystique. If anything, affiliate marketing has become much more mainstream and far more accessible than ever before. This means that just about anyone can get started with it and affiliate networks are competing harder than ever before to attract the best advertisers and publishers.
One company that has been receiving more attention lately is BizProfits, which strives to be the premium CPA network that connects "top converting publishers with advertisers who have the most lucrative and exclusive CPA offers online." Do you want to make money online?
Main Features of BizProfits
BizProfits aims to set itself apart from other affiliate networks in several ways, four of which are explicitly highlighted on the company's main page.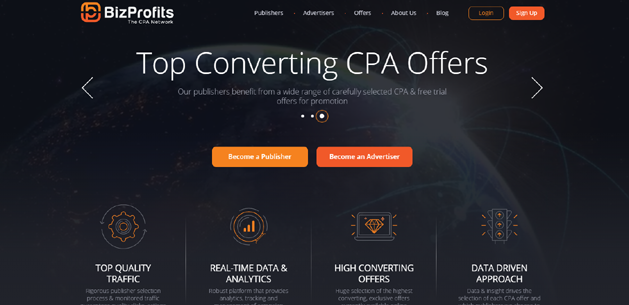 First, they strive to provide advertisers with top quality traffic. This starts with a rigorous publisher selection process to ensure that affiliates are legitimate and won't provide junk traffic to advertisers. The strictly monitored traffic guarantees compliance, delivering quality clicks, actions and leads.
Second, to please publishers, BizProfits populates its database with a "huge selection of the highest converting, exclusive affiliate offers." If you're going to put in the same amount of effort to attract quality traffic and clicks, you may as well be rewarded as handsomely as possible.
Third, the robust platform on which BizProfits is based is able to deliver real-time data and analytics for both advertisers and publishers. This performance tracking empowers affiliates to adjust their campaigns on the fly, optimizing for clicks, conversions and commissions.
Fourth, the company operates with a data driven approach. This means that the selection of each offer in the CPA affiliate network, as well as the selection process for which publishers can promote them, is dictated solely by data and insight. The numbers don't lie.
Why Promote with BizProfits
When you consider that there are so many affiliate networks on the Internet today, it can be difficult to decide which one you should work with. BizProfit lists several reasons why you should become a publisher with them, above and beyond the four pillar points described above.
Some other CPA networks focus on just one industry, but BizProfits offers affiliates a variety of verticals to promote, all of which are populated with high converting, direct, and international offers. They work toward providing you with the highest EPC (earnings per click) in the business with regular CPA offers, as well as CPL (cost per lead), straight sales commissions, and free trial offers.
Another motivating factor is that BizProfits guarantees it makes payments twice a month. These timely payments give you the confidence of cash flow so you can continue running your campaigns without hindrance. These payments can be delivered via PayPal, Epese, Paxum, WebMoney or as a wire transfer with no more than a 2-day hold.
Beyond the first action, you can earn more money with 2nd step orders, upsells and cross-sells. You also gain access to 2nd-tier commissions where you earn an extra 5% of all the commissions generated by the publishers you refer to the network. The 24/7 support and account management means help is always just a click or call away.
Four Main Industries
Even though BizProfits says it provides publishers with a variety of verticals to promote, the offers in the network can be (and are) largely divided into four main affiliate programs: health & beauty, financial & loans, binary options, and sweepstakes. They have a range of subcategories for the health and beauty vertical as well as the loans vertical, such as payday loans, personal loans, auto-title loans, among other types of loan CPL offers. They have even come into an affiliation with financial experts at IVA tv and have put out offers pertaining to debt consolidation.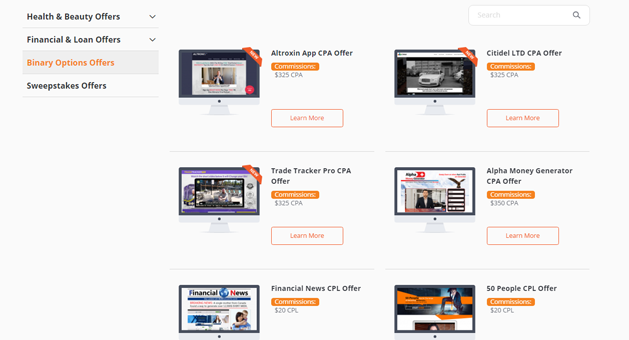 Unlike most other networks, however, you don't have to sign up with BizProfits in order to browse through the list of affiliate offers. This can give you a very good sense of not only the types of advertisers and offers in the network, but also the kinds of payouts you can expect.
This isn't just a simple "teaser" listing either. Clicking through on any individual offer reveals a preview of the landing page, a short writeup description, and specific information about commissions, payouts, geo-traffic supported and offer type. There's even a paragraph for why you might want to promote that particular offer.
In the public listing of offers, you can drill down to look at some of the more specific sub-categories. Under the umbrella of financial and loan offers, you'll find further categorization for personal loan offers, auto title loan offers, credit repair offers, and mortgage loan offers, for example.
Once you log into the affiliate dashboard (which we'll discuss further in just a moment), you gain access to a similar listing, but it's nowhere near as visual and the categorization hierarchy is not as clear. That said, you can still sift through the hundreds of offers, filtering for only beauty offers or only mobile CPA offers, for instance. It's really up to you.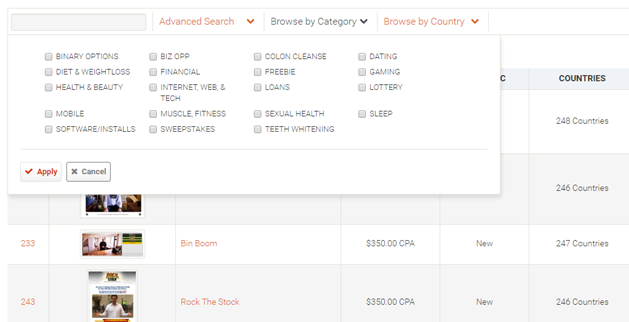 Into the HasOffers Dashboard
If you have been in the affiliate marketing industry for some period of time, there's a good chance that you have encountered the HasOffers platform with at least one other network before. It's what powers BizProfits too, so you'll be in familiar territory.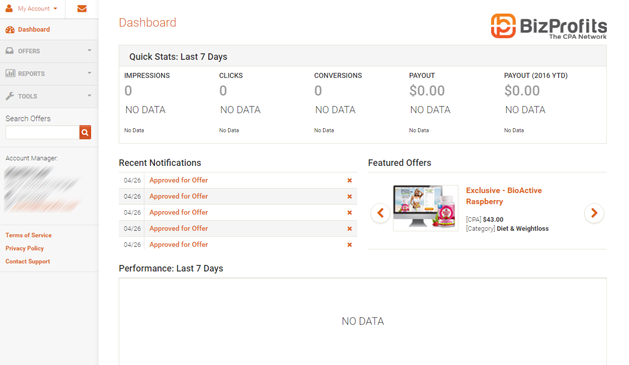 The dashboard is exactly as you'd expect it with the main navigation listed along the left column. This includes the contact information for your dedicated account manager. The level of guidance and support you need is entirely up to you. If you're new to affiliate marketing, your manager might help you decide which offers are best for you to promote and how you might go about promoting them. If you're more experienced, you might be able to work with your manager for better payouts or more creatives to use.
The quick stats for the last seven days give you a good sense of your performance at a glance for the preceding week. You also see your payout for the year to date (YTD), which can serve as a terrific motivator as the year goes on. Are you meeting your targets?
You'll also notice the list of recent notifications. Many of the offers in the network do require approval, either from the advertiser or from BizProfits as they are direct CPA offers. I would have liked if these notifications were such that I didn't have to click through on them to see which offer was approved.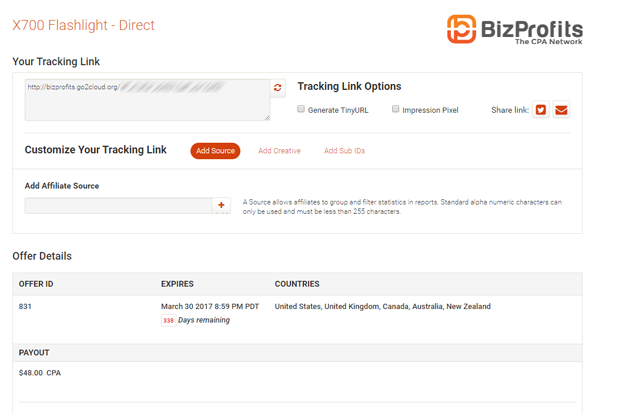 Beyond the main dashboard, you can use the navigation along the left to access all your reports and tools, as well as sift through the offers in the network. The payout range is considerable with some offers starting around $1 CPA, whereas others get into the $300+ range. It depends on the vertical, the advertiser and the offer.
Big Profits from Online Business
It would be unfair to expect BizProfits to completely break the mold for what an affiliate network is. Instead, it makes more sense to determine whether it is doing what it should be doing, and doing it well.
With a good range of offers within four large industries, broad geotargeting, generous commission rates, semi-monthly payouts, and 24/7 access to support, BizProfits ticks a lot of the boxes. Ultimately, it's up to you how much money you can make. Fill out the publisher sign up form and someone from the BizProfits team will be in contact with you soon.