October 20, 2010
Posted by Michael Kwan
The following is a paid review for TylerCruz.com written and reviewed by Michael Kwan. It is completely of Michael Kwan's opinion and is not influenced by being paid. If you're interested in having your site or product reviewed, please view my advertising page.
When it comes to affiliate marketing, there is no shortage of options for the networks you choose to use. They all claim to be the best at what they do, but that clearly cannot be the case.
One of the newer players in the arena is BLAM! Ads. The focus is very much on lead generation, particularly when it comes to incentivized advertising. They claim to be a complete solution, paving the road for you toward Internet-sourced riches. Let's see what they offer and whether they deliver on their promises.
A Little Company Background
It's not completely fair to say that BLAM! Ads is new to the game, because it carries a pedigree of at least six years in the business. Parent company Eagle Web Assets was founded in 2004 and it has "evolved to a successful privately held conglomerate."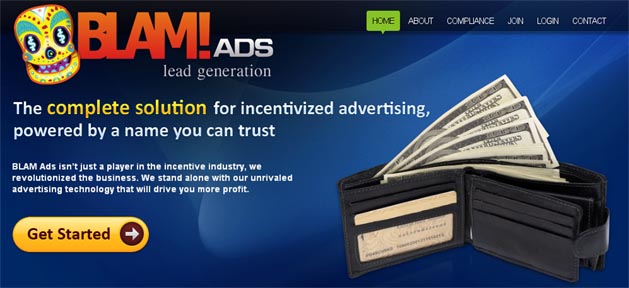 EWA Private Network is the sister company to BLAM! Ads and it serves as a mainstream network. The same business philosophy has been extended to this newer, more focused network. BLAM! Ads was started in June 2010 to address the "massive lack of innovation within the incentive markets."
The goal, then, is to make use of new technologies to make it easier for you to profit from your visitors. The focus is very much on incentivized traffic, so you need to be coming from that kind of affiliate mindset.
Three Parallel Structures
BLAM! Ads actually consists of three separate but inter-related infrastructures that you can use to monetize your traffic. When you sign up for an account with them, you effectively gain access to all three.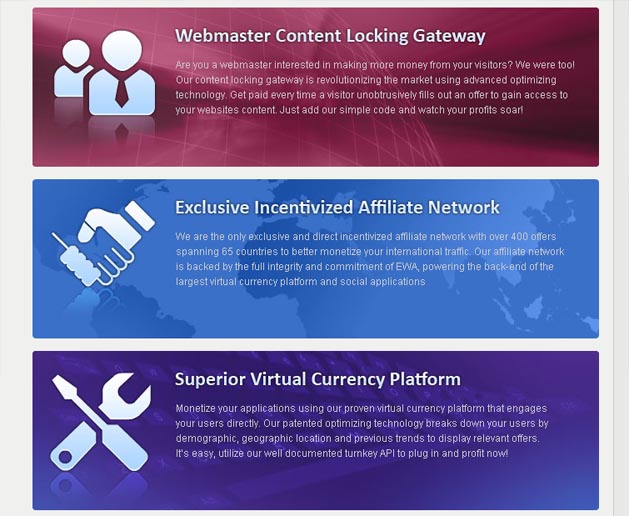 First, there is the webmaster content locking gateway. This is where you insert code on your website that "locks" the content from the visitor until he or she fills out the offer that is displayed as a pop-up. I'll discuss this in further detail in just a moment.
Second, there is the exclusive incentivized affiliate network. This is a little closer to what you would normally expect from a conventional affiliate network, granting you access to a number of different offers spanning 65 countries around the world.
Third, there is the superior virtual currency platform. This isn't so much for regular webmasters as it is for app developers. The idea is that you can monetize your applications with a virtual currency platform, getting users to spend real money to get virtual products. This platform allows you to target users based on demographic, geographic location, and other pertinent criteria.
Available Incentivized Offers
After submitting my application to BLAM! Ads, an email message showed up the next day asking for more information, like where I heard about the network and how I plan on using it. After replying to that email, the approval came through within the next 24 hours. So, from beginning to end, you can expect the approval process to take about two days.
Logging in the main affiliate dashboard, I immediately went to the "offers" section to see what was available and whether these offers would be relevant to my kind of traffic and whether the offers were lucrative. The offers span a number of categories, from automotive and dating to financial and games. They are all incentivized.
You can search the list of offers by keyword or sort them by a number of criteria. You cannot, however, sort based on the country. This can be troublesome for people who want to specifically target one area or another. Payouts range from as much as $36 for a UK-based catalog card to just $0.20 for the iWon Games toolbar. Your mileage, then, will clearly vary.
The Pre-Pop Content Locking Gateway
Perhaps one of the more interesting utilities in BLAM! Ads is the one that allows you to generate a content locking gateway.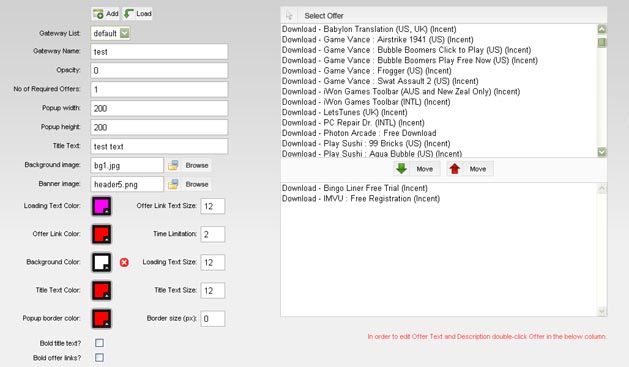 You have to log into a separate sub-site to access this area, but the offers appear to be the same as the ones you find through the main affiliate network. The trouble is that the details of each offer are not shown on this side of the equation, so you'll end up bouncing between the two sites to get the info you want.
There are a number of different options you can define for your content locking gateway. You choose the offers to display, you upload a banner image, you upload a background image, you provide the title text, and you define the width and height of the popup. There are also a number of color options too.
To implement the popup, you simply copy and paste two lines of code somewhere between the <body> tags on your site. The scroll bar effectively gets disabled and visitors can really see anything on your site until they fill out an offer. This can be annoying to some, but it can be lucrative for you if you have the right kind of content hiding behind there.
Payment Details
In terms of payment details, BLAM! Ads works on a monthly net-30 payment schedule. Most affiliates are encouraged to use ACH (automatic clearing house) for their payments rather than receiving a check in the mail. You can go with direct deposit or, if you prefer, bank wires are available.
If you earn more than $1000, the fee is $15 for a domestic bank wire. If you earn less than that, they'll charge you a $50 fee. International wires have a minimum threshold of $500. Depending on how much you earn, PayPal might be a simpler solution, but remember that those PayPal fees can get pretty expensive if you start earning more than a few dollars at a time.
Final Thoughts
BLAM! Ads is a little unlike some of the other affiliate networks that you may encounter during your Internet marketing journeys. The focus on incentive-only offers speaks to a certain demographic and there are over 750 such offers for you to consider.
The user interface is relatively standard, providing you with real-time stats for things like click tracking and commissions generated. The database of offers could use a better filtering system for finding the offers you desire, but it still gets the job done. The content locking gateway solution is quite valuable as well.
If you're into incentivized traffic and are tired of wading through non-incent offers, BLAM! Ads could be right up your alley.