July 1, 2007
Posted by Tyler Cruz
It's been 6-weeks since my last "blog updates" post, so let's get cracking..
Title Plugin
Guest Bloggers
4 Stars on ReviewMe!
Comment Spam/Must be logged-in.
Avatars added!
Improved "Control Panel"
Title Plugin
As mentioned in my previous post, I'm now using the plugin "Optimal Title", and recommend it. Here is a description of the plugin taken from their website:
"Optimal Title is a WordPress plugin that mirrors the function of wp_title() exactly, but moves the position of the 'separator' to after the title rather than before. This allows you to have your blog name tacked on to the end of the page title instead of having it appear first."
Guest Bloggers
I'm still looking for guest bloggers to occasionally write here, such as ROI_Guy currently does. I'm looking for good writers who can write about internet business, design, or web development and the articles/posts must be written specifically for TylerCruz.com.
In return, you'll have your name attached to each post which can be linked to your own website. Good for backlinks and a bit of exposure, plus you'll help me out

The way it currently works is the guest blogger submits a draft (or more) and when I don't have time to write a blog post I then publish the draft into a post on the site.
If you're interested, contact me.
4 Stars on ReviewMe!
Yesterday I finally hit 4-stars on ReviewMe! This made me very happy 🙂 I don't think I'll hit 5-stars for at least another year, but I'm more than happy with my 4.
ReviewMe set my default price at $250 for being a 4-star blog, but I've set it at $120, which is less than half of what any other 4-star blog on ReviewMe charges. Hopefully I'll get some more offers from ReviewMe now, but I'm still not going to use their badge as it doesn't make sense when PPP takes only 10%.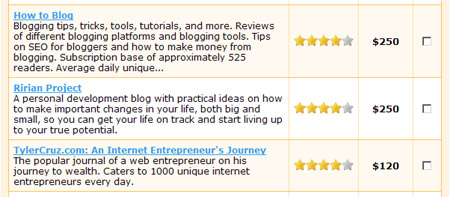 Seriously though, I think $120 (or only $60 if done through PPP) is an absolute steal for the right advertiser.. getting that much exposure on my blog is very cheap. I regularly purchase paid reviews on other sites because I know how effective they can be; I've spent nearly $1000 on JohnChow.ca alone..
Comment Spam/Must be logged-in
Over the past few weeks I've had a serious influx of "Tyler-Haters" trolling my comments. I used to keep all of the negative comments to keep an open and honest system, but ever since people started posting seriously rude comments, and started pretending to post as other people, I've been deleting and banning them.
I still keep negative comments as long as they aren't way over the line, but will continue to ban those who pretend to post as other names. People have been trying to 'fakepost' as AOJon, John Chow, PigsnieLite, and even me! 
So, unfortunately to help fight all the trolls, I've had to put back in place the requirement of being logged in/having an account in order to comment. This will make it much more troublesome for trolls to troll, although I'm sure they will still do so as they seem to enjoy checking my blog 15 times a day and writing about how much they hate me.
So, if you want to comment, you'll have to register an account or log-in if you already have one. But registered users also have a new perk now…
Avatars added!
For the third time, I tried installing the MyAvatars plugin, but still ran into the same issues I had the first two times. I got a lot closer to getting it to work properly after spending a lot of time editing the code and template files, but there didn't seem to be an easy way to solve the issue of non-registered commentors getting broken images, and JS errors.
I tried installing a couple other Avatar plugins, and one came close to satisfying me, but I found too many security problems with it.
Finally, I actually found one that is exactly what I had wanted, and it works perfectly! The plugin is called Dan's Avatar Thingy and lets registered users add an avatar to their account, which displays in the comments. I've added one and here is what it looks like: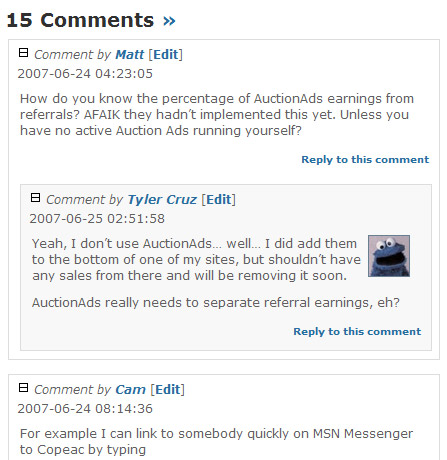 So, it's just like the MyAvatars plugin, only users don't need to have a Gravatar or MyBlogLog account, and it won't display broken images and Javascript errors for guest commentors. It also hosts the images on your own server which should allow for faster loading times as well.
So, considering that commentors once again need to have a registered account on my blog in order to comment, you guys might as well add an avatar to your account while at it 🙂 To do so, simple log-in to your profile and click on Add Avatar.
Improved "Control Panel"
A small change, but I've improved the login "Control Panel" area at the top left of my blog. It now displays what name you're logged in as with an option to logout, and if not logged in, displays "Register" and "Log in" links.
I also modified the bottom of the comments area so that only registered users who are logged in see the comment box; everyone else will see a message instructing them to register an account or log-in before commenting.
So there you have it, some nice new updates and features for my blog. I'm really liking how my blog has slowly evolved over the past year, and hopefully my RSS readership will continue to increase as well..