May 14, 2007
Posted by Tyler Cruz
 It's been a while since I've made a post on the various updates and modifications on my blog, and so here are eight topics on the subject:
Threaded Comments
Akismet & Spam
About Page
Visual Editor Reunion
Advertise page
Blog Designer and Programmer
Calling Guest Bloggers
MyBlogLog
Threaded Comments
You may recall me attempting to install this plugin 2-3 months back, but then after a ton of errors arised, I was forced to abandon ship.
I decided to try again today, and it went a lot better. There was a new version out, in fact I had missed several versions so a number of bugs were fixed. Unfortunately, there were still a lot of issues I had to resolve – many of them resulting from a conflict with my own skin.
 I managed to resolve all the issues myself except for one. And now, after 5 hours of head-numbing madness, I'm giving up and am hoping one of you readers out there can come to my rescue. Please! Somebody!
I'm pretty sure that this problem is isolated to Brian's Threaded Comments plugin as the issue only started once I installed it, and when I deactivate it, I don't get the problem.
The issue is that in MSIE 7, when I click on one of my posts to view the comments and it goes to: https://www.tylercruz.com/wordze-review/#comments with the anchor id "comments" so it displays that section in the browser, and I refresh, it automatically removes #comments from the browser and displays just https://www.tylercruz.com/wordze-review/#comments
I've tried several things such as adding other elements and adding <a name="comments"> instead of just the id="comments", but obviously I'm still having this issue.
I'm using the latest version 1.5.12, and it's a fresh install. The strange thing is, I can't duplicate this problem on other sites that use the plug-in, just on mine.
It works fine in Firefox for me, but not MSIE7. Any idea what's causing this? 
Anyhow, here is the threaded comments list in action. I'm thinking of removing it though if I can't resolve the above bug. I'm a perfectionist with a bit of OCD thrown in so stuff like this really annoys me!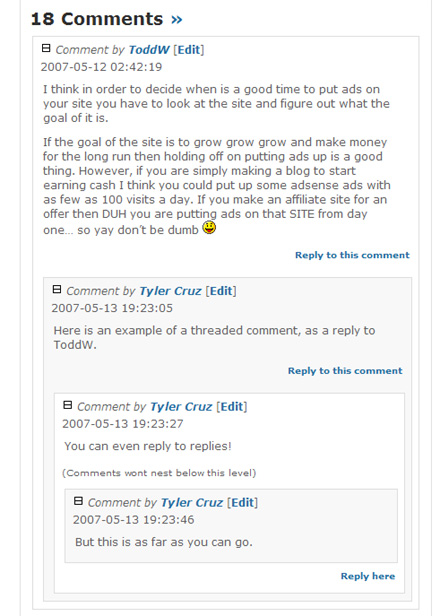 Akismet & Spam

I noticed earlier today that there was a number of posts incorrectly identidifed as spam by the Akismet plugin. I've unmarked them as spam and they are now in the comments area, but Akismet is set to automatically delete all spam older than a month, so there may have been a lot of comments that were deleted.
Sorry for that guys. If you notice your post not appearing in the future, just send me an e-mail and I'll fix it.
I'm pretty surprised by this because I thought I was already receiving a lot of comments; and now it seems that there has actually been a lot more than were never being posted!
About Page
I posted this a while ago, but nobody responded, so I'll try again: Does anyone know why on my about page it shows "Subpages for About Me" in the top right corner? I can't seem to figure out why it's doing that and how to remove it.
Visual Editor Reunion
Shortly after converting to WordPress I turned the Visual editor off because it only slowed me down with all the bugs. I've now turned it on again and am using it right now. I may end up switching back to plain HTML mode again because I've already noticed a few bugs/annoyances with it that remain, such as automatically scrolling to the top whenever I switch windows or copy and paste, and the clipboard text keeping the original formatting when I copy/paste stuff in, which only slows me down.
However, they did fix a bunch of bugs, and they've added the "Code" tab which is for HTML, which wasn't there when I had last used it, so we'll see which one wins the luxury of having me type in it 😉
Advertise page
Made slight modifications to my advertise page, just minor updating.
Blog Designer and Programmer
I'm again looking for a blog designer and now a WordPress plugin programmer as well. Contact me if interested or know somebody. Please only contact me if you or your referred person is very qualified/talented; you know me and my high expectations.
Calling Guest Bloggers
I'm again looking for guest bloggers to occasionally write here, such as ROI_Guy currently does. I'm looking for good writers who can write about internet business, design, or web development and the articles/posts must be written specifically for TylerCruz.com.
In return, you'll have your name attached to each post which can be linked to your own website. Good for backlinks and a bit of exposure, plus you'll help me out 🙂
The way it currently works is the guest blogger submits a draft (or more) and when I don't have time to write a blog post I then publish the draft into a post on the site.
If you're interested, contact me.
MyBlogLog
I've watched my MyBlogLog community slowly grow over the past few months, and it's now currently at 107 members. 
What does this mean? I don't know, but I like it.
That's all for now. And yeah, this Visual Editor is now losing the battle… bah!