July 20, 2008
Posted by Tyler Cruz
Well, not exactly. I did go to the beach, and I did bring my laptop – but I didn't actually connect to the Internet or do any blogging. I just brought the laptop to take a few shots that I'll probably use to update my about page.
There's nothing instructional or work-related in this post guys, so be forewarned!
Last week, Lisa and I went to the beach for a day trip.
I live on Vancouver Island which is located on the west coast of British Columbia, Canada. Vancouver Island is very beautiful, and so a lot of people move here to retire. Sometimes I forget just how beautiful BC (and especially Vancouver Island) is… it's little excursions such as this one that help remind me how fortunate I am to live here.
We took a million photos, but I'll try to limit them as best I can. At the end of this post there is also a 10-minute edited video.
I live in Nanaimo, and we were headed to Long Beach which is on the north west coast of the island. Google Maps estimates the trip to take 3-hours, but I believe it's longer since the second half of the journey goes through the mountains and has a million curvy turns (as opposed to a straight drive).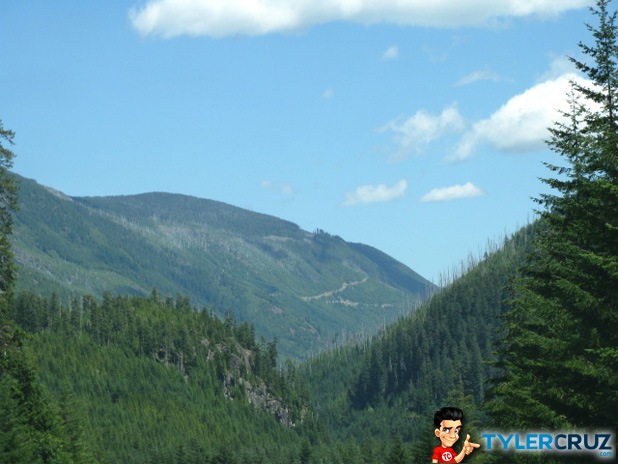 This is Vancouver Island, and pretty much what I'm used to seeing every day. I live in the city, and am not living out in the "country", but a 5-minute drive from almost anywhere on the island will get you there.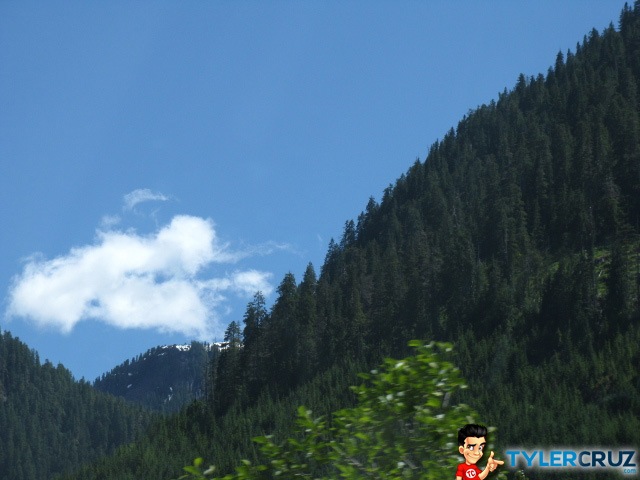 About 3.5 hours later… Long Beach!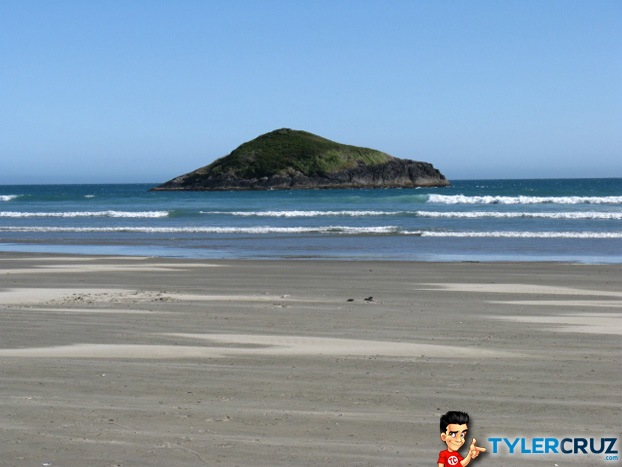 It was very windy when we went. It's usually windy around the Tofino/Long Beach area, but was extra windy when we went, which was fine with me as it kept me cool.
Feeling the water.. which was very cold, but refreshing.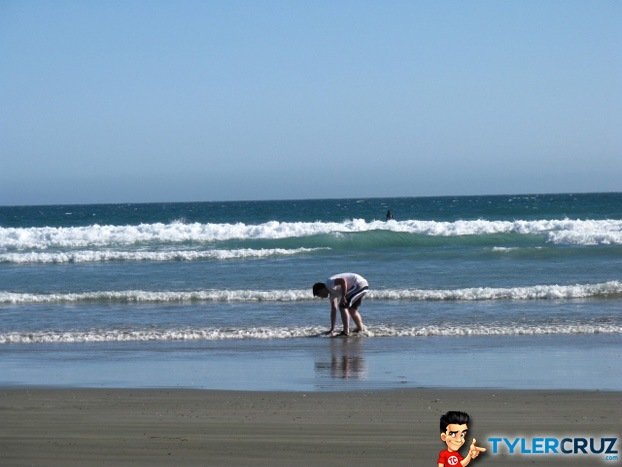 Me doing my signature pose!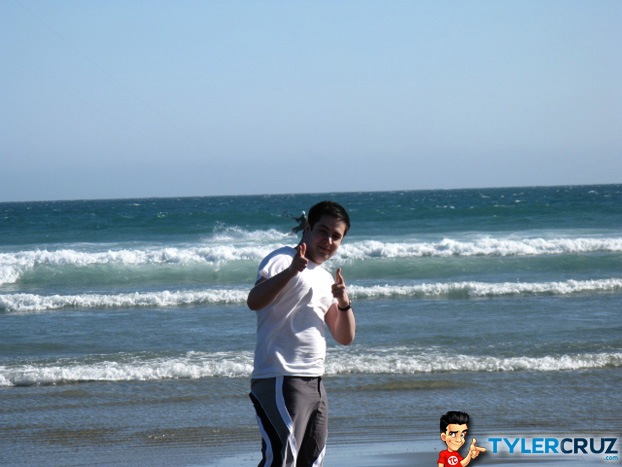 Lisa holding the sand down.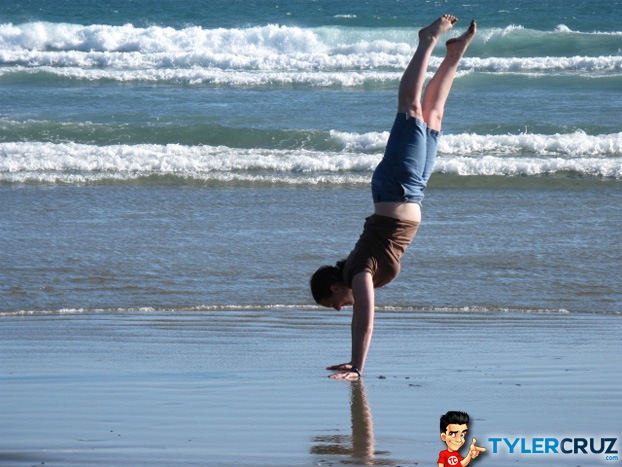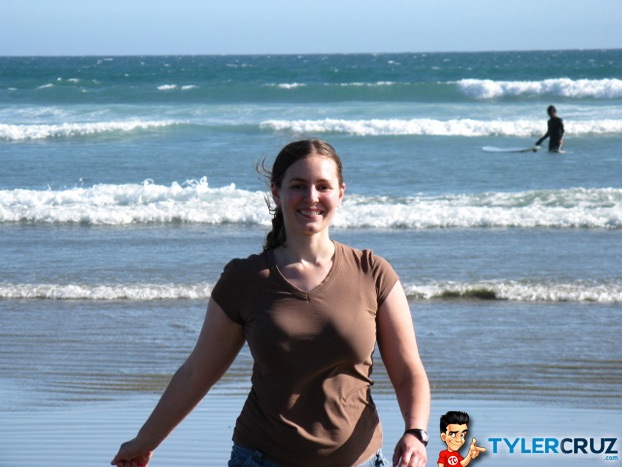 Debby (I call her Deborah) from MarketLeverage absolutely loves the beach with a passion, and so I thought I'd send her a little message. I actually made the MarketLeverage logo in the sand too, but it was so windy that it kept filling up shortly after, heh. The beach was like a giant Etch-a-Sketch that day!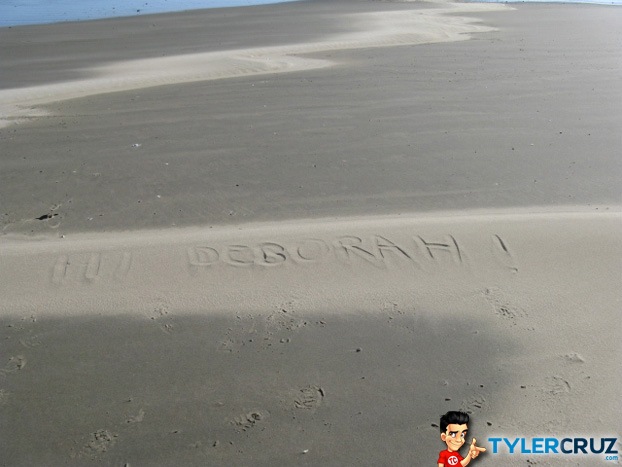 Me being bendy.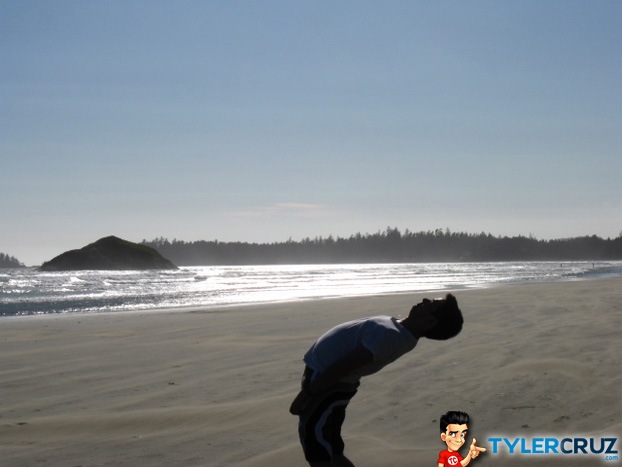 I started to write my name in the sand, then I thought. Hmm… too small…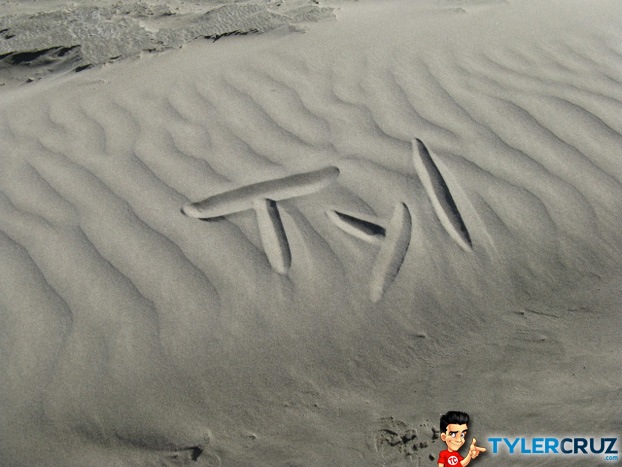 …That's better!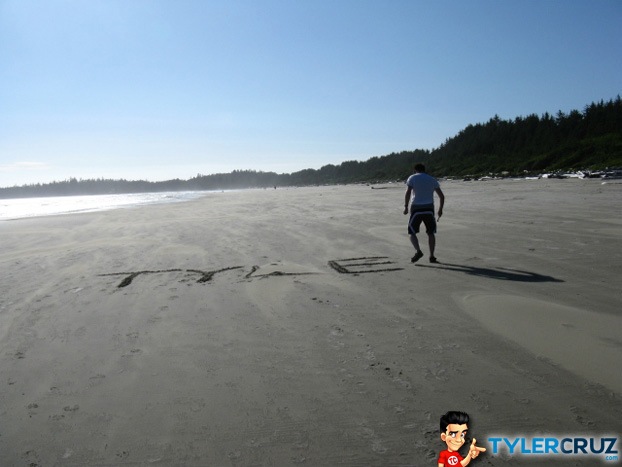 I'm out of shape. I was exhausted after writing my full domain in the sand… all the bending was painful!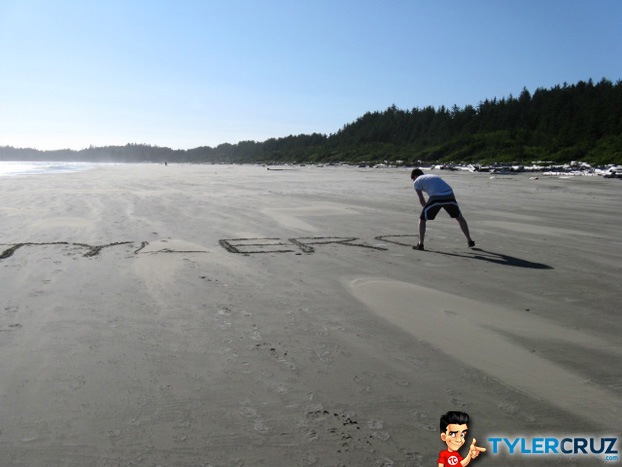 Ta da!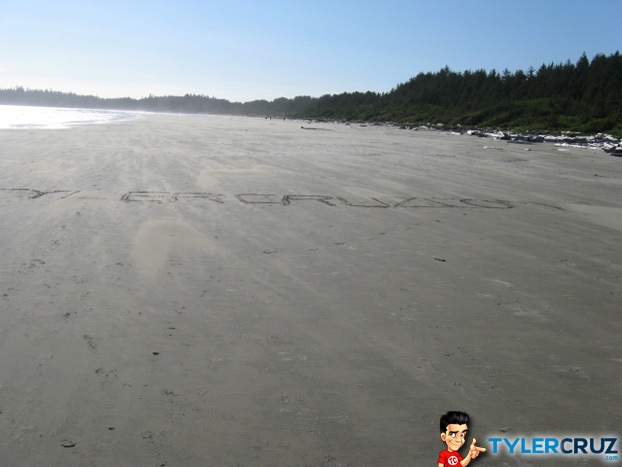 I, Tyler Cruz, hereby declare Long Beach, Tyler Beach!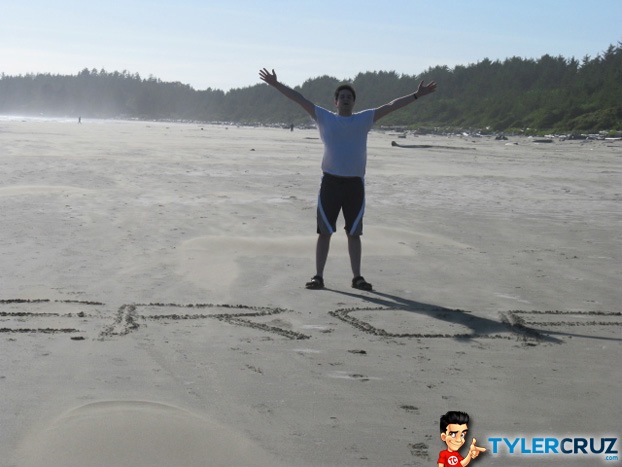 This is where they film LOST: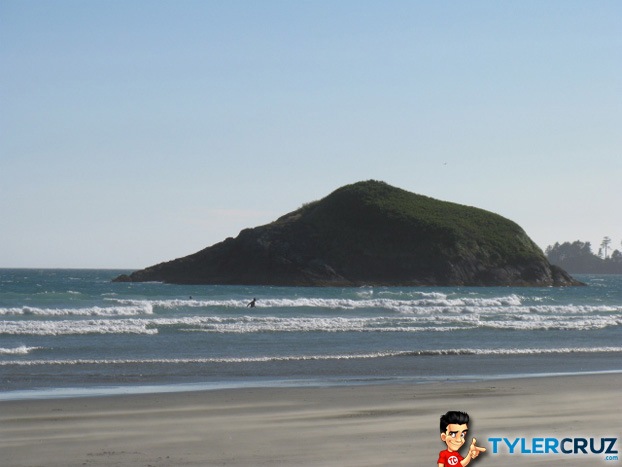 The beach is called Long Beach for good reason. The beach is so long that it takes around 45-minutes to an hour just to walk from one end to the other.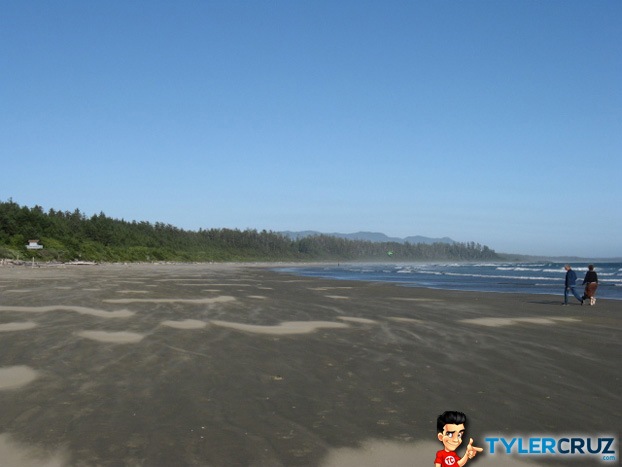 We climbed on this huge volcanic rock thing, and I enjoyed the warm wind up top.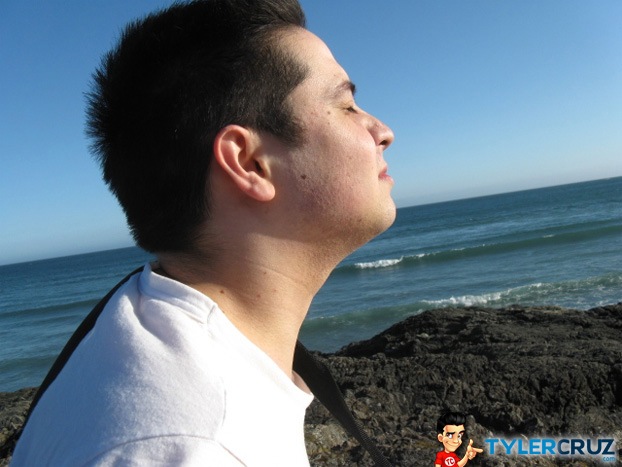 The view from the big rock.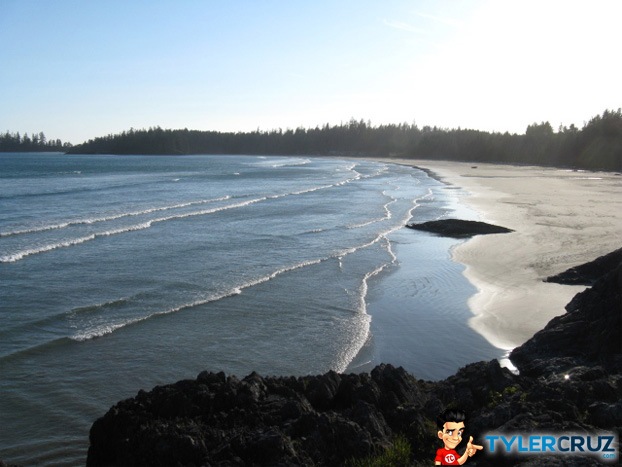 Lisa wanted to go swimming but I said "Wait! I need to check my eCPC for today!". Just kidding. Actually, I just wanted a few "publicity" shots for my blog… I'll probably use a couple of these to update my about page.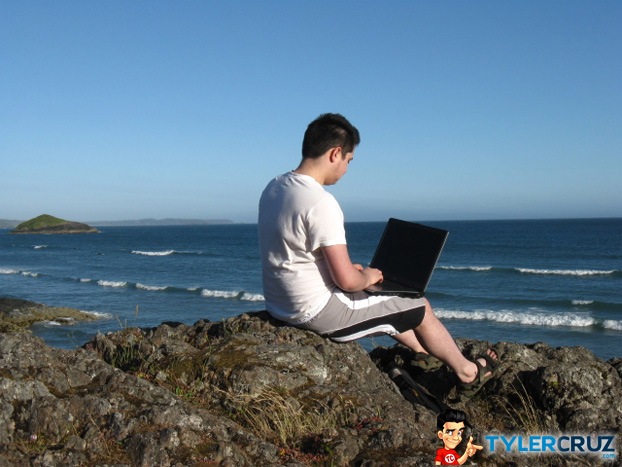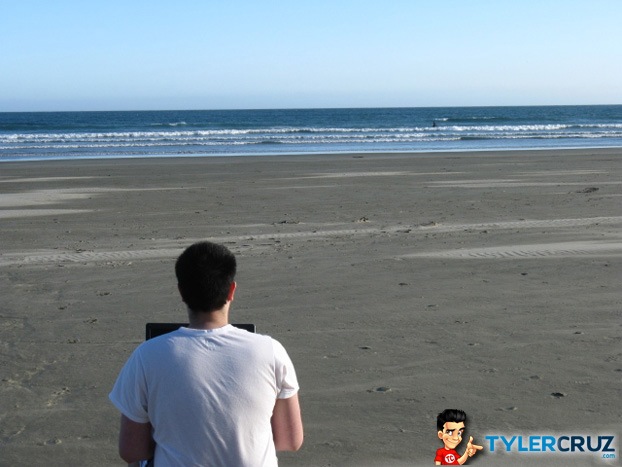 After we finished at the beach, I lost my car keys, and a lot of hassle ensued. To make a long story short, we ended up getting towed to a very small local town (2,000 people), and stayed at a Carmel By The Sea hotel.
To make things more bizarre, the receptionist lady said that there was only room available, and that she was sorry that it was so large. Large?  "No problem, thanks". Hey, a large room is fine with me!
But when we got inside I understood what she was referring to. The "room" was a cabin with two floors… and four double beds! It was all fishing-related too which was funny. There was a note stating that room cleaning started at 6:00am… since all the fishermen most likely were out by 5:00am.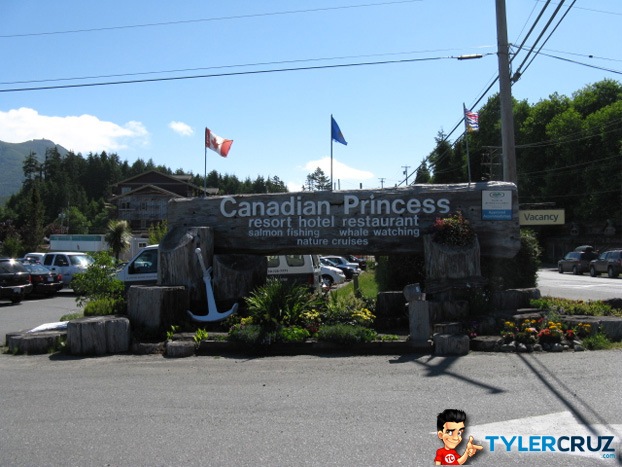 When we woke up, it was time for breakfast… which was served on a boat! So we walked aboard the giant boat and had breakfast inside. It was renovated into a restaurant, but the entire thing was on a slant. It made me feel like I was a villain on the old Batman series.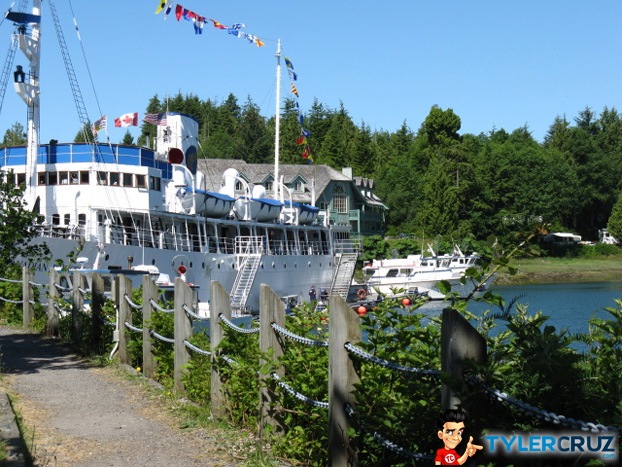 Here's a 10-minute video edited and stitched together of the "day-trip" which turned out to be two very long days: