June 8, 2009
Posted by Michael Kwan
The following is a paid review for TylerCruz.com written and reviewed by Michael Kwan. It is completely of Michael Kwan's opinion and is not influenced by being paid. If you're interested in having your site or product reviewed, please view my advertising page.
It has long since been said that passive income is the best kind of income, because you only have so many hours in the day. It is ultimately more effective if you can set up a system that runs itself, providing you with continued profits while minimizing the amount of additional time that needs to be invested along the way. This is partly why landing pages and affiliate marketing can be so much more lucrative than professional blogging.
The key, following this line of thought, is complete and utter automation. One of the newer systems to avail itself to the online community is BlogProfitz, a "ridiculously effective combination of affiliate marketing and blogging." The developers say that you can "supercharge your income" in "under 5 minutes."
An Automatic Affiliate Site with BlogProfitz
BlogProfitz is being marketed as the "easiest way to monetize your blogs," giving you the ability to "radically boost your online income" in a matter of minutes.

By and large, blogs of any niche need to be updated on a regular and relatively frequent basis if they wish to gain any sort of audience or build any kind of success. At the same time, affiliate marketing has been shown to be an effective way to make money online. The online monetization tool offered by BlogProfitz approaches both of these very needs.
This "one commission-producing formula" can automatically populate your blog with a variety of supposedly rich content, including online video, RSS feeds, and a private archive of thousands of articles. At the same time, this content is automatically monetized through a number of affiliate networks.
After you've completed the initial setup process for BlogProfitz, your WordPress blog (whether it is an existing one or a new one) can then update itself with new content at an interval of your choosing. You just have to come in and set up new posting rules and check up on your profits every so often.
Complete Video Tutorials and Walkthroughs
Compared to a lot of other similar solutions available on the Internet, BlogProfitz is remarkably simple and straightforward to use. Even so, some novices and beginners may be intimidated by the seemingly daunting task. As such, the first screen that members will see after signing into the BlogProfitz control panel contains a number of video tutorials.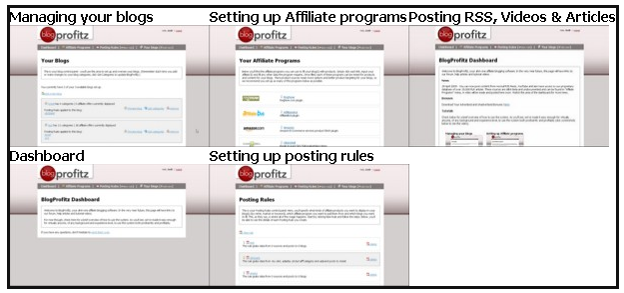 From the main BlogProfitz Dashboard, users can access videos that walk them through the process of adding and managing blogs, setting up the affiliate program associations, posting RSS feeds and articles, and navigating through the Dashboard itself. The videos are relatively brief but thorough.
Associating with Affiliate Networks
BlogProfitz is not a WordPress plug-in nor does it install anything in the WordPress directory on your server. Instead, BlogProfitz operates as an independent online tool. There is nothing to install, nothing to download, and you can access it from anywhere you have Internet access.
Therefore, in order for BlogProfitz to post new content to your WordPress blog, you need to provide the BlogProfitz online tool with the credentials to log into your WordPress blog. Similarly, you will need to provide your ID numbers from the various affiliate programs.

The monetization process offered by BlogProfitz will populate your articles and other content with affiliate products. For the most part, visitors to your site will need to complete a purchase of some kind in order for you to get paid, though there may be some offers that are based on pay-per-lead. You will find that some of the major affiliate networks, like MarketLeverage and NeverblueAds, are not currently supported by BlogProfitz.
Instead, you'll find that the "plugins" offered through BlogProfitz support the affiliate programs from RegNow, AffiliateBot, Amazon, Click2Sell, Commission Junction, HotelClub, Paydotcom, Overstock, eBay, and ClickBank. Depending on your chosen niche, you may have fewer or more related products available to you.
It may have made for a slightly more complex-looking page, but it would have been more efficient if BlogProfitz made a single page for all of these affiliate programs. This way, you could enter your affiliate IDs in quite succession, rather than navigating to each of the specialized pages for each program to enter your associated ID.
Posting Rules with "Free" Content
Quality content is the hallmark of any successful blog. While BlogProfitz cannot offer you truly unique articles as part of its service, there is the ability to fetch articles through RSS feeds, videos through YouTube keywords, and limited supply articles from ContentClub.
There are currently over 15,000 ContentClub articles available to BlogProfitz users and these cover a wide range of topic areas. Their distribution is being tightly controlled, according to BlogProfitz, as they are limiting the number of members to 1,000. You will encounter some duplicate content with other BlogProfitz users, but it won't be nearly as widespread as many other PLR articles.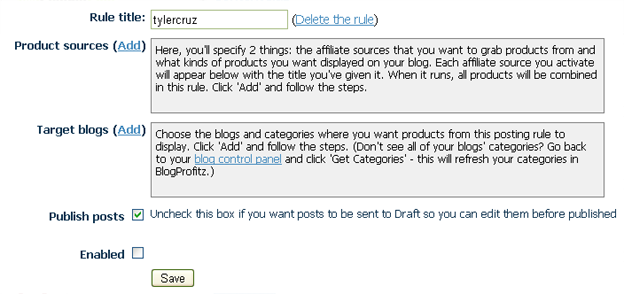 To automate the posting process on your blog, you will need to set up posting rules in BlogProfitz. For these rules, you must define three key areas: title, sources, and target blogs. The title simply names that specific posting rule, but the sources and target blogs are more involving than that.
For product sources, you will need to define the preferred affiliate networks from which affiliate products will be drawn and the source of the content that will be published on your blog. For the sources of content, you can define keywords, the total number of results that will be used over the lifetime of the posting rule, and the number of posts from this rule over the course of each 24 hour period.
Since you can use BlogProfitz for multiple WordPress installations, you must also define the target blog. That's simple enough a process after you have added the associated credentials and other information during the "add blog" process.
Are You Really Providing Value?
On the surface, BlogProfitz seems to provide everything that you'd need to get started with a money-making blog. The articles from ContentClub, combined with YouTube videos and RSS feeds, will keep your blog dynamic and active. At the same time, this content can immediately be monetized through a range of affiliate products.
However, many readers will soon determine that none of your content is really original and it can be difficult to sell the idea that you are providing true value to your readers. You can try to supplement the BlogProfitz-sourced content with original content of your own though, and this may help to alleviate that concern. I would be very hesitant to use the RSS tool, however, since that is effectively scraping the content of other sites. This could lead to copyright infringement concerns and the possibility of your site being pulled from the server altogether.
Naturally, the other piece of the equation that is missing from the BlogProfitz solution is traffic. Without traffic to your site, it can be very difficult to make any money at all. BlogProfitz fills in quite a few pieces of the puzzle, providing you with over 24 million affiliate products and over 15,000 ContentClub articles, but you'll still need a little more if you want to be truly profitable.
BlogProfitz offers five pricing plans. The $19/month trial plan allows for up to three target blogs; the $49/month starter plan allows for 10 blogs; the $99/month intermediate plan allows for 25 blogs; the $149/month advanced plan supports 50 blogs; and the $249/month master blogger plan supports up to 100 target blogs. Larger private plans are available upon request. There is no self-hosted option.