July 2, 2009
Posted by Michael Kwan
The following is a paid review for TylerCruz.com written and reviewed by Michael Kwan. It is completely of Michael Kwan's opinion and is not influenced by being paid. If you're interested in having your site or product reviewed, please view my advertising page.
If you happen to be a fan of Tyler Cruz's blog, then there is a good chance that you are interested in how to make money online. By extension, there is a good chance that you are reasonably familiar with the nature of affiliate marketing and affiliate networks. Have you ever considered working from the other side of the coin?
Rather than signing up for an affiliate network so that you can run offers on your site, have you ever thought about running your own affiliate network? It may sound like an incredibly daunting and potentially expensive endeavour, but the HasOffers platform provides "a robust tracking and management software solution with no barrier to entry." The best part? It's free, so long as you stay under one million clicks.
Building Your Own Affiliate Network
Yes, you can create your own affiliate network. HasOffers, according to the official company website, is the "first white label affiliate network solution that gives you total control, with powerful technology, complete customization, and no startup costs or monthly fees." This is a white label solution, so your affiliate network can be branded however you would like it to be.
The signup process for HasOffers is very straightforward. After filling out the basic registration form, you will receive a confirmation email. It takes about ten to fifteen minutes for your new network to be activated, and then you'll be able to log into your custom dashboard.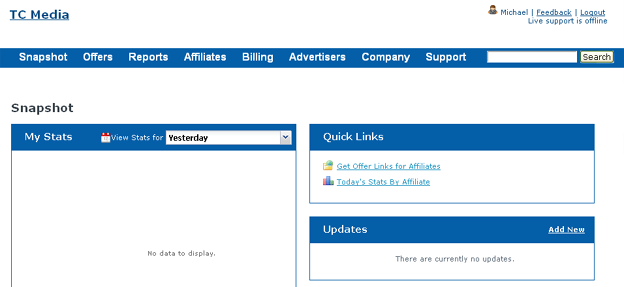 For the purposes of completing this review, I set up a "dummy" affiliate network located at tylercruz.hasoffers.com. This configuration is the default (having your network as a subdomain on hasoffers.com), but you can also have it run from your own custom domain instead.
The administration panel for a HasOffers-powered affiliate network looks almost like the dashboard you would see when you log into your affiliate account elsewhere. The "snapshot" offers an at-a-glance look at your network, getting quick links, updates, and stats. From there, you can navigate to the various other areas to customize your network as needed.
Setting Up the Fundamentals
Obviously, before you can start scouting for new affiliates to sign up with your network and before you can start populating your network with affiliate offers, you need to get the fundamentals in place.
Under the "Company" tab in the user dashboard is an option to "Customize Application." The first option on the resulting page is "Change Preferences" and it is here that you can establish the basic settings for your affiliate network.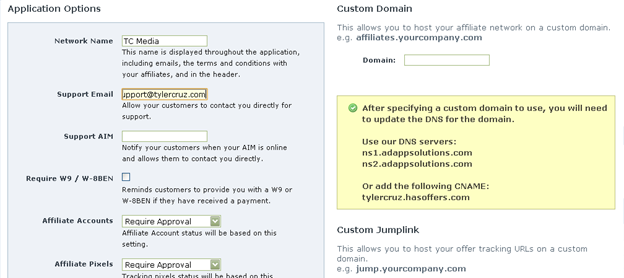 You would have already determined the network name during the registration process, but this can be altered from this screen. Also from the preferences screen, you can adjust the support email, the requirement for a W9 form, the approval process, referral program, minimum payments, and your custom domain.
As mentioned, if you are already familiar with affiliate networks from the perspective of an affiliate or publisher, then you will already be familiar with some of these details from the perspective of the network. The difference is that you are now in control.
Creating and Managing Offers
Realistically, the single greatest thing that will differentiate one affiliate network from another is the selection of affiliate offers. When you have the fundamentals in place, you will then want to populate your affiliate network with offers.

Since HasOffers is a white label solution, they are not necessarily there to help you shop for advertisers who want to use your newly formed network. That's up to you to determine, just as it is up to staff your company (there is a section under "Company" to manage your employees).
From what I can gather, you cannot import a database of offers into your HasOffers-powered network. Instead, you must enter each offer manually. The Create Offer form provides fields for the offer name, description, preview URL, creative URL, payout type, lead caps, cookie lifespan, conversion tracking type, and more. You can also target specific countries and browsers.
Based on this Create Offer form, I do not see an area where you can upload and supply your affiliates with ad banners, email creatives, and other marketing materials.
Customizing Your Look and Feel
Let me preface this by saying that I am neither a web designer nor a web developer, but it seems that the design elements of HasOffers are lacking.

From what I can gather, you can customize things like the logo and color scheme, but there are no obvious ways to upload information pages for your affiliates. I see an area where you can insert CSS stylesheets, but as you can see from my dummy network, there are no information pages.
How can I discuss the strengths and benefits of my network? How can I "sell" potential publishers on why they should sign up with "TC Media" over some other affiliate network? Where is the branding aside from a simple logo and customized color scheme?
And All That Administrative Stuff
HasOffers seems to offer a fairly robust administration panel where affiliate network owners (like you) can adjust and tweak their networks as needed. You can manage your offers (including offer categories and suppression lists), generate a variety of reports (including those related to your referral program), manage your affiliates and employees, deal with billing and invoices, and configure the details related to advertisers.
All of the administrative back end appears to be in place, but the front end seems to need some serious work. As I've already said a couple of times in this review, HasOffers is a white label solution, so it's up to you to brand your network. However, I would have liked to see greater integration into this backend that allows for easier customization of information pages and branding.
Free for Up to One Million Clicks
HasOffers comes in two different editions.
The Pro Edition is free for up to one million clicks. With the Pro Edition, you have full access to smart tracking, live statistics, offer management, unlimited advertisers, a free subdomain, referral reports, and email support.
For $799 a month, you can upgrade to the Enterprise Edition of HasOffers. This provides you with unlimited clicks, telephone support, dedicated service resources, and a custom tracking URL. This is quite the vast discrepancy in pricing, especially when the only "main" difference is number of clicks allowed.
Should you create your own affiliate network with HasOffers? The free Pro Edition is worth giving a try, but you have to realize that is not completely free. You still have to invest in your own domain, employees, branding, and all the other things that go along with running a successful affiliate network. HasOffers only provides the software platform.
This is akin to asking if you should buy a motherboard so that you can run your eBay business. The motherboard is only one part of the puzzle, just as HasOffers is only one part of your affiliate network endeavour.