October 23, 2010
Posted by Tyler Cruz
I've been promoting some of my sites through SEO the past few months, which is something I've never done before.
I have been hiring a freelance SEO guy for the past 4 months with mixed results (although the past 4 days I have seen unbelievable improvement, but that was before this incident took place). With such mixed results at the time, I wanted to try hiring an actual hotel SEO agency/company/firm and then compare the results with my freelance guy.
Since I didn't have any other good sites that were good SEO candidates, I decided to shop for a good domain with the intention of making a simple affiliate site for it and then hiring the SEO company. I also wanted to see how fast I could rank for a competitive keyword with an exact keyword phrase domain (Example, ranking for "lose weight" with "LoseWeight.com").

After searching domains and researching niches, keywords, offers, bids, and exact keyword traffic for hours, I finally found the perfect opportunity. The domain I found was a 2 word .com for an extremely competitive affiliate offer keyword. I won't be revealing the domain since I have made it a rule to never reveal any of my affiliate marketing niches that I dabble in.
The interesting thing is that I already had the stats for this keyword. This was a campaign that I actually ran for a while with mixed results. I was bidding actually $4 CPC for this exact keyword because it was the best converting keyword from all my paid traffic analysis. Think about that for a second… 20 clicks would cost me $80!
The only reason I stopped the PPC campaign was because it was too expensive to keep bidding at that level. So when I found this domain available at BuyDomains.com, I was very excited. If I could have gotten to #1 on Google for this keyword after a few months of SEO, which shouldn't have been too difficult considering just how strongly search engines weigh domain names in their ranking equation, I would have made a lot of money.
If I can remember correctly, I believe I conservatively estimated it to be around $2,000-$2,500 a month. That is a ton when you consider that, after the main SEO work, that is free recursive profit month after month.
Let's Do This!
Excited, and pumped from taking quite a bit of a risk, I went through the checkout process of purchasing the domain. It was listed at $3,499.00 which was certainly pricey and caused me to make the decision carefully, but in the end I felt that the opportunity was worth taking a bit of a risk for, and so I completed the checkout process with my Visa card.
The transaction went through fine and everything looked normal and good. Below is a copy of the e-mail receipt I received: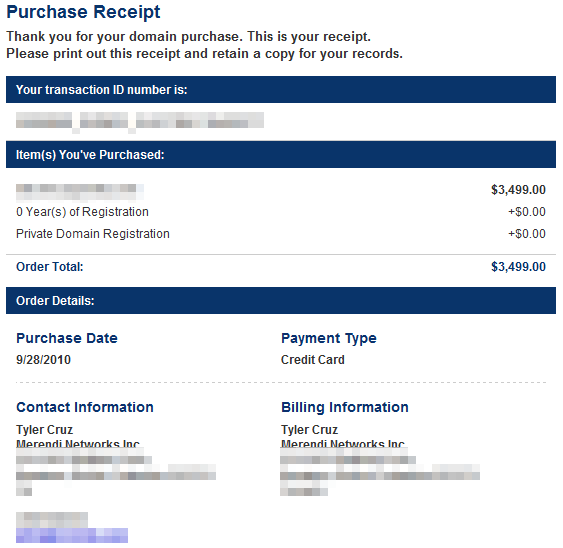 The Waiting Game
I was excited to get my domain. So excited, in fact, that I actually contacted the SEO company I was planning to hire and set everything up to start a campaign for this domain and the main keyword I was going to target. Good thing I didn't hit the final launch button quite just yet.
A couple days went buy and I received an automated e-mail from BuyDomains saying that they received my payment and would begin the transfer process within 5-7 days. It was a bit longer than I was expecting, but I was still happy to have grabbed the domain.
But then a few more days went buy, and then a few more. I really began to get worried at this time because such a simple transaction should not take this long. There was no escrow process or anything.
The Bad News
After 7 or 8 days from purchasing the domain, I finally received an e-mail. I initially saw the e-mail on my Blackberry while eating at a restaurant and was thrilled, as I knew it was from BuyDomains, but then was immediately disappointed:
"Hello Tyler,

Thank you for your recent purchase.

Unfortunately, it appears as though the seller does not own this domain name. We are forced to cancel this transaction. We will refund your payment and apologize for any inconvenience this may have caused you.   If you have any questions, please let me know.

Thanks,

Becca"
God damnit! I felt crushed… I had been waiting in eager anticipation for my domain for a week, only to receive notice that I wasn't going to be getting it at all. How the hell could this happen?
I replied right then and there on my Blackberry at the restaurant, asking if she perhaps made a mistake since she had actually misspelled the domain I purchased in the e-mail subject, and received a reply quickly thereafter (within an hour):
"Hi Tyler,

I apologize for the typo on my end, but domaincensored.com is no longer owned by our seller. It sold a while back and there was a technical glitch on the seller's side and it wasn't automatically removed from their portfolio. Again, I apologize for the inconvenience here. We do have a service in which one of our agents can reach out to the current owner and try to negotiate a sale for you. Please let me know if you are interested in that service.

Thank you,

Becca"
Ugh. How disappointing and aggravating. I was actually really sad about this for a few days as it was just such a great opportunity, and I thought I had it in the bag.
The Refund
To their credit, BuyDomains issued a full refund of $3,499.00 to my credit card the same or next day.
I checked my credit card statement a couple times each day for the next few days, when it finally showed up around the 4th day. This is what I saw:

Nice, it came in. Wait a second. There is a $228.36 discrepancy there.
I had half-expected for there to be a discrepancy due to exchange rate fees and maybe some weird bank or credit card fee, and normally I would just let it go. But the more I thought of it, the more it angered me. This is $228.36 we're talking about, not $30 or $40.
What really pissed me off was that I already went through the pain of losing my domain; having to pay $228.36 out of my own pocket as a result was only rubbing salt in the wound.
I contacted Becca asking about the discrepancy, since I wasn't sure why the 2 numbers didn't add up.
She responded quickly after with:
"Hello Tyler,

Thank you for your email. I apologize for not getting back to you sooner, I was out of the office sick yesterday.  I have checked with our accounting department and the refund that they processed to your credit card was for the full amount that we received. The amount that your credit card company charged you was for part of the exchange rate. Unfortunately we have refunded you fully for the $3499.00 (USD) that were paid to us. The remainder that your credit card company charged would have to be taken up with them.  These are not funds that we have, but rather funds that you card company withheld. Our accounting department suggested you file a chargeback for that remaining balance. Please let me know if you have any other questions.

Thanks,
Becca"
Okay, fair enough. If it's the credit card company's fault then it's the credit card company's fault. I phoned them the next day to inquire about the situation. An Indian, not surprisingly, immediately told me that the issue was indeed due to the exchange rate difference.
I work with the exchange rate all the time since 99.9% of my income stems from the US and I am in Canada, so I obviously understood the concept, but what I didn't understand was why I had to pay this out of my own pocket. I asked the customer support representative what would happen if this was not a case of $3,500 but rather $3.5 million dollars.
Even though my credit wouldn't allow for that transaction, I would still theoretically be left with a bill for $22,836.00 from the exchange rate.
After a bit of discussion, the Visa customer support guy basically told me that it was unfortunate but happens fairly often.
Unsatisfied, I contacted Becca again, telling her that Visa wouldn't credit me for the bill and how I felt it was extremely unfair that I was left with a bill for something that was direct result of an error on BuyDomains.com's part. Again, not only did I not get the domain, but how I was stuck with a a bill!
Becca responded the following day:
"Hi Tyler,

Thank you for your message. My apologies on not responding sooner, our office was closed yesterday for a holiday. I have discussed this with my managers and they are willing to refund you the exchange difference $228.36, however, we can't process it back to your credit card because our system won't allow us to refund something that was already fully refunded on our end. The options in which we can refund you are check or paypal. Please let me know which option you would like us to use and send if it is paypal please send us your paypal email address, if it is check, please send us your mailing address as well as who you want the check made out to. Again we apologize that this sale was not a success for you, hopefully we will be able to assist you with a domain purchase in the future.

Thank you and we look forward to your reply.

Becca"
Money Received
I received a PayPal payment for $228.36 shortly thereafter from BuyDomains as was promised. I didn't bother complaining about the 2.9% + $0.30 PayPal fee since I didn't want to nickel and dime them for another $6.92 (but who's counting?).
Doing the Right Thing
In the end, I am happy that BuyDomains.com did the right thing and credited me with the Visa exchange rate I was left with. Legally, they probably didn't have to, since they did refund the actual $3,499.00 I had paid, and could probably have left the blame on Visa.
But the fact remained that they had a technical glitch on their end which caused me not only to purchase a domain that had already been sold and should have been removed from their system, but also left me stuck with an exchange rate bill on my Visa card. So I think they understood that and decided to cough up the bill since it was their fault.
Many of you reading this will say "So what? That is the least they could have done." Yes, that's true, but I also find that these days it is becoming exceedingly rare to find companies that really care about their customers. The way companies (and especially corporations) treat their customers and clients in 2010 compared to 1950 is light and day.
In addition to doing the right thing, I should say that Becca was very prompt in replying to all my e-mails, and always responded professionally and kindly, apologizing numerous times.
Before I finish, BuyDomains actually went a little bit above and beyond. Remember how Becca had wrote the following in one of her e-mails to me?
"We do have a service in which one of our agents can reach out to the current owner and try to negotiate a sale for you. Please let me know if you are interested in that service."
Well, at the time, I thought that she might have actually had the nerve to pitch me another service after all I had gone through. But actually she ended up giving me that service for free.
Their domain acquisition service, where they have one of their experienced domain staff try to contact and negotiate the acquisition of a domain for you, normally costs $69.00 per domain, but she had that waived for me.
I actually inquired about using that service for a second domain, and got that for free as well. Nice.
What BuyDomains doesn't know is what I was actually planning on writing a negative post of my experience with them before they paid for my Visa exchange rate fee and compensated me for a couple services. I don't have the biggest blog out there, but I bet I could have persuaded a bunch of potential future customers to steer clear of them in the future.
Since they did the right thing, now they're getting a positive post instead. It just goes to show that it still pays to do the right thing and you never know who your customer is.
Like any domain market, BuyDomains does have a lot of overpriced domains, but they also have a few great premium domains that are pretty well priced. You may want to check them out to see if they have something you want or need.