May 7, 2008
Posted by Tyler Cruz
The following is a paid review and is completely of my own opinion and is not influenced by being paid. If you're interested in having me review your site or product, please view my advertising page.
Click2Sell is not just "another affiliate network". It's actually fairly difficult to define, label, or categorize as it's a: merchant platform, affiliate marketing portal, and online payment processor transaction coordinator, all-in-one!
It's therefore catered to both merchants and affiliates. For merchants, Click2Sell coordinates your sales via 3rd-party payment processors including PayPal, Moneybookers, WorldPay, Authorize.net, and Google Checkout and allows you to run your own affiliate program.

For affiliates, Click2Sell acts as an affiliate network, offering the products and services that the merchants make available.
For merchants, Click2Sell is an extremely powerful and useful platform. While it's also beneficial to affiliates, in my opinion it's main strength lies within its services for merchants. There are actually so many features and benefits for merchants that I won't be able to touch on even half of them in this review, but here are some of the greatest benefits:
Benefits for Merchants
Receive funds instantly. Since Click2Sell deals with 3rd-party payment processors, payment is sent to your merchant or business account such as PayPal or Moneybookers immediately. There is no more waiting for weeks or months as you would with other sites. The only downside to this is that you are still incurring the fee from the 3rd-party online processor.
Multi-currency processing. Since payment is dealt with 3rd-party payment processors, merchants can choose what currency to sell their products in, eliminating currency conversion fees usually later incurred.
Create "Pay Now" order buttons for your website instantly. This may not seem that great of a feature, but the fact is that you can register for an account, log-in, and actually start selling a product such as an e-book on your website all within 5-minutes.
You manage all refunds – 100% control. Refunds are easily managed from the refunds section of the control panel.
Complete Affiliate Management. All merchants can easily let other affiliates sell their product. They can set commissions to any rate up to 95%, choose to accept affiliates manually or automatically, ban unwanted affiliates, track the number of affiliates and their performance, and (my favourite): set custom commissions for special/super affiliates or JV partners. This lets you reward, as well as provide incentive to others, to affiliates who are generating you a lot of sales.
Sell products including digital and subscription-based services. I love this feature. I don't have any plans on releasing an e-book, but if I ever do I'm pretty sure that I'll be using Click2Sell. You can also sell subscription-based services such as a privately monthly newsletter or perhaps access to an online game you run. Click2Sell will manage all of these things automatically for you.
Gather additional information from your buyers. This option is useful for so many reasons. If you're selling an e-book, you can find out if your buyers would be interested if purchasing another one. You could find out important demographic information: for example, if you're selling an MP3 player, you can find out if more women are purchasing than men, and then cater your landing pages accordingly. You could probably even ask for people's contact information and create a mailing list…
Incredibly low fees. While other platforms can take as much as $1 USD + 7.5% for each transaction, Click2Sell has a fantastic basic system where they only take a flat $1-3 per transaction (more on that later). This is another reason why I'll be using Click2Sell if I ever sell a product.
Benefits for Affiliates
Instead of listing the usual benefits that affiliates get, I'm only going to focus on the benefits to using Click2Sell compared to other affiliate networks:
Promote smaller offers. While this may sound counterintuitive, it actually makes a lot of sense. Click2Sell contains many offers that are not normally available for affiliate marketers since Merchants are typically smaller and lesser-known. In addition, Click2Sell allows the sales of digital products and subscriptions. Because of these things, a lot of the offers available are not already widely saturated on the Internet, giving Click2Sell affiliates an edge over affiliates of typical affiliate networks which always have the same types of offers.
If a returning visitor buys a product within 6 months – you still get the commission.
Receive up to 95% affiliate commissions – Since Merchants can choose the rate of the commission up to 95%, there are a lot of offers out there which pay a very high commission rate. Just try to find merchants that offer such high rates on other sites
For a huge list of how Click2Sell compares to the traditional affiliate network, visit their Comparison Page.
Marketplace
Click2Sell's Marketplace (you can view it without being signed in) is where all the offers are listed. At the time of this review there were over 500 offers available, which is a bit more than the typical affiliate network.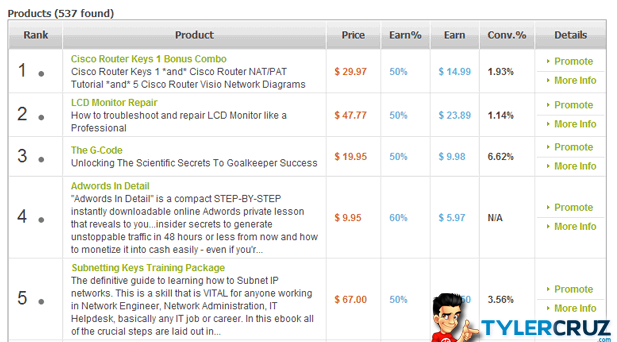 The Marketplace is very simple, listing the offers in an informative data table format, and users can search for offers by keyword and category. Unfortunately, the searching doesn't appear to work properly for me; I often get the same results regardless of what category or sorting option I choose. For example, sorting by Conversion % never works for me. Click2Sell definitely needs to address this bug.
I'd recommend for Click2Sell to set the column headings (Rank, Product, Price, etc.) to be clickable, or to have small up and down arrows that sort the results by ascending or descending order. It's a simple feature but would greatly help users to sort through all the offers much easier and faster.
I would also recommend a Total Sales column to be used in conjunction to the Conversion % column, as the latter can be very misleading depending on the sample size used. For example, offer #1 may have had 182 sales with a 1.8% conversion rate and offer #2 3 sales with an 8% conversion rate. Without the sales numbers (sample size), offer #2 may appear much better, but could in actual fact be far lower than offer #1.
Each product page linked from the Marketplace listings states a good description and overview of the product, and contains informative details including: price, method of payment, commission %. It also includes statistics such as the refund rate, affiliate sales %, and popularity.
Control Panel
The control panel, just like the whole site, is really well laid out and is extremely easy to use and navigate.
Adding products and setting up affiliates for merchants is a cinch, and they are given full accessibility for customization and power. For example, merchants can: add a sales page URL, thank you page URL, choose to approve affiliates manually or not, and decide when to pay affiliates.
For merchants who need to ship physical products, managing orders is simple as all of the incoming orders which are already paid for are neatly displayed and you can mark out each order as having been shipped out or not and view the customer's shipping information.
The reporting area of the control panel is also very detailed. In fact, it is so powerful and specific-to-detail that it is actually split into 7 sub-pages: General, Daily Report, Conversion Report, Referral Report, Refunds, Transactions, and Keywords.
The General Report shows an overview of everything in one useful chart including: your own affiliate earnings, earnings your affiliates, earnings from your referrals, number of visitors, sales, conversion rate, commissions fees, and profit to give the bottom line. All of the columns can easily be sorted – this is what should be implemented this in the Marketplace!

The Refunds Report is useful to see how happy (or unhappy) your customers are with your product(s) by displaying the overall refund rate, overall sales, refunds, etc.
Miscellaneous
There is a prohibited products list which you may want to read before signing up as a merchant. The list is pretty standard, but there are a few products that are not allowed to be sold such as gambling or applications for credit cards, financial services, or loans that may be important to know beforehand.
My guess is that this is most likely to comply with all of the payment processors' individual policies, and to be safe Click2Sell combined all of the prohibited items into one large list. Because, for example, I know that Moneybookers allows gambling-related transactions, but PayPal does not.
Fees
This is one of the major perks to selling your products with Click2Sell: there are no commissions percentage taken. Instead, they have an incredibly simplistic fee rate, charging either $1, $2, or $3 depending on the scale of transaction.
The chart below shows the fee scale:

For example, if you sell a product at $24, Click2Sell will take $2. If you sell a product at $45, Click2Sell will take $3. If you sell a product at $850, Click2Sell will still only take $3!
It should be noted that there will still be the 3rd-party online processor fee when you receive your money, but Click2Sell will only ever take a maximum of $3 per transaction.
Only merchants are charged this fee; affiliates never have to pay a cent since they are paid by the merchant.
Referral Program
Click2Sell has a referral program which pays out 30% for life, although it can be a bit confusing.
Before I go into detail as to how it works, I'd like to make another recommendation to Click2Sell: Currently, affiliates are given a basic referral URL, which is fine. However, the URL is based off of the affiliate's username, using it as the subdomain of the URL. For example, my referral URL is http://tylercruz.join.click2sell.eu since my username is 'tylercruz'.
While I personally don't mind having my username displayed in public, I can see a lot of people having privacy and even competitive reasons why they wouldn't want this. Click2sell should therefore consider giving each account a corresponding account ID number and using that number in lieu of the username in the referral URL, or else just generate a random code for everyone.
I would also like for Click2Sell to consider letting referrers create custom tracking referral URLs. For example, I like to find out how many people and how much I've made from my blog TylerCruz.com than from my site PublisherSpot.com.
Anyhow, as I was saying, Click2Sell pays out 30% for life. However, it is not 30% of the product price, but 30% of the $1-3 fee Click2Sell takes. Remember, the $1-3 fee is the only way Click2Sell makes money, so therefore it is offering 30% of its $1-3 profit to the referrer.
You get paid for both merchants and affiliates you refer. In the case of a merchant, you get paid based on the normal corresponding fee Click2Sell takes. In the case of an affiliate, you still get paid based on the normal corresponding fee Click2Sell takes from the merchant.
The table below illustrates the example of the average product price being $70, which equates to a $3 fee. Assume that the average commission rate is 60% and the average number of sales per month is 30. In this case the referrer would earn: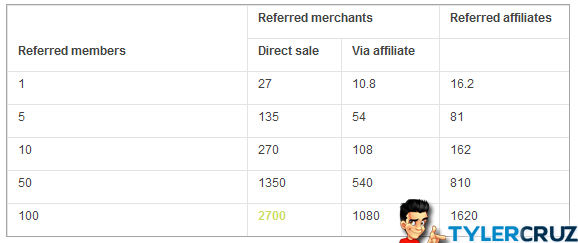 For example:
If you refer a merchant who sells all the products himself, you would receive $27 ($3 fee * 30 sales = $90 * 30% referral rate = $27).
If you refer a merchant who has affiliates sell all of his products for him, you would receive $10.80 ($3 fee * 30 sales = $90 * 40% commission rate = $36 * 30% referral rate = $10.80).
If you refer an affiliate, you would receive $16.20 ($3 fee * 30 sales = $90 * 60% referral rate = $54 * 30% referral rate = $16.20).
I was very confused about this at first, so enjoy my math!
Payment
Merchants are paid for each sale they make instantly via their PayPal, Moneybookers, Authorize.net, WorldPay or Google Checkout account. It should be noted that depending on the 3rd-party e-wallet used, a special merchant or business account may be required. For example, PayPal requires a Business account and Moneybookers a merchant account. Also be prepared to pay the regular fees that the 3rd-party transaction site usually takes.
Affiliates will receive commissions for their sales within 3 weeks after the end of each month (Net-21). The exact payment date depends on the individual merchant (many will pay on the 1st of the month, for example). Affiliates can be paid by either Moneybookers or PayPal.
Signing Up
While Click2Sell targets merchants and affiliates with separate areas on their site (as they should), they are actually both implemented into one account, so both the merchant and affiliate application forms are identical.
Signing up is quick and easy, requiring only 1-2 minutes to fill out the application form. As a bonus, activation is automatic and instant; I received my welcome e-mail and confirmation within seconds of hitting the submit button.
Customer Support
There are a number of methods to receive customer support from Click2Sell including a contact form, FAQ page, detailed user guides in PDF format for both merchants and affiliates, and a forum.
The forum seems to have a great response rate; all support questions I found were answered in a helpful manner by staff, and usually within the same day if not a couple hours.
When I tested their support by asking them a very detailed and complex question through their contact form under an alias and alias e-mail as to not receive special treatment, I received a friendly and informative response several hours later.
Actual users who have accounts at Click2Sell are also given a "help desk", which is a very basic yet useful support ticket system.
Conclusion
Overall, I was very impressed with Click2Sell and will definitely be using them if I ever have a product to sell. Their immense array of features for merchants including the ability to control their own affiliate program makes them a valuable resource for anyone selling or even thinking of selling a product.
In addition, their flat-fee structure for merchants makes them an extremely affordable solution and is well worth the price. Yes, you could not use Click2Sell and just sell your own products yourself through PayPal or 2Checkout, but you wouldn't have 1/50th of the useful features Click2Sell provides, including letting hundreds of affiliates sell your product for you!
While I personally feel that Click2Sell is most beneficial to merchants, it is also useful to affiliates since they contain many offers that are not normally available for affiliate marketers, such as digital products and subscriptions.
I highly recommend Click2Sell.