April 4, 2009
Posted by Tyler Cruz
People have been copying me for years, ever since I started blogging. I've had dozens of people copy of my logo, try to make clones of some of my sites, and copy various ideas I've come up with over the years.
This has never bothered me too much because it will naturally happen when you're a blogger, especially in the make money online niche. But when a big company completely copies me, it really pisses me off.
The Affiliate Marketing Challenge which I ran on my blog from the summer of 2008 to the end of the year, which then transitioned into PublisherChallenge, was the target of many copycats. I can understand this, since it was a great idea and is a good business model, and again people will naturally copy what works. I can recall close to a couple dozen bloggers who completely copied my Affiliate Marketing Challenges, including a few big affiliate marketers/bloggers.
MotiveInteractive actually copied me and ran a competition with Zac Johnson. However, I didn't mind too much since Motive did contact me before they ran with him saying they wanted to run a competition with me, and later did run a big one with PublisherChallenge last month.
So, to date I've pretty much let the copycats roll off my back since PublisherChallenge still holds the biggest competitions and gives out the best prizes.
Get some Originality, Clickbooth
That is, until I received an e-mail yesterday from Clickbooth announcing their "CB Ultimate Internal Referral Contest". Now, their contest is a big strange, in that it appears to award the prizes to the referrers instead of the publishers, but the fact is that Clickbooth obviously copied my now-famous contest promotion poster (I say now-famous since close to a dozen people have copied it…) with their pumpkin-head clone: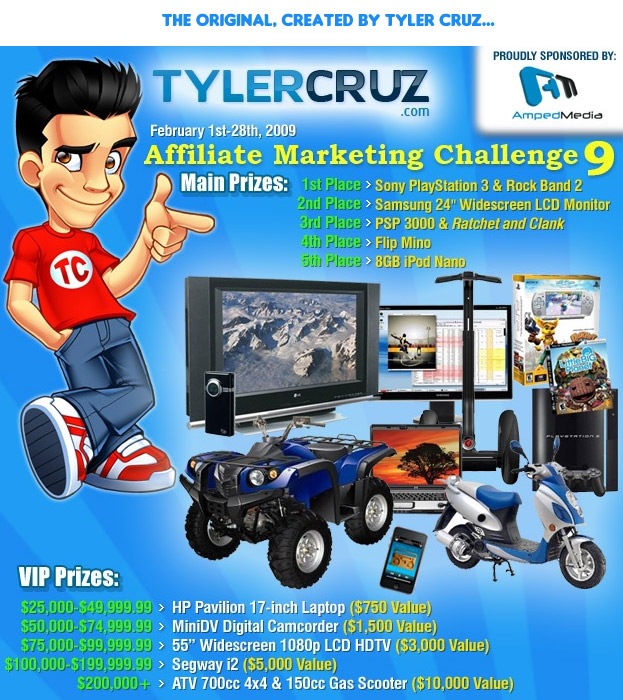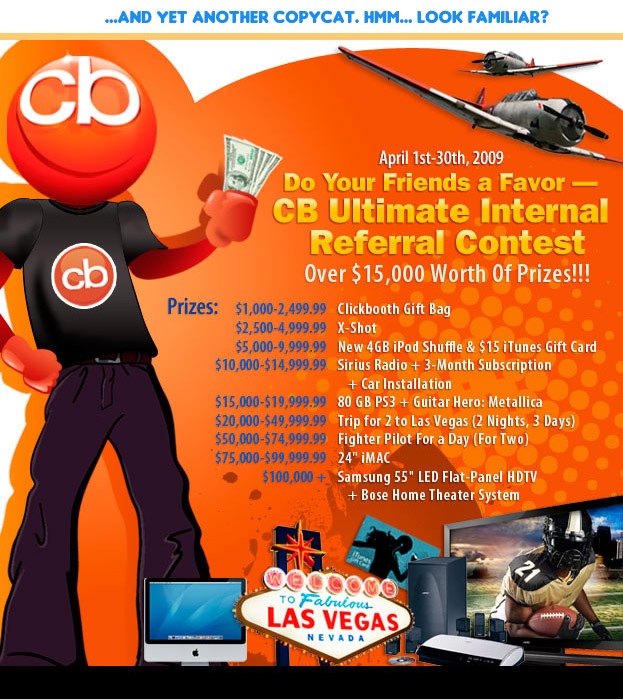 It's interesting how it's even the same height and width as mine.
I let that go though. What really pissed me off is that they completely ripped my terms word-for-word and used it as their terms.
Here's the terms I have on PublisherChallenge:

…and here's the innovative unique writing that Clickbooth came up with from their legal department:

Oh wait, that looks mighty similar too. Wait a second, isn't that word for word?
Now, some people will say that's not really plagiarism since those are terms and not really content, and that it's not very much. But that's the whole point – why can't Clickbooth, a large affiliate company making millions upon millions, afford to come up with their own stuff? It's just annoying.
Their Contest is a Joke Anyway
I don't get this. They go to all this trouble copying me, only to run a stupid contest. Check this out:

So, publishers already receive a normal 2% referral commission. Therefore, Clickbooth's sole incentive for this contest are the prizes they're giving out in lieu, no doubt, of the 2% commission.
If you look at the prize payout in their Pumpkin Man image above, you'll see some of the prizes are:
$2,500-$4,999.99: X-Shot
$5,000-$9,999.99: New 4GB iPod Shuffle & $15 iTunes Gift Card
$15,000-$19,999.99: 80GB PS3 + Guitar Hero: Metallica
Now, the X-Shot costs $30, the iPod and gift card comes to $95, and the PS3 + Guitar Hero come to $450.
Using only the 3 examples above, if we take the normal 2% referral commission of the the median of each price range and compare it to the value of the prizes we get the following table:
| | | |
| --- | --- | --- |
| Price Tier | Incredible Prize Value! | Normal Referral Cut |
| $2,500-$4,999.99 | $30 | $75 |
| $5,000-$9,999.99 | $95 | $150 |
| $15,000-$19,999.99 | $450 | $350 |
So, for 2/3 of the sample tiers I looked at, you're actually losing out if you enter this competition! You would have been better off with the normal 2% instead of their special "prize".
Even in the 3rd case, you're only getting a tiny bit more than if there was no contest at all.
I'm sorry Clickbooth but you really don't know how to run a contest.
Plagiarist and a Hypocrite
Clickbooth already has a bad reputation in the affiliate marketing scene and is infamous for being extremely litigious, throwing out lawsuits and C&D's here and there when anything bad is said about their company. I wonder if I'll get one.
It seems that they can throw lawsuits around but are innocent from ripping off creative and content?
All They Had to Do Was Ask
The sad part is that all Clickbooth had to do was ask me if they could run a competition on PublisherChallenge. In two months I could probably have sent them a hundred referrals generating an extra $100,000 in commissions.
Although the truth is that I probably wouldn't even if they did ask since I do not like this company. They are very shady and have such a bad reputation in the industry its surprising they haven't gone under yet.
59 Responses to "Clickbooth Sure Enjoys Plagiarizing"