May 12, 2008
Posted by Tyler Cruz
The following is a paid review and is completely of my own opinion and is not influenced by being paid. If you're interested in having me review your site or product, please view my advertising page.
ClickConsultants.com is an affiliate marketing blog run by experienced affiliate marketer Derek Salyers. The blog was started in the summer of 2007 and will soon be nearing it's first year anniversary.
Before I continue with the review, I'd like to address an important issue (if you can call it that) that I feel could greatly benefit the blog. I've read every single post from the beginning, including the side pages, and I kept asking myself the same recurring questions:
Who is this guy?
How much does he make?
Is he successful?
Should I trust him? Why?
I feel that blogs in the "Make Money Online" niche, especially those in affiliate marketing, are generally run by two different types of people: those who have already been successful and those who are on their way to being successful. To put it more bluntly: those who are making a lot of money and those who aren't.
I don't know about the rest of you, but I always take things in differently depending on who wrote it. For example, say a blog post about a new keyword analysis strategy was written. I'd personally take it a lot more seriously and give it much more credibility if it was written by Zac Johnson than if I read it on a blog I never heard of before in which I could find no information on the author.
Here's my point: in the "Make Money Online" niche especially, if you are giving out a lot of advice and acting out the role of the first group I mentioned above, you need to establish trust.
ClickConsultants lacks an About page, and not a single post on the blog told me anything about Derek. I would highly recommend creating an About page, made linkable from the top menu, creating a short autobiography which includes some success details.
I've said this before: sharing detailed examples of income and profits with readers not only helps to build trust, but establishes that one really know what they're doing.
Now, I'm sure that Derek is probably making a lot of money and is doing very well – he probably wouldn't be attending affiliate conferences and posing in pictures with Shoemoney if he wasn't. But nowhere on the blog does it state his success stories. Every big blogger in the Make Money Online niche I know has disclosed at least some of their success stories, and there's a good reason for this. In addition to building trust and giving credibility to their posts, it's a fantastic traffic booster. People love reading successful and inspirational stories, and people definitely love seeing pictures of cheques or screenshots with big numbers.
To summarize, at least for me personally, if I'm going to invest my time reading a blog on how to make money, I want to know that the author is successful. Therefore, I'd recommend for Derek to consider sharing some of his success stories. It would help his credibility as well as inspire and motivate his readers.

Getting back to the review, Derek tends to publish a new post every 5 days on average, although his post frequency has improved a lot recently and he has been posting every 1-2 days lately.
The posts aren't the best well-written and so it would be nice if Derek spent a little time after finishing each post to go over the flow, grammar, and spelling (you're is always mistaken for the possessive your). However, the casual writing style can usually be forgiven due to the easy-to-follow "list and notes" formatted often used.
Shoemoney is a perfect example of how an extreme casual writing style can still lead to a successful blog. However, this is only because we know that he is very successful; if Shoemoney never made a dime, nobody would read his blog. This again illustrates my point from above… knowing that the author is successful is just too important to ignore.
A Goldmine of Affiliate Marketing Tips
This review may have sounded pretty critical so far, but the truth is that ClickConsultants.com has some great posts with priceless tips. In fact, even though it's labelled as an affiliate marketing blog, there are naturally many posts which are useful to anyone who uses PPC advertising.
Below are my favourite posts on the site. Check a few (or all) of them out, as there really is a lot of useful information:
If you read a few of those posts, I'm sure that you'll agree that Derek has a lot of useful information to share.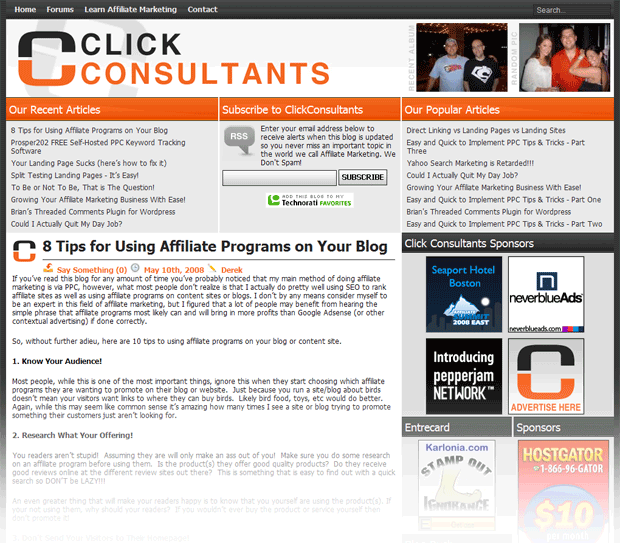 Video Posts
Something I'd like to see Derek do more of are video posts. He's made a total of three videos so far, and while he can ramble at times (hey, I'm just as guilty!), they are quite good and he shares a lot of detailed information in the 7-10 minutes of each video.
I definitely wouldn't mind seeing a recurring monthly "Questions & Answers" video post, where the questions came in from blog readers.
His video posts can be found at:
Private Forum
In addition to the blog, ClickConsultants.com actually contains a forum as well. However, it is not free and membership costs $29.99 a month or $279.99 for life. The forum acts as a type of "affiliate marketing school", helping users increase their earnings and skills as an affiliate marketer.
The forum is apparently useful for affiliate marketers earning $200 or less per day. Members also gain access to 6 free landing pages each month and gain access to their learning center which contains affiliate marketing guides, articles, and video tutorials.
Here's my tip of the day: if you ever want some landing pages, now you know where to get 6 for $30 😉
Cheap Advertising
As I write this review, there is currently a 125×125 banner slot available on ClickConsultants.com. There are traffic statistics posted anywhere, nor an RSS feedcount to compare the price with, but the 125×125 slot is currently selling for $10 a month, which works out to only $0.33 per day.
I was going to buy the slot myself but thought I'd give you guys a chance to snatch it up first 🙂 If you guys don't, I will.
Improvement Suggestions
Derek appears to have a great passion and knack for affiliate marketing, and I think he has a lot to offer in terms of sharing his experience with others through blogging.
However, there are a lot of simple things he could do to improve his blog. Here are a bunch of quick suggestions I have in addition to the ones I discussed in the opening of this review that I hope Derek will consider implementing:
Exactly who is Derek Salyers? How old is he? Where does he live? Does he do affiliate marketing for a living?
These are all questions most readers will inevitably ask themselves, yet there is no mention of any personal details apart from two sentences on a page promoting the forum. It would be recommend to create an "About" page which introduces Derek and perhaps shares some of his successes as well.
The "About" page is usually the very first thing I read when visiting a new blog after quickly skimming the first post, as it quickly provides me a complete overview and history of the blog. It also lets readers connect with the authoring blogger better, knowing that it is written by a real, living, breathing, human being. Blogging, after all, is all about sharing, is it not?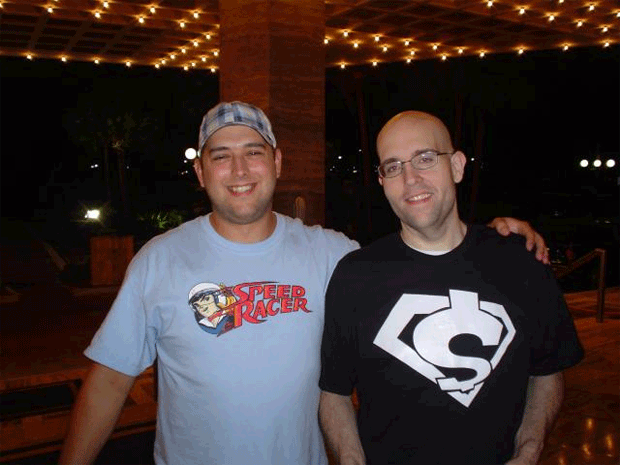 Create an "Archives" Page
While there are sections on the site listing recent and popular articles, they are no substitute for an Archives page which sort posts by date.
For example, it was a bit of a pain navigating through ClickConsultants.com when trying to review all the posts for this review, since my only option was to view the previous set of posts via a link at the bottom of the front page. I'd strongly recommend for Derek to add an Archives page to make browsing and reading easier for visitors.
I personally recommend the SRG Clean Archives v4.2 plugin – it's what I use on my blog (check it out in action).
Reduce Number of Posts per Page
ClickConsultants.com currently displays 10 posts per page which makes each page extend down incredibly far. I think the 10 setting might be the default setting, but this can easily be changed by going (in WordPress 2.5.*) to: WP-Admin -> Settings -> Reading and changing the Blog pages show at most field. Five posts would probably be ideal.
There is not a single image throughout the entire history of posts apart from the rare screenshot of a control panel such as AdWords.
Adding a relevant image to a post will greatly engage readers more and lure them in to read. Nothing overboard is needed – one image per post is enough, or even one image per ever second post, but definitely something.
Images help give context, lure in readers, and simply makes reading a lot more fun and interesting.
Summary
ClickConsultants.com is an affiliate marketing blog which contains great tips and strategies for both affiliate marketers and anybody who uses PPC advertising.
While Derek could certainly improve the blog by implementing a bunch of small changes here and there, these are just minor details which can easily be addressed.
In the end, a blog's real value is always its content, and you could learn a lot by reading ClickConsultants.com.