May 16, 2009
Posted by Michael Kwan
The following is a paid review for TylerCruz.com written and reviewed by Michael Kwan. It is completely of Michael Kwan's opinion and is not influenced by being paid. If you're interested in having your site or product reviewed, please view my advertising page.
Let's say you head out to the local grocery store to buy some milk and you see that they are selling each carton for three dollars. Going to the other grocery store across the street, the same carton of milk is being sold for two dollars. The decision about where you are going to buy your milk just got a little bit easier.
Many of us go through the process of comparison shopping for many of purchases, whether they be a new car, a new MP3 player, or even just a carton of milk. By the same accord, it only makes sense to go through a similar comparison process when it comes to your exploits in affiliate marketing. If two networks are running the exact same CPA offer, but one is offering two dollar more per lead, that will strongly influence how you go about monetizing with that offer, yes?
While you could certainly log into each of your individual affiliate accounts and seek out the corresponding CPA offers, it is much faster and more efficient to use a service like OfferVault. Better still, this service is 100% free to use.
Make More Money with OfferVault
Anyone interested in making money from affiliate marketing will likely be interested in what OfferVault has to offer. In effect, OfferVault manages a massive database containing over 10,000 affiliate and CPA offers from a number of different advertising networks.

Acting much like a specialized search engine, OfferVault allows website publishers and other Internet marketing professionals to quickly and easily compare a number of CPA offers. By comparing the payouts between the networks, affiliates can make a more educated decision as to which network they would like to use.
That said, OfferVault is not necessarily encouraging affiliates to jump ship the moment they find a better payout rate from a competing ad network. However, armed with this information, they can better negotiate with the affiliate manager at their preferred network. By using OfferVault, affiliates can save hours of time in researching the different offers and payout levels.
Registration and Setup
Signing up through OfferVault is relatively straightforward process. From the main page, applicants enter their name and email address. Upon doing so, a confirmation link will be sent via email.
Before this happens, however, the applicant is presented with a "one-time offer" to buy a collection of twelve mini-site templates. These site templates are supposed to make it easy for affiliates to quickly erect websites to promote the various affiliate offers. The templates sell for $27. Master rights can be had for $10 more.
Getting back to the registration email, the confirmation link is actually to an AWeber-powered subscription. This takes a little away from the professionalism of OfferVault, since it would have looked a lot better if the confirmation link was on the offervault.com domain.
Clicking on the confirmation link leads to the more complete application form. It asks for a mailing address and phone number, but neither of which is ever confirmed. Applicants can realistically enter whatever they'd like in these fields and still gain access to the OfferVault database, so long as they remember their registered email address and password.
Scanning through 30+ Affiliate Networks
In addition to the "one-time offer" of "mini-site templates" during the registration process, the primary way that OfferVault makes its money is through referrals to the different affiliate networks. Most of these networks have referral programs and, based on the offer comparisons, affiliates may choose to sign up for new networks.

OfferVault populates its database of offers from over 30 affiliate and CPA networks. These include Amped Media, Clickbooth, Maxbounty, Hydra, Copeac, and MarketLeverage, among others.
Naturally, the collection of networks isn't completely comprehensive. One of the bigger names that is notably missing from the list is XY7, for example. It's very well possible that OfferVault will add more networks to the collection in the future.
Niche Research and Offer Comparisons
Generally speaking, OfferVault can be used one of two ways. Both of these applications are employed from the same search engine interface.
Say, for example, that you are interested in launching an affiliate site focusing on health care products. You could enter the term "health" into the search bar to see what sort of offers are available across the 30+ networks in the OfferVault database.
Alternatively, you may have a more specific offer in mind and you want to see how the different networks stack up against one another in terms of payout. In the example below, I've looked up the information on offers related to the Snuggie.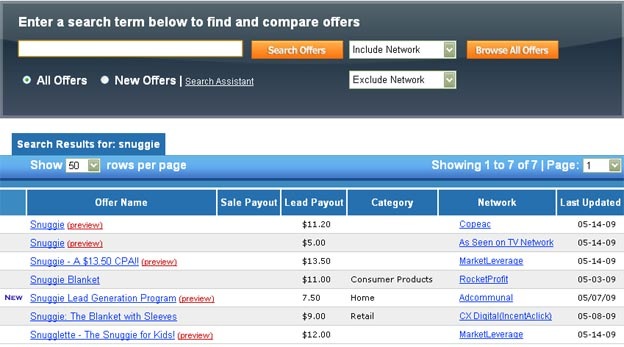 This yielded seven results across six different networks. As you can see, MarketLeverage appears to provide the highest payout level at $13.50 per lead, whereas the As Seen on TV Network only offers a payout of $5.00 per lead. That's quite a disparity and, armed with this knowledge, it's unlikely that you'll be running that offer through the As Seen on TV Network.
The listing can be sorted based on each of the columns, so clicking on Lead Payout will organize the offers either from lowest to highest or highest to lowest. Further still, the search bar is compatible with exact matches (using quotes), combined searches (using "and"), and alternate searches (using "or").
You may also notice the "Include Network" and "Exclude Network" pull-down menus next to the search bar. With the former, you can choose to only display offers from one specific network. With the latter, you can display the offers from all networks except the one that you specify.
This include/exclude feature can be quite useful, but it would be much more robust if you were able to multi-select networks for both inclusion and exclusion, possibly through an "advanced" search tool of some kind. This way, you can choose to only view offers from the networks with which you have an account.
The "preview" feature on this CPA offer comparison engine is also quite notable. Clicking on any of the red "preview" links will open the associated landing page for that network. Some landing pages, as you can imagine, can be more effective than others.
Expanding beyond this, it would be nice if OfferVault was able to show the various creatives that the associated networks provide. At the very least, it would be good to see the types of creatives and the types of traffic accepted for each offer.
Keyword Email Alerts
The database-driven CPA search engine is easily the focus on OfferVault, but the service also includes the option to use email alerts. In effect, you are able to define a search term and receive either a daily or weekly digest will all of the new offers that match this search term.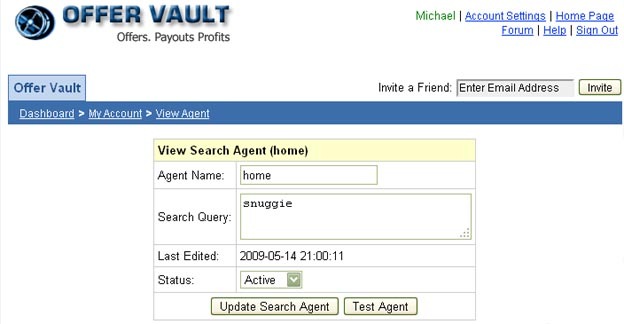 This is done by creating a series of "search agents." You define the agent name, provide the search query, and activate the search. From the user preferences, you would select whether you'd prefer daily or weekly digests.
Unfortunately, there does not appear to be an option to delete any of your so-called "search agents." You can deactivate them, but if you've set up more than a few, the user dashboard can get very cluttered very quickly.
Further still, it would be useful if the information regarding the search agents was displayed on a table of some kind for "at a glance" reference. As it stands, you'd have to click on each individual search agent to see the associated search query. Also, the daily or weekly option is global, rather than being specific to each search agent.
Closing Thoughts
People who are interested in making money with affiliate marketing spend a lot of their time researching, implementing, and testing. Anything that can streamline and automate the process can save them a lot of time and OfferVault is one such tool.
Rather than checking each individual affiliate network, publishers and email marketers can log into their OfferVault account to scan across the offers from over 30 different networks, comparing their relative payouts. This is great for research purposes and the landing page previews are quite useful.
Despite its strengths, including its utter simplicity, OfferVault still has a lot of room to grow. More networks can be added to the collection. More information can be provided to affiliates, like the ability to seek out the different creatives and acceptable forms of traffic. Perhaps the greatest upgrade would be a more robust inclusion/exclusion feature for multiple selections.
All this said, OfferVault can prove to be an invaluable tool to affiliate marketers who are tired of wasting their own time visiting each proverbial store to check out the different prices. OfferVault is the comparison shopping tool for affiliates.