November 7, 2012
Posted by Michael Kwan
The following is a paid review for TylerCruz.com written and reviewed by Michael Kwan. It is completely of Michael Kwan's opinion and is not influenced by being paid. If you're interested in having your site or product reviewed, please view my advertising page
Do you want to build up backlinks for your website and develop a greater online presence? Do you want to rank better in the search engines for your target keywords and keyword phrases? One way to do that is to have your guest articles published on relevant sites, but hunting down these opportunities can be time-consuming and frustrating.
Empowering you with a set of tools to more easily submit and manage the unique content that you'd like to distribute around the Internet is a service called Cruz Command. I should note that, despite having the name in common, our friend Tyler Cruz is not at all affiliated with Cruz Command in any way. It just happens to be a happy coincidence.
How Does Cruz Command Work?
Cruz Command bills itself as an article publishing platform. You are able to submit your custom guest articles to the platform and, upon approval, the article will then be published on a relevant website. The article can contain backlinks to your business site, blog, or whatever other web property you'd like to promote. This aids in your SEO efforts, to be sure, as well as helping to attract some organic traffic.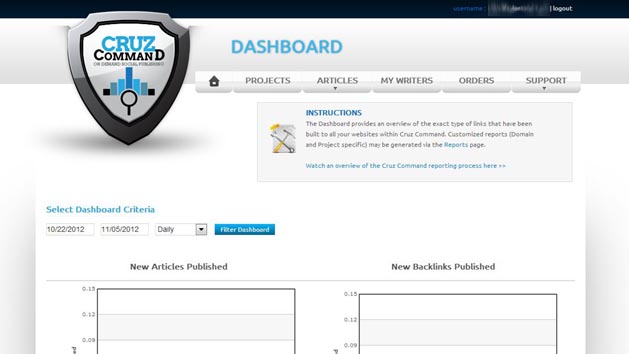 When you sign up for a premium account with Cruz Command, you gain access to the main dashboard shown here. It is through this admin panel that you are able to manage everything to do with your Cruz Command account, including your projects, your sites, your articles, and so on.
While Cruz Command may look like just another blog network or article directory service, they are trying to differentiate themselves from other services in a few different ways. For instance, every article that you submit and is subsequently published will be accompanied by an author box. This helps with your social media presence, because you can provide links to your Facebook page or Twitter profile, for example.
Another differentiating factor is that Cruz Command only accepts original articles. One of the troubles with traditional article marketing is that the article might be distributed along many websites, resulting in duplicate content that may actually get punished by search engines like Google. Cruz Command will not accept any duplicate content, nor will it accept any spun articles or low quality articles. They have a (human) team of moderators to ensure they maintain this level of quality and originality.
The Free Option
One way that you can get into Cruz Command is to utilize its free network of article directories and article submission sites. There are hundreds of sites owned by Cruz Command where the articles are published, approaching several different niches and industries.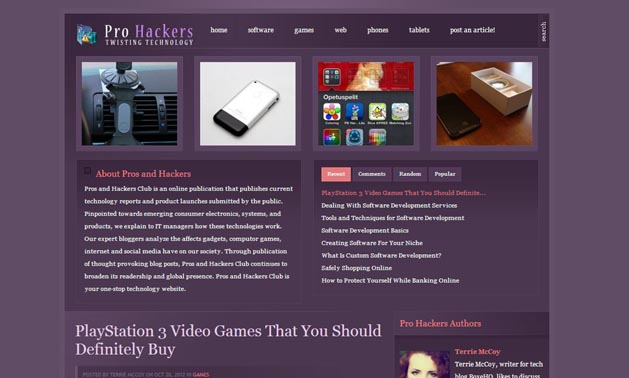 One example is a technology site called Pros and Hackers Club. You'll notice that there is a "post an article" link in the top-right. It is through here that you are able to create an account and submit your article for publication. All of the niche article directories run by Cruz Command have this feature, but free accounts are limited to five article submissions per month.
Here are several more examples.
You can find the site that is most relevant to your business or brand and submit accordingly. This is completely free and it gives you an idea of what you'll get out of Cruz Command in terms of the end product. However, you really are experiencing just the tip of the iceberg, because you do need to sign up for a premium account to really see what Cruz Command can do.
The Benefits of a Premium Account
When you use the free option, you're almost stuck back to where you were in the beginning: manual article submissions. A premium Cruz Command account goes further by unifying your article submission experience into a single dashboard. You can manage all your article submissions from one account and you can even have these articles automatically published to a relevant article directory for you; you don't have to find the one that best fits your content.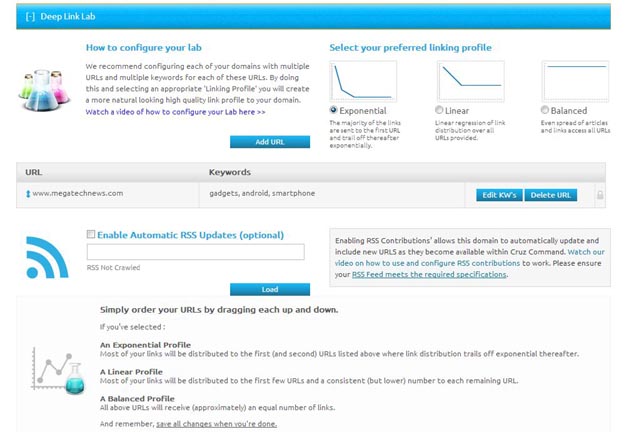 You also gain access to more robust tools, like the Deep Link Lab shown here. You can select your preferred linking profile, add URLs, edit keywords, enable automatic RSS updates and more. By doing this, you are able to configure multiple URLs and multiple keywords for each of your domains, providing you with much more powerful linking tools for your articles.
It's also worth noting that articles submitted via a premium account are always given priority over the free submissions and you also gain access to a team of writers that can produce articles starting at $15 each. This outsourcing ability is integrated right into the Cruz Command dashboard, available under the "articles" tab. You can alternatively opt to manage your own team of writers too.
How Much Does It Cost?
There are several membership levels available for a Cruz Command premium account.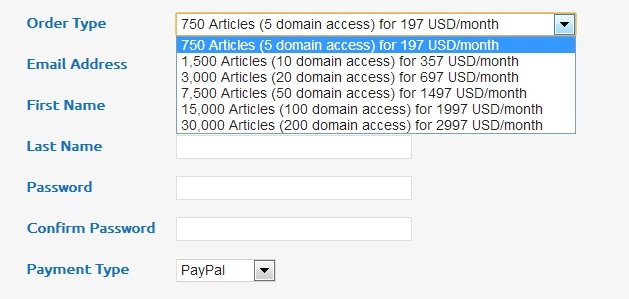 The lowest plan is $197/month and includes up to 750 articles submitted each month with a maximum of five total domains. This can ramp up to 10, 20, 50, 100, or 200 domains and up to 30,000 articles. It really depends on your needs, but even the cheapest plan affords you a lot of article marketing capabilities. Remember that a premium account also gives you robust reporting tools, so you can see where your article marketing is having the greatest impact and how you are distributing your unique content.
No, this isn't exactly the cheapest option that you'll find on the Internet, but Cruz Command is trying to differentiate itself as a premium service. By using human moderators and not allowing any spun or duplicate content, the resulting articles and websites should be of a higher value. Indeed, even the eight sites available for free article submissions are all PR4. That has to mean something.