July 18, 2013
Posted by Michael Kwan
The following is a paid review for TylerCruz.com written and reviewed by Michael Kwan. It is completely of Michael Kwan's opinion and is not influenced by being paid. If you're interested in having your site or product reviewed, please view my advertising page
You only have so many hours in the day and this can make you feel like there is an inherent limit on your earning potential. There is some truth to that and this is one of the reasons why Internet entrepreneurs in particular are always looking for ways to outsource or to automate some of their business processes. Instead of doing a full manual backup of your website every few days, for example, you may utilize a plug-in or some special code to do it for you.
And the same fundamental philosophy can apply to opening an online store too, especially if you don't wnat to deal with the complexities of managing your own inventory or handling your own order processing. This is a big reason why affiliate marketing and affiliate stores are so popular, but it can be time-consuming to manually update those sites. And that's why a utility like WP All Import can save you a lot of time and energy, but it effectively automates your ability to build, open and run your own affiliate store.
What Is WP All Import?
The core idea behind WP All Import is that it can work in tandem with your new or existing WordPress installation. Using the WP All Import WordPress plugin, along with the WooCommerce add-on, you can effectively import XML datafeeds to produce a dynamic affiliate store that is then automatically updated by way of your affiliate datafeed.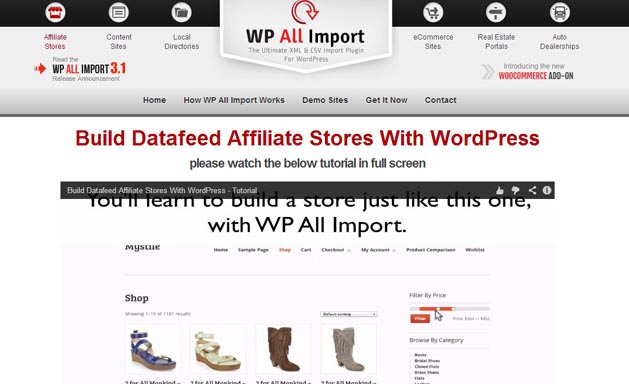 It is designed to be the "ultimate affiliate store building solution," giving you the ability to simply and easily "import external/affiliate products to WooCommerce." If you are already using and are familiar with WooCommerce, then leveraging that experience will give you a leg-up on building your own affiliate store using this comprehensive solution.
There are many features here that affiliate marketers and e-commerce specialists will appreciate. First, you are not stuck with using certain pre-defined templates for your WP All Import affiliate store. Working in cooperation with WooCommerce, this total solution will work with any WordPress theme. If you like one kind of layout or another, if you want to tweak your design to improve conversions, you can do that.
When you use WooCommerce to build your online store, it also means that you can use the various features that come with WooCommerce too. This means that your sidebar navigation, for example, can feature layered navigation with a hierarchy of pull-down menu options. If you're selling shoes, you may have a parent category for women's shoes, a child category below that for boots, and a child category below that for leather boots, for instance.
How Does It Work?
To give you a sense of how you can go about setting up your own affiliate store in a matter of minutes, the folks at WP All Import have put together a brief tutorial video that walks you through some of the major steps. While it may seem a little daunting for novices, the overall process is actually reasonably straightforward.
(Note: You may need to visit the post directly at TylerCruz.com if you're reading this via e-mail or RSS in order to see the video.)
You can pull in an XML datafeed from your favorite affiliate network, assuming that they offer datafeeds, and this can be imported into the system to automatically update your own online affiliate store. This includes changing not only the product data and pricing, but also the ability to add new products, remove old products, update images and so on. Since it's updated on their end and automated on your end, you never really have to touch it again. WP All Import will check for changes periodically on its own, so your product listings will always be up to date.
As far as customizing how you want your pages to look and what sort of information should be included, the interface allows for full drag-and-drop functionality.
So, using the above screenshot as an example, we can populate the SKU field by pulling the SKU attribute from the list on the right and dragging it the appropriate field in the main section. You can do the same for product names, product descriptions, product prices, and whatever other attributes your XML datafeed may have. This will vary depending on the affiliate program and datafeed you are using, the fundamental process is essentially the same.
Seeing the Store in Action
To give you a sense of what you can expect when you decide to build your own affiliate store, the folks at WP All Import have put together a number of demo sites. As mentioned, you can use whatever theme you'd like and the layout can be completely customized to suit your particular needs or requirements.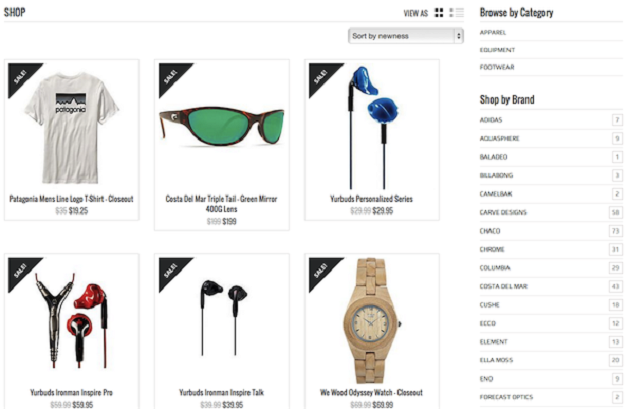 This demo site, for example, is being used to sell a variety of fine clothing and accessories, like t-shirts, sunglasses and earphones delivered by local drop-ship shirt fulfillment services. All the information being displayed is being automatically imported from the associated XML datafeed. This includes the product images, names and prices. You can aslo see how the sidebar can be customized with various widgets.
How Much Does It Cost?
The current promotional price for the complete package, which includes both WP All Import and the WooCommerce add-on is $129. You can also buy WP All Import on its own for $99, but the bundle is definitely the better value.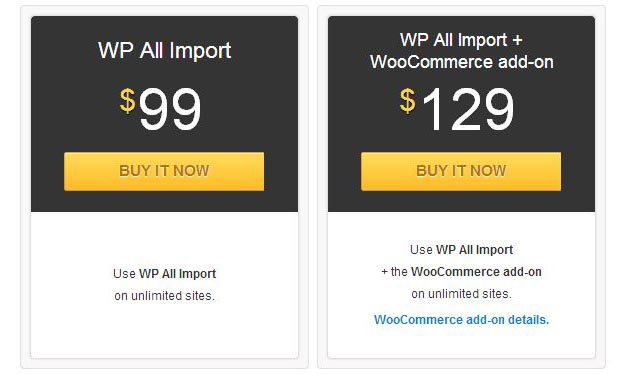 That being said, there is a special coupon code for readers of TylerCruz.com. If you go to the WP All Import main page, hit the "Add To Cart" button near the bottom, and enter "cruz" in the coupon code area, you'll bring the price down to just $109.65. Payment is accepted via PayPal. Once payment has been received, you'll receive an e-mail message with your username, password, and access to the customer portal where you can download the plugin, and access the associated documentation and tutorials.