July 23, 2007
Posted by Tyler Cruz
The following is a paid review and is completely of my own opinion and is not influenced by being paid. If you're interested in having me review your site or product, you can purchase a review from me through PayPerPost by clicking on the PayPerPost Direct button located at the top left of my blog. 

DeskShot.com is a very simple yet neat website that allows users to upload photos of their desk & computer setup.
At first I thought that such a site might only interest mainly the web entrepeneur crowd, but then I thought: everyone that can access the site has a computer, so why shouldn't it interest others as well? I certainly know that programmers, designers, and gamers will find interest in it.
Signing up is fast and easy, requiring only the basic information (e-mail, username, and password) to be filled out. Registered users are able to upload their own "Desk Shot's" as well as take advantage of a few other features such as the commenting and tagging system.
All uploaded photos can be commented on by other users, and DeskShot also has a neat feature called tagging. Tagging allows users to tag their images by specifying a region of the image, and describing what the object is. See the image below for an example screenshot of a tagged Desk Shot: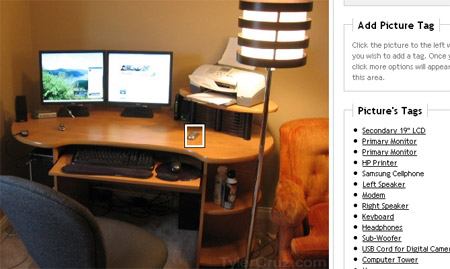 Those familiar with Facebook will be familiar with such a technology. When the specified region is clicked on (not just hovered over), users will be taken to an Amazon affiliate product page. This is how DeskShot plans on making money, which is a very unobtrusive and fair way, as there are no ads directly on the site.
The website itself is very well constructed. The design is very simple, clean, and user-friendly, taking on a Web-2.0 look without all the infamous 'plastic' imagery that is often associated with Web-2.0. My suspicious were even correct; DeskShot has W3C valid XHTML code even though it doesn't mention it on the site. In addition, it's even W3C valid for CSS as well, which is even rarer than having valid HTML!
There are several bugs throughout the site, such as the tagging system not working properly in MSIE, but as stated on the front page, DeskShot is still in Beta mode and is still fixing a few bugs.
Deskshot has been holding a contest, but it is not mentioned or linked anywhere on the site. Here's the actual contest link though, just for you ;):
"Once a new user registers, they are given a unique user id. The user ids are randomly selected user ids between 58 – 150. Any new user that registers has the possibility of winning. In order to know if you're a winner or not you will have to see upload a deskshot. Once you have uploaded your desk shot another image may appear in your account click the image to see the amount of money you have won. Prizes vary from $25 – $50."
You'll also receive $10 if you end up referring a member to DeskShot who ends up winning a prize. There are currently 113 members at the time of this writing, which means the contest will end once 37 more people enter.
I registered an account there (to do this review) and attached three photos of my own setup for those interested in seeing it. And I tagged one of them, tagging every single item in the shot. Here's the link to my gallery.
There are some nice setups on DeskShot so far, but my favourite setup I've seen so far is by Shoemoney (he's not on DeskShot), who has this pimp office: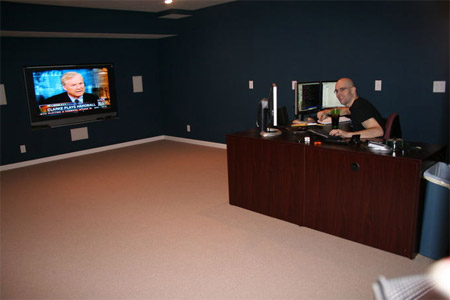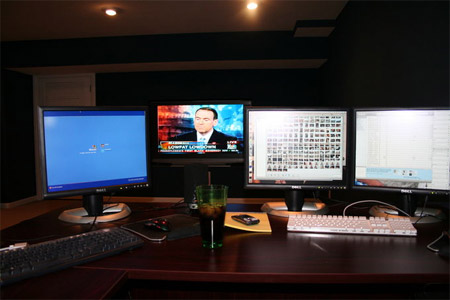 He seems to have since added a bunch of stuff to the room such as a couch and… gulp… baby crib which ruins it a lot, but it's still pimping. He must have lost a bet was his wife… 😉
One day I hope to be able to afford such a sweet office setup… although I'm still very proud with my current office.
Anyhow, it really is a neat site and if whether you want to show off your awesome setup, scare people with how cluttered it is, or just browse other people's setups, check out DeskShot.