March 3, 2009
Posted by Tyler Cruz
The following is a paid review and is completely of my own opinion and is not influenced by being paid. If you're interested in having me review your site or product, please view my advertising page.
Affiliate Marketing Competitions seem to be popping up everywhere these days. In June of 2008, when I launched my first affiliate marketing competition, I hadn't seen anyone else run these types of competitions. I think that's partly why my original MarketLeverage competitions did so well.
However, 9 months later, they seem to be everywhere. AzoogleAds has their big Playboy Mansion publisher challenge, CX Digital had their Roll Like a Billionaire competition (which seems to have mysteriously stopped shortly way through?), and many other bloggers have run similar competitions based off of mine.
The competition model is a good one in which everybody wins which is why you see them popping up everywhere.
DirectAgents appears to be the next affiliate network to jump aboard the band wagon. They're running a competition called the DirectAgents's and VistaPrint's Dream Getaway.

Normally I probably wouldn't accept doing a review of an affiliate network's competition as I feel the value they receive out of it is worth much more than the $175 I charge for the review. After all, all it takes is one big affiliate and they could be making $15,000+ a month profit right there.
However, DirectAgents has put a bit of a spin on how most competitions are being run and I liked the uniqueness and innovativeness (yes, that's a word) of the idea. They're essentially leveraging their existing advertiser base to help fund the competition, which makes it a lot easier for them to give out big prizes.
Contest Overview
The competition is simple: the top 3 DirectAgents publishers who generate the highest number of leads to their VistaPrint offer(s) during the contest's timeframe win a prize.
The competition runs from March 1st, 2009 at 12:01am through April 15th, 2009 at midnight (Eastern Standard Time).
The spin on the competition is that only the leads to their VistaPrint offers count. I can see both upsides and downsides to this for contestants.
By being limited to promoting essentially the one offer, it rewards publishers who can successfully launch a new campaign and get it going off the ground. It also gives new publishers a chance at winning since existing publishers who are already generating commissions may not be running that offer.
However, the downside is that any existing publishers who just happened (by chance) to already be promoting the offer have a significant advantage over everyone else. The other downside is that by forcing everyone to promote the one offer, it can make it harder for the contestants to profit off the campaign since everybody will be bidding on similar keywords and thus creating more competition in the niche and raising bids, etc.
The Prizes
DirectAgents is only giving out a total of 3 prizes, but they're all very nice.
1st Place: Caribbean Trip Dream Getaway for Two 
The affiliate who generates the highest amount of leads to the VistaPrint offer will win a trip to 1 of 5 Caribbean islands of their choice, and they'll get to bring a friend along to join them.
They can choose between:
Jamaica
St. Lucia
Cabo San Lucas
The Dominican Republic
Bahamas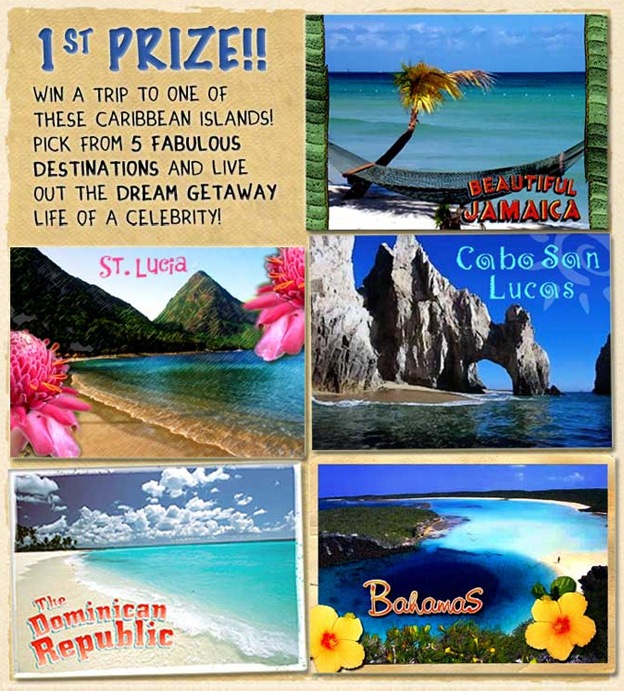 In addition, the winner will be provided with accommodations at a 4-star all-inclusive hotel resort for three nights. All standard accommodation and food/beverages covered by the all inclusive resort destination will be provided.
The approximate total value of this prize is up to $4,000.00.
2nd Place: Sony Vaio Notebook OR MacBook Air
Second place will get to choose between either a Sony Vaio Notebook or a MacBook Air. It's nice that they give you the option of the two so there isn't a Mac vs. PC battle 🙂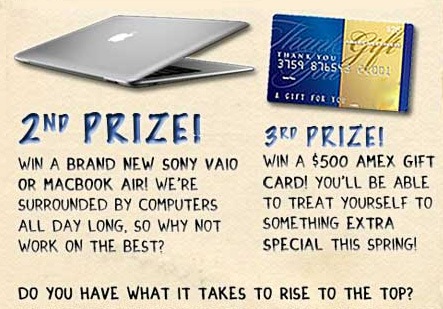 The approximate total value of this prize is up to $2000.
3rd Place: $500 Amex Gift Card
The third place winner will walk away with $500 spending cash in the form of an Amex Gift Card. While you can never go wrong with cash, I'd recommend for DirectAgents to consider giving the winners the option of getting paid via wire, cheque, and/or PayPal because those American Express gift cards are very difficult to use if you're an international publisher.
I won a bunch of those from MarketLeverage and also gave a ton out as well and I wasn't able to spend them anywhere since I'm Canadian and it didn't let me use them. I heard from other international publishers who had the same problem.
How to Participate
To participate, simply sign up to DirectAgents and wait to get approved. Once your account is activated, start promoting and pushing traffic to any of their VistaPrint offers.
You must be 18 to participate. It is also important to note that only US-traffic is allowed for the VistaPrint offer.
You can read the contest's FAQ and Terms and Conditions for more information.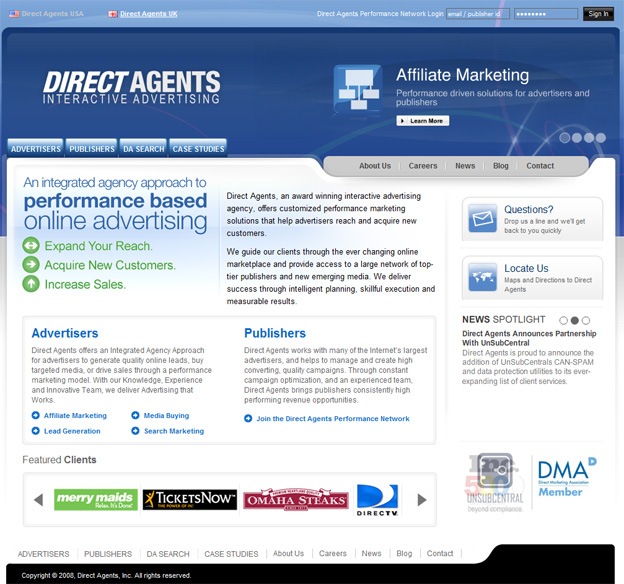 The Catch!
After reading their Terms and Conditions, I discovered that in order to qualify for 1st place you need a minimum of 3,500 sales, for 2nd place you need a minimum of 2,500, and for 3rd place you need a minimum of 1,000.
What?! Obviously this was done to protect them in the case of a poor turnout, but that comes with the risk of holding a contest. I could offer a trip to the moon if I made the requirements high enough. That is why I always recommend networks to offer a guaranteed prize pool with no minimum required to cater to the smaller affiliates.
There are four VistaPrint offers, but the only one I could find the payout on was paying out $10. So essentially, the minimum requirements for eligibility of the prizes are:
1st place: $35,000+
2nd place: $25,000+
3rd place: $10,000+
Therefore, you're going to need to be a very big affiliate with deep pockets to even be eligible to win anything.
This is why you should always read the fine print.
What's worse, is that you could actually generate $35,000+ and not even win anything, although my prediction is that nobody will actually win any of the prizes, unless DirectAgents has existing affiliates who are already pushing that offer with big numbers.
I believe these requirements to be a big mistake on their part. I can understand them wanting to minimize the risk involved, but by being so conservative they are making the competition undesirable to pretty much anyone unless they're already promoting VistaPrint and doing big numbers with them.
My recommendation? Dramatically lower the eligibility requirements in the future, or better yet: offer a guaranteed prize category with no minimum prerequisites required.