December 10, 2007
Posted by Tyler Cruz
I feel like the scriptwriter for the movie Face Off when writing this post…
Several weeks ago I was looking through some of the referral traffic I was receiving to my blog, as I often do once every week or two, when I happened across a linkback from a blog called Walsho.net.
When I visited the post that linked to my blog, I discovered something rather interesting… and slightly disturbing at the same time.
Here is what was posted:
"I had this image of me made for my by a guy on DigitalPoint, and for a cheap price of $30. The only problem I have with it is how much it looks like Tyler Cruz! I wonder if I could actually get in any trouble for the similarity?? If it turns out that I could, I'll simply have the face redone, which wouldn't cost much I imagine. This guy's gonne be incorporated into my custom theme that's being made for me. Here he is ( I am)." –Walsho.net
And here is the image: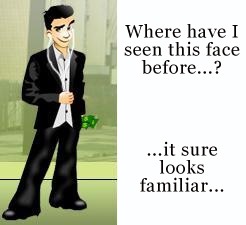 Now, my initial reaction was "Hmm.. that does look like me, but who would do something as stupid as to copy my appearance?". I figured it could easily have been a coincidence. After all, I'm not the only one with black hair. But when I looked closer…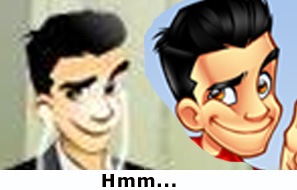 As you can see, the fake Tyler on the left is, without any doubt, obviously copied from my image. When you see fine details such as the hair, eyebrows, and… everything else, I don't think anyone would debate that this image was copied directly from my avatar.
I left the following comment on his post:
"Yeah, I'm certainly not pleased obviously. However, the fact that you made a post pointing this out and linking back to my site, coupled with the fact that it wasn't you who designed it puts the onus of guilt on the designer and not you.

So unless you told the designer to produce a similar clone of my logo/cartoon, you should be asking for a revision as it appears that he really did just do a facelift of my image…"
Later that day, I received the following e-mail from Mark:
"Hey man, this is Mark from http://walsho.net
I'll look into getting the face of the cartoon redone, don't want one of my favourite bloggers unhappy with me!
Apologies.

Mark."
I must admit that I didn't really expect for him to do this. He's only 17, and it appears that he is just starting out in the fantastic world of "make money online" blogging. I don't know about you, but $30 wasn't just something I threw around at that age.
I also applaud Mark for his full disclosure; he didn't have to make the blog post stating how much it resembled me.. he could have just kept quiet and hoped nobody pointed it out. And it wasn't his fault, it was the "designer" he hired from DigitalPoint.. obviously a reader of my blog… so he may even be reading this right now!
He did the right thing. And for that, I wanted to somehow reward him, which is why I'm writing this very post. Hopefully this post will give him a bit of traffic, or if nothing else, a backlink and some attention.

In an attempt to drive him some more "Karma" traffic, take a look at his latest post from yesterday. Mark made his biggest sale ever, selling an e-book site that cost him $22 to make for the domain and images, on Sitepoint for $1,050. Now if that isn't a good ROI I don't know what is.
The post brings back fond memories of the not-too-distant past when I would be ecstatic selling a site, domain, or making a big advertising sale. I can see myself in him when he posted his PayPal screenshots and how excited he was.
And I found the following too cute:
"I was literally shaking for about an hour after the $1,050 bid came through, and today in school I was drifting off a lot just thinking about it."
I can totally relate. Shortly after moving out on my own, I sold a recipe database site that cost me $400 to develop (I hired a programmer from E-lance) for $10,000. I've told this story many times, so I won't repeat it again here, but it's the funniest story.
Anyhow, I'd like to thank Mark again for doing the right thing and removing the "Tyler" clone. I hope he gets a new image and face soon, preferably from a real designer 🙂