May 10, 2009
Posted by Tyler Cruz
As most of you know, my company runs a couple dozen websites. Even though it takes a lot more time and effort, I monetize the sites by selling my ads privately as opposed to using a CPC or CPM network such as TribalFusion or Google AdSense.
I used to use networks such as those, but by selling ads privately I typically achieve returns of anywhere from 2-10 times as much. Yes, seriously. In fact, it's even more when you consider that many advertisers who purchase advertising on one of my sites, also request to purchase on several of my others as well.
While I've always encouraged selling your ads privately when feasible, there is one thing that I should warn you about.
As you start selling more ads on your website(s), you'll start to come across some advertisers who want to purchase for a certain amount of time in advance. Some may want to purchase for 2-months, some for 3 or 4-months, and many actually like to purchase for a year in advance (typically text-link advertisers).
Now, there are a number of pros and cons to accepting advertising for a longer period of time in advance, including:
Pros
Less 'busy' work for you: you do not need to edit your accounting records once a month, add and remove the banner or advert, and find a replacement advertiser. Trust me, this can add up to a lot of busywork when you have a lot of websites with a lot of available advertising space.
Oftentimes, a big chunk of cash at once can help with your cash flow. You may use that cash to quickly reinvest back into your site, or purchase that domain, tool, or site for sale that you were saving for.
Guaranteed commitment. If the advertiser purchases for 6-months in advance, but started to become unhappy with the results after the 3rd month, they have no choice but to stick it out. If you had sold the spot to the advertiser on a month-by-month basis then you would have lost out on the last 3 months. But beware that this can also work against you.
Your site may be on an upswing at the moment, and therefore your ad prices are higher than usual. If your site takes a turn for the worst and drops in traffic, you're still getting paid for the ads at their highest price point. However, this can also work against you (see below).
Cons
The biggest caveat of all is that you're locked into the agreement. If you sold the ad spot for a year in advance and then your site suddenly takes off, you could potentially be losing out on hundreds or thousands of dollars. While you might be work out a deal with the advertiser, such as paying them something nice to cancel the agreement, most advertisers would most likely not be happy with this, and would probably not agree.
Limits growth. If you slapped one of your smaller sites up with a horde of ads because you never expected it to grow, and then it does grow, you're stuck with those ads which you sold at a low price and are just impeding growth.
SEO penalties. As mentioned above, SEO advertisers that offer to pay you for text links almost always like to purchase for the longest period of time possible. I believe they do this simply because they buy links on so many sites that they don't want to waste time renewing them once a month. Google is extremely strict against sites that sells text links these days, and if you sold a bunch of text links on your website and then see yourself get slapped with a lower PageRank, you'll be forced to honour the advertising agreement until it ends.
If you're like me and offer advertisers discounts the longer they purchase (such as 15 or 20% off for 12-months), you're effectively losing out. I continue to offer this for the reasons mentioned in the Pros section above, but you need to figure out if this would be more onerous for your situation.
Don't Do What I Did
But the point of this post is to warn you not to do what I did. Two years ago, an advertiser approached me saying he wanted to purchase text links on all of my active websites.
I agreed, and added his 125×125 HTML text link to 7 of my sites including my blog, TylerCruz.com. The 125×125 HTML ad contained 7 gambling and poker links and were not set as nofollow.
I would now never accept paid text links on my blog, especially not gambling related ones. But at the time, my blog was much smaller, having only around 400 RSS subscribers. It was also around the time that I was just beginning to monetize it, so the decision to accept the ads seemed easy to me.
You can see part of the original IO (Insertion Order) below:
PokerForums.org agrees to add the following ad(s) campaigns:

• Sitewide Bottom 468×60 Banner: $960 (Save 20%)

Movie-Vault.com agrees to add the following ad(s) campaigns:

• Sitewide 125×125 HTML Ad: $768 (Save 20%)
• Sitewide 125×125 HTML Ad: $768 (Save 20%)

TylerCruz.com agrees to add the following ad(s) campaigns:

• Sitewide 125×125 HTML Ad: $600 (Special $25/month Deal)

MMAForums.net agrees to add the following ad(s) campaigns:

• Sitewide 125×125 HTML Ad: $384 (Save 20%)

PublisherForums.com agrees to add the following ad(s) campaigns:

• Sitewide 125×125 HTML Ad: $576 (Save 20%)

CookingForums.net agrees to add the following ad(s) campaigns:

• Sitewide 125×125 HTML Ad: $260 (Save 20% and $28)

MovieForums.org agrees to add the following ad(s) campaigns:

• Sitewide 125×125 HTML Ad: $384 (Save 20%)

Total: $4700.00

Allotted Duration: 24 months
As you can see, I made $4,700 within a few minutes. I completely understood that 2-years was a very long time, especially online, but I also knew it was an incredibly easy way to pocket 5 grand. Besides, all I had to do was add a simple 125×125 ad on half a dozen of my sites, right?
For the most part, the deal did work out rather well for me. Many of my smaller-medium sites such as Movie-Vault.com and MovieForums.org are what I consider lower-quality sites, even though they get some decent traffic. I therefore slap a lot of ads on them as they don't appear to have a big impact on them.
Where I did lose out on this deal was agreeing to put the ad on my blog. I hadn't given myself enough credit to where I could see my blog taking off to the point to where it is today. As a result, I believe the paid text links (unrelated gambling ones no doubt) had a negative impact on my PageRank. They were the only gambling and paid text links on my blog.
Even taking the SEO penalties out of it (if there were indeed any), you can see from above that I had sold the 125×125 spot at a base price of $25 a month. At the time, that was more than I was selling them as I did know that my blog would grow, and so the inflated price to the advertiser was to help compensate for that future growth, but I didn't estimate it close enough since I now charge $50 a month – exactly twice as much.
On my poker site, PokerForums.org, the result wasn't quite as bad as on my blog since I was already selling a lot of paid text links and since the site is gambling related, but I did lose out on the fact that since the slot was sold, I couldn't modify the bottom of the site and convert it to a 728×90 banner instead.
The results could have been worse for me, and as I say, it did work out for me pretty well in the end on my other sites, but it did hurt my blog. I still accept advertising for 1-year in advance, but you need to be careful about just blindly accepting such deals as you never know how much or how fast your site(s) can grow.
The advertiser's ads expired two days ago on May 8th, 2009 and I just removed them this morning. It felt fantastic to finally be able to remove the gambling text ads from my blog (as seen in the top left of the screenshot below).
I made a quick collage of the 125×125 (and in the case of PokerForums.org, a 468×60) HTML text ads that were on my 7 sites for a full 2 years below. Good riddance!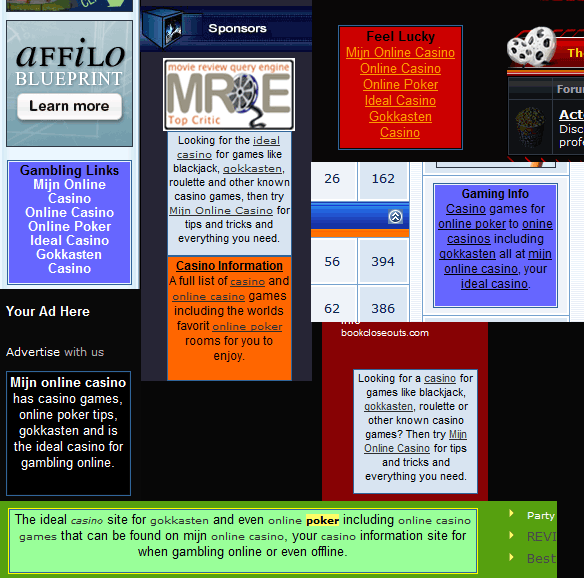 Moral of the Story
If you sell your ads privately, make sure you properly evaluate your site(s) before accepting paid advertising for a long period of time. Make sure that you won't be regretting it if your site suddenly takes off.
I should have never accepted those paid gambling text links on my blog since my blog is extremely high quality in terms of content.