March 10, 2009
Posted by Tyler Cruz
Yesterday I went to my accountant's firm where I go to give them all my year-end stuff. I was given a new accountant this year, and was a bit apprehensive as accountants can range greatly in skill, experience, and personality. I was also weary and hoping for somebody fairly young, since 100% of my income comes from online and it's just easier working with somebody who is familiar with PayPal, etc.
Fortunately, my new accountant from EWM accountants & business advisors is awesome. I'm a pretty bad guesser at ages, but I'd say he was around 33-35ish. He was very friendly and seemed very knowledgeable and experienced which gave me a lot of confidence. Right off the bat he starting explaining things to me very well and gave me a bunch of tips on how to save a lot of money for 2009.
He was very easy to get along with and he didn't pull his hair out when I started showing him all of my paperwork and how unstructured it was. I like how he was patient with me and answered all of my questions in detail until I fully understood what he was talking about. Oftentimes, accountants have a way of talking way over your head. Fortunately, he was both professional and knowledgeable yet "real" at the same time – just the way I like it.
Since this is the first year we're doing my corporate taxes, we had to pick out a fiscal year for it. We (he… haha) decided that running it from March 1st – February 28th made the most sense. Since I had prepared my corporate taxes for the calendar year of 2008, it means that I have to go through everything again to prepare the data from the first couple months of 2009 since that is now part of the fiscal year for the corporation. This will be a bit of a pain, but it made the most financial sense.
One of the many questions I asked my new accountant was how much I would be expected to receive back from the government for my 2008 personal taxes. You see, I have to pay my personal taxes quarterly in advance, and they estimate how much you'll have to pay by basing it on your previous year's return. Since I owed $22,000 in 2007, they wanted $5,500 every 3-months from me – which I paid.
However, since I incorporated partway through the year, it means that my personal income for 2008 was actually dramatically lower than what the government had estimated it would be (basing it off of 2007). Because of this, a quick number crunch estimated that I should get a $15,000 return from the government once I file my personal taxes. Yay!
That's essentially like getting a brand new 2009 Toyota Corolla from the government for free!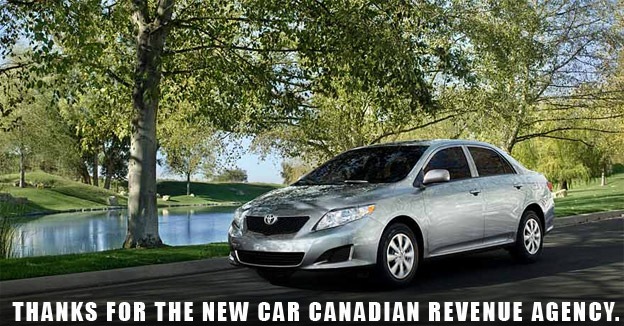 Well…. not exactly. First, that is MY money. They simply overcharged me by making me pay in advance. In fact, I actually lose out if you think of it since I lose out on the interest I could have made if I didn't pay that money to them in advance. Although, I think that when I get the return, I might get paid with the interest the government made on it as well 🙂
While I should be getting roughly $15,000 back from the government for my personal taxes, it doesn't mean that I won't have to pay anything. My corporation will still need to pay its income taxes. I'll essentially be taking that $15,000 and using it as a shareholder loan (since I'm the sole shareholder of the company) to pay off its taxes which should pretty much cover it since 2008's corporate tax rate is 15.5%, although that doesn't include the double CPP contributions (Canadian Pension Plan) which is another 5%.
In the end, with the money I'll be getting back from the government for my 2008 personal taxes, I should roughly break even, meaning that I won't really have to pay anything "extra" out of my bank accounts.
And since I was prepared to pay $25K+, that makes me one happy boy.
I'll keep you guys posted once the official returns are completed by my accountant and I know exactly how much I have to pay/get back. If you're looking for an experienced accountant, check out the best online accountants UK.