September 3, 2009
Posted by Tyler Cruz
After I kept experiencing repeated MySQL crashes on one of my dedicated servers a couple of weeks ago, I finally decided enough was enough and switched from ThePlanet hosting to a Canada server, ServerMania, which I found on www.servermania.com/dedicated-servers-canada.htm.
I had been with ThePlanet for 6 years since 2003 and spent roughly $25,000 on them (averaging $350 month for 6 years) so they're definitely losing a long-time customer.
I've had numerous issues with them throughout those 6 years. Granted, some of the problems I had with my servers weren't their problem (being hacked, for example), but I've had a number of physical hardware issues that were definitely their problem. In another example, when I had upgraded one of my servers, I noticed 6-months later that they had only put in half the ram they were supposed to. They didn't compensate me other than putting the missing stick in.
What irks me the most about ThePlanet though is their customer service. While they have a ticket system, their response time isn't the best. Since I had unmanaged servers, I bought their Advanced Services tech support plan at $100/month. I don't know why I kept paying this as it was a complete waste of money.
The added system support was not much more help than their regular support and they constantly wanted to quote me extra for work that you'd think would be included. The other reason I did get that added support is because The Planet's server administration costs are $150/hour (literally).
The worst of it all was when my server was completely wiped out in April of 2008. ThePlanet was of little-to-no-help in restoring my data and after being told it was unretrievable, I somehow ended up managing to restore it myself.
I'm not the only one to become an ex-user of ThePlanet. Shoemoney has had problems with them as well and also moved away.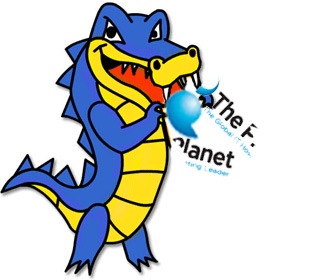 So, as I mentioned earlier, after my sites kept going offline 3-4 times a day 2-3 weeks ago, I opted to switch hosting companies rather than upgrade to another server at ThePlanet.
Goodbye ThePlanet, Hello HostGator
I decided to go with HostGator as my new dedicated server provider for two reasons.
First, I had recently purchased one of their virtual servers for my affiliate marketing websites (for privacy protection) and was very impressed with them.
And secondly, they offer free migration services. This was a major selling point to me and cinched the deal. The Planet had quoted me $450 (3 hours labour) to help migrate my data over to the new servers, and other server companies quoted me around $150 so it was an easy decision to make.
HostGator lived up to their promise and did a perfect migration of all my dozens of websites for me with no complaints or hassle. And, this was no small task to do either. One of my servers didn't have any control panel software such as CPanel or WHM and was very messy and antiquated, and they also had the added task of merging my two servers into one.
I was very impressed.
The Irony of it All
Now, the irony of all of this is that HostGator actually uses ThePlanet's datacenters! But while the physical servers and Internet connections are essentially the same, the customer support is literally world's apart.
HostGator's Amazing Customer Support
Plain and simple, HostGator has pretty much the best customer support you could ask for and is definitely amongst the best I've personally encountered.
First, they have incredible chat support for sales, billing, and tech support issues. If you go to their site right this second and click on Live Chat, you'll be talking to somebody within probably 10 seconds – literally. Try it if you don't believe me!
And this is great chat support too! The chat techs are based in Houston, Texas at their headquarters and have around 70-80 full-time people dedicated just for live chat support! There are usually between 20-30 online at any given time so waiting queue times are basically non-existent. I've personally never had to wait longer than 30-seconds at the most.
It's great because I can get a lot of questions answered or requests done literally moments after I think of them.
Secondly, HostGator's e-mail support (aka ticket system) is just as good as their chat. The response time is obviously not as fast, but it is still pretty quick; I usually get a response within 20 minutes.
When it comes to hosting, I want need really good customer support, and HostGator goes far above and beyond my expectations.
My New Server!
Here is my old server setup circa 2004-2007. Prior to that one I had just Trinity: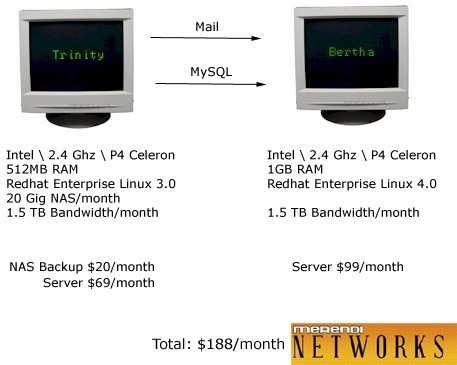 My setup after my big server crash of April 2008, I upgraded Trinity to Abby: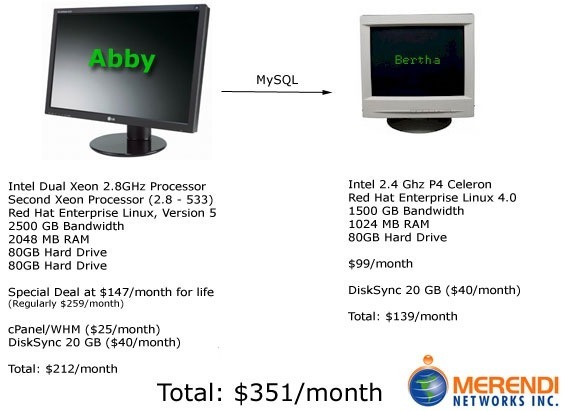 What it doesn't mention in the screenshot above is the added $100/month support so I was actually paying $451/month.
And here is my new server! My tradition has always been to give my servers female names and since I had recently watched WALL-E for the first time, I named her Eva: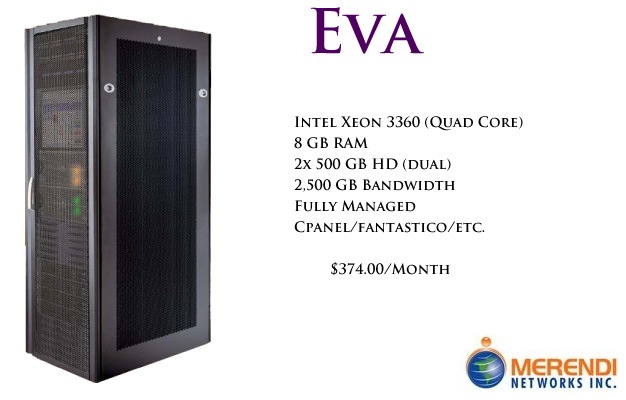 She's a beast! An Intel Xeon 3360 Quad Core with 8GB of RAM and 1TB of disk space! Once my sites had all migrated over to Eva I couldn't believe how much faster my sites were loading… unbelievable.
The biggest improvement has to be MySQL moving from a server running a 2.4 GHz Celeron with 1GB of RAM.
What's also great is my system is finally normalized. I had the stupidest setup before without a control panel which forced me to do most things through a SSH console on the command level, and having MySQL running on a second, slower server didn't make much sense.
Often if you upgrade or move servers you won't notice much change in performance, but in my case the difference was dramatic. Some of my sites (mainly my forums) were taking 10-15 seconds to load before the switch, and now they're loading in about 1.5 seconds! Woo-hoo!
My Backup Setup
Previously, I had an insanely convoluted and expensive backup system in place with my old servers at ThePlanet. I wrote quite a detailed post titled Backing Up: Better Safe than Sorry for those interested.
It was called DiscSync (later renamed to eVault) and was actually a very reliable and efficient offsite backup solution. It was just a real big pain to set-up.
If I had to pick one thing that HostGator could improve on it would be their absence of an off-site backup storage solution. Most dedicated server companies have some sort of option or another so it's a bit disappointing they don't.
So what I ended up doing was had my 2nd 500GB hard drive act as a storage backup. I have backups of all my sites scheduled to run daily, weekly, and monthly. I just sent a simple e-mail to HostGator's support and 30-minutes later it was all set up for me 🙂
I almost had RAID 1 set up, but ultimately decided against it since it's really only good against a physical disk failure. If you're hacked or have a virus, (not to mention a fire), etc. it's useless. So what I'm going to do for an offsite backup in the case of an unlikely disaster such as a fire or earthquake, is to download a backup to my PC once or twice a month.
In the event of an entire server wipe, I could lose up to a month of content, but at least I'll survive. In the future I might consider buying a cheap server at another company and storing the backups daily there.
I downloaded a backup to my PC today… around 1.3GB and it only took around 15-20 minutes since I was getting a very fast 700-900KB/second speed.
So, I will miss the daily offsite backups, but may implement that in the future with the purchase of a cheap storage server somewhere else.
Special 20% Fall Discount
I just happened to be lucky to purchase my server while HostGator was having a special fall discount which gives 20% off the initial order (the first month).
If you decide to move to HostGator or buy a new server there, be sure to use the coupon code: AUTUMN. I'm not sure if my referral link will count that as a sign-up for me, but oh well, you deserve 20% off 🙂
The special discount expires on Oct 1st so you have a fair bit of time to think about it.
HostGator is one of the world's top 10 largest web hosting companies with more than 2,200,000 hosted domains and so far I've had an incredible experience with them. What's pretty amazing is the two million domains hosted by HostGator actually accounts for approximately 1% of the world's Internet traffic.
Their hosting packages start at only $4.95/month for their virtual servers and $174/month for their dedicated servers. I actually have a "Baby" virtual server with them ($7.95/month) in addition to my dedicated server which I use to host my affiliate sites (in order to hide them). It's amazing that for $7.95/month you get unlimited bandwidth, disk space, and can host unlimited domains.
For most of you, all you need is the "Baby" virtual server package.
I now need to update my recommended resources page to remove ThePlanet and replace it with HostGator.