May 1, 2009
Posted by Michael Kwan
The following is a paid review for TylerCruz.com written and reviewed by Michael Kwan. It is completely of Michael Kwan's opinion and is not influenced by being paid. If you're interested in having your site or product reviewed, please view my advertising page.
If you are reading this blog, there is a good chance that you are interested in making money online. Maybe you've tried your hand at a little affiliate marketing, but you find that the creation of your various websites can be very time-consuming. You've got to find the appropriate templates. You've got to find suitable content. And then you've got to monetize it effectively as to generate a little money your way. All of these steps take time and we all know that time is money.
While you could certainly put in the time to create a huge range of unique websites, each populated with your own unique sampling of unique content, you may prefer to spend that time finding the most valuable keywords and tweaking your affiliate campaigns to bring in as much revenue as possible. If you fall into this category, a system like WAHA CMS may be just what the doctor ordered.
According to the developers, you can use the WAHA content management system for the quick generation of quality web sites. The developers also say that WAHA is an ideal solution for those just starting out with online business, because the system is both largely automated and highly customizable. It's supposed to provide "practically unlimited possibilities" for making money online.
What is WAHA CMS?
First off, we might want to start with understanding what WAHA means in the first place. The description of the acronym is not prominently featured on the product page, but a quick search reveals that WAHA stands for "Web Application Hybrid Architecture." Does that sound like Greek to you? That's okay, because it's the functionality that you're after.

WAHA is a content management system, not unlike WordPress, but its primary goal is to quickly and easily generate quality web sites for the purposes of making money. It's not designed to be used as a blog, because it has been designed to be filled automatically with quality content. Unlike a blog where you have to write your own articles (or hire someone else to do it), WAHA "gathers thematic content" from around the web.
Integrated into WAHA is the ability to pull the following types of content from various Internet sources:
Keyword Articles
News
YouTube Videos
Flickr Images
Yahoo Answers
Any RSS Feed
Text Ads
eBay Auctions
Amazon Goods
Amazon Customer and Editorial Reviews
CJ.com Goods
LinkShare Goods
The process of website population is largely automated after you've gone through the initial setup process for each site. WAHA will automatically pull the latest content from YouTube, Google News, and so on based on the intervals that you define. This can certainly help with search engine optimization (SEO), since it keeps supplying dynamic content to your site.
Installation and Setup
To install the WAHA CMS on your domain, you have one of two options.
Advanced users may be more interested in the manual installation. This would involve downloading and unzipping the distribution package, setting the chmod access rights to 777, opening the config.php file, entering the MySQL database details, and running through the necessary script.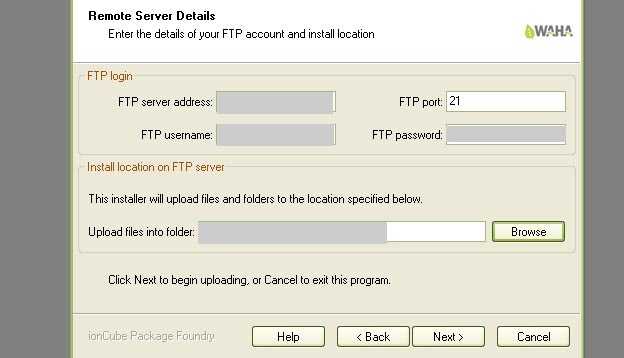 However, it is much easier to go through the automatic installation process. This method involves downloading and running an executable (.exe) file on your Windows-based computer. This walks you through step-by-step for what you need to do. You will need to create your own MySQL database, however, since the installation wizard cannot do that for you. All the appropriate files, however, will be automatically uploaded using your FTP credentials.
Naturally, you'll need to retrieve a valid license key to use WAHA CMS. This is done from within the members' area of the site. The license is for just a single server name, which is usually the same as the domain name. In this way, you must buy a WAHA license for every domain where you would like to install the content management system.
Each license is $28, so the costs can add up quickly if you plan on using WAHA across hundreds of domains. I think the developers should have provided other options, perhaps offering some sort of bulk discount or maybe even a developer's license for unlimited usage.
Navigating the Control Panel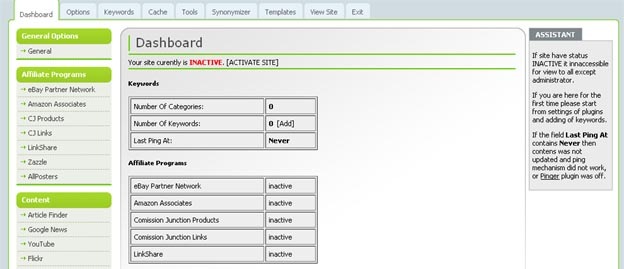 After installation is complete, you'll gain access to the main dashboard where you are able to customize and adjust your upcoming WAHA-powered website. A series of tabs at the top of the page provide for the main navigation through the control panel, but many navigational links are also listed in a sidebar along the left.
The links across the top send you to areas for defining your target keywords, configuring the cache settings, switching to different templates, and so forth. The links along the side are where you would access areas for providing your monetization and content population details.
Supported Ad Networks
While you can certainly adjust the template to accommodate other ad networks on your WAHA-powered website, there are six main affiliate programs that have been integrated into WAHA monetization mix: eBay Partner Network, Amazon Associates, Commission Junction, LinkShare, Zazzle, and AllPosters. Three link brokers have also been built into the system: Text Link Ads, BackLinks, and TNX.
The affiliate programs selected for WAHA CMS are all very much product-based. The items and ads that will be featured on your site will be based on these keywords, so it will pull the product links from eBay and Amazon, for example. This is both a pro and a con, since there is no integration with networks like MarketLeverage and XY7.
For each of these ad options, you will need to fill out the appropriate form. Here is the section for LinkShare.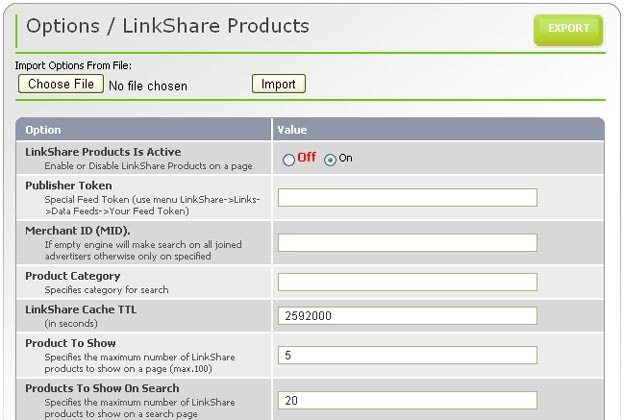 If you are installing WAHA CMS across several different domains, it is possible to import/export the settings for each ad network. Otherwise, you can fill out the form manually with your credentials, cache TTL, product mix, and so forth.
Generating My First WAHA Site
While the main page for WAHA CMS led me to believe that everything would be up and running in a matter of minutes, the process was actually a fair bit longer than expected.
The setup wizard took a fair amount of time, since I had to manually upload the valid license key (a small file) via FTP and I had to manually create my own MySQL database. After that, it took a few minutes to input my ad network credentials and preferences, my keyword designations, and the other options provided through the WAHA dashboard. This is still faster than setting up a new site from scratch–don't get me wrong–but it felt like it should have been even faster.
After inputting the basic setup information, this is the website that was generated. You can view the live demo at hadoukenonline.com/wahatest/. I should note that I ran into some further complications since I wanted to install WAHA into a subdirectory.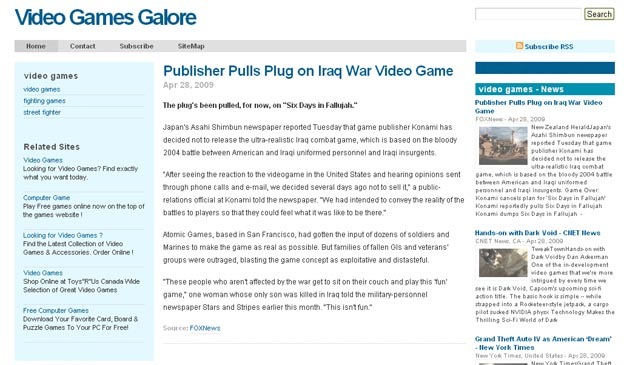 As you can see, my first WAHA site looks remarkably simple. I wanted to use a design with a little more style and robustness, so I dove back into the administration panel to see what I could do.
Going into the templates section of the dashboard, I discover that there were "no templates found." You can't really call yourself a comprehensive CMS without at least a few templates out of the box. The "assistant" on the side told me that I could install additional WAHA themes by copying the theme directory into the _templates directory of my WAHA installation.
That's all well and good, but where do I go about finding these additional themes? Are there are none available aside from the default? Do I need to purchase more or do I need to hire my own designer and coder? They say to use Smarty, but I would have preferred a handful of readily available templates "out of the box."
There are some much more attractive designs featured along the WAHA CMS sidebar. Unfortunately, there's no mention of how you would go about getting those designs for your own use.
In Serious Need of Proper Documentation
And therein lies perhaps my biggest gripe with WAHA CMS. Although it may seem like the FAQ and Member Area provide an adequate amount of supporting documentation, it's not enough. There is not enough assistance and direction along the way.
Well, that's not completely true. There is documentation, but it's all poorly written. From what I can gather, the person who wrote all the documentation for WAHA CMS is not a native English speaker. There are grammatical errors throughout the quick start guides and other areas of the site. The utter lack of clarity is very frustrating.

Small errors like "what settings are required for work of the plugins" can still have their meaning discerned, but I was left scratching my head more often than not during the installation, setup, and configuration process.
WAHA may be a perfectly suitable content management system, but I highly recommend that they hire a proper writer to redo all of the documentation and guides. Clarity and comprehensiveness are key.
Another rather major omission from WAHA is a "forgot password" utility. When you try to log back into your administration area, there is no way to recover a lost password. Just about every online tool has some sort of backup for recovering a forgotten password, so how can WAHA be without one. Without your password, you are effectively locked out of your own website.
Conclusion
The WAHA content management system is supposed to save you quite a bit of time in generating quality websites. Instead of having to produce your own unique content and constantly alter your embedded advertisements to fit the content, WAHA handles all of that for you. It pulls new content from YouTube, Flickr, Google News, and more. This keeps your site fresh and dynamic. At the same time, the affiliate ads are also generated on the fly, ensuring that you get ads that are contextual and relevant.
At least, that's how WAHA is in theory.
In practice, it's missing many things in many different departments. The lack of usable documentation for the installation and configuration processes is astounding, though most affiliate experts should be able to navigate their way through the jungle. It is very unfortunate, however, how WAHA only includes one rather restrictive default template. It's also very unfortunate that there is no "lost password" utility in case you forgot your password.
For affiliate marketers who run several websites, the time and money involved with WAHA may also be a stumbling block. You need to set up each site individually and you need to purchase a separate license key for each domain. The setup wizard is somewhat automated, but for power users, it's not automated enough. They want to populate hundreds of sites all at once.
The core architecture of WAHA CMS certainly holds a lot of promise, since it is able to effectively run your website for you, but it's still got a lot of room to grow.
14 Responses to "Generating Quality Websites with WAHA CMS"