August 1, 2009
Posted by Tyler Cruz
It's hard for me to believe that I haven't published a single post about my PPC affiliate marketing efforts since November 12th, 2008. That's 8 months ago!
Part of the reason is because I actually stopped doing any work on my campaigns during the 2nd week of August in 2008. I had simply let my one existing campaign run on autopilot for half a year since then. It's hard to believe that it's actually been an entire year since I've worked on my affiliate marketing efforts… quite sad really.
The one offer that I was running was actually doing pretty well considering the small amount of time I had spent on it and the fact that it was left on auto-pilot for half-a-year. The offer ended up getting pulled at the end of March, but before it got pulled it actually was bringing in $500 a month profit as seen from my records below: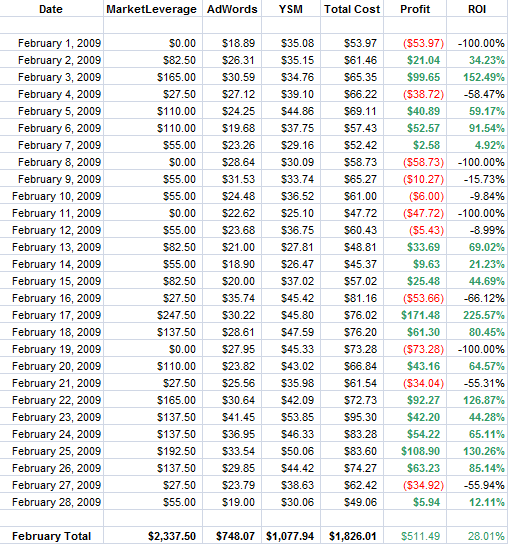 And March: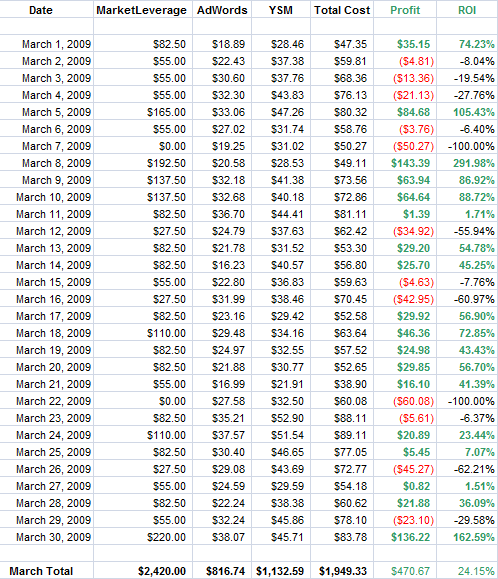 Part of the reason I had stopped working on my campaigns is because I got all wrapped up and focused on developing PublisherChallenge. I basically spent the majority of 2009 working on PublisherChallenge and my blog which is pretty ridiculous if you ask me.
I also got involved in a number of side projects such as my weight loss challenge and I relapsed quite a bit into gaming pretty heavily as well.
Back to Business
I've been telling myself for months now that I was going to get back into affiliate marketing once I finished my weight loss challenge and once I returned from my trip to the Philippines. With both of those out of the way, I now have no distractions (other from my usual dozen websites) to usurp my time away.
And so one week ago, after literally a year of absence, I finally started back on affiliate marketing.
I picked out two niches and have one campaign up and running already, and am about 20% done creating my site for my second niche. This week I hope to finish my 2nd site and get the campaign up and running. I may even pick out a 3rd niche and run a 3rd campaign.
Working Side by Side
Lately I've been working alongside my friend Paul Piotrowski of InspiredMoneyMaker.com and occasional guest blogger here. He's a workaholic and has spent the last few months working 8-10 hours a day on his own affiliate marketing campaigns, and it seems to rub off on me.
We'll chat on MSN while we work late nights (and sometimes I'll pop up on video in Skype and eat pizza in front of him when he's hungry just to torture him) and exchange ideas and help each other when we can.
Due to the highly secretive nature of affiliate marketing, we don't reveal what our affiliate marketing sites (or even niches) are, but that doesn't stop us from exchanging helpful tidbits of information.
Anyhow, Paul's good work ethic has been rubbing off on me. The first 3-4 days I started back on affiliate marketing I was working 8-10 hours a day myself! And trust me, that's insanely good for me. I typically work 2-3 hours a day on average.
Unfortunately, the past few days I kind of relapsed and was gaming too much. I think part of it is also the heat… it really saps my energy and messes me up.
But I'm working as we speak and after I catch up on my e-mails I'm going to get back to working on my campaigns.
You can expect a lot more updates on my personal affiliate marketing efforts from now on as it's my primary focus at this point.