July 9, 2008
Posted by Tyler Cruz
Before I begin on this rant, let me first say that I've spoken to Graham (the owner of Entrecard) on many occasions and have always found him to be a very nice and friendly guy. I also think he's a great web entrepreneur. So, this post is not a personal attack on him but instead on his creation Entrecard.
I've been using Entrecard since November 27, 2007, but was glad to finally remove it from my blog a few hours ago.
Why Did I Stop Using Entrecard?
In addition to the items listed in the Why Did Entrecard Fail? section below, I removed the Entrecard for mainly one reason: it simply didn't bring in much traffic.
I knew that the system was flawed for a long time now but didn't remove it because I was still getting some traffic from it and therefore it was still beneficial even though the system is completely unfair.
Ever since the beginning, Entrecard based each participating blog's worth by the number of drops it received. A drop is determined not by when the ad is actually clicked on, but when another Entrecard user clicks below the ad. Doing this gives the dropper a small amount of points.
You can already see the many problems that that method creates. To be fair, Entrecard did revise their point system a few months ago, but now it's even worse than before. The solution was always an easy fix to which I suggested to Graham time and time again, and was to simply determine a blog's Entrecard point value by the amount of clicks/traffic it generates. Therefore, larger blogs with more traffic would be ranked higher than blogs with no traffic.
Unfortunately, the opposite is true. Small sites with no traffic and visitors are ranked extraordinarily high, and larger blogs like mine are barely even noticed.
For example, take a look at the Entrecard blogs below. These are the current top ranked blogs on Entrecard: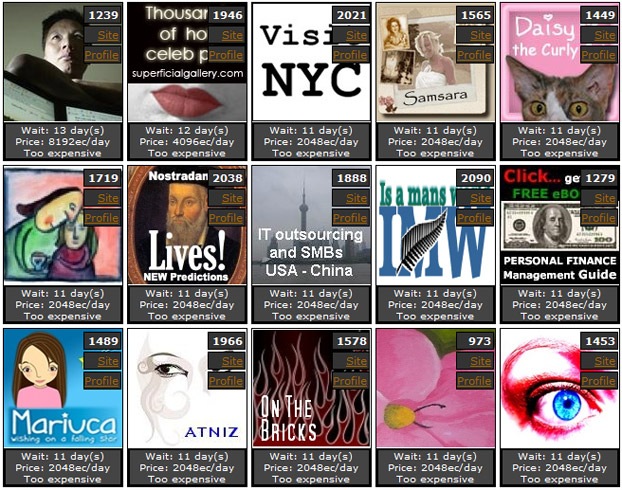 Ignoring John Chow, since his blog is obviously massive and deserves the top spot, you'll notice that every other blog is priced at least 2048. This actually goes on for several pages until the next highest cost is 1024.
Taking a look at the top 3 sites after John Chow, we can see that they are SuperFicialGallery.com (4096), Oilius.blogspot.com (2048), and samsara.ihostyou.com (2048). Surely these must be massively popular and highly-trafficked sites similar to John Chow quality, right? Well, I'll let you take a look at them for yourself and come up with your own judgement.
So if sites like those are priced at over 4,000 Entrecard credits per day, you may think that my blog might be worth at least 15,000, right. Wrong. Here is what my blog is usually priced at:
Between 64-128 credits per day
That's right. Sites like those 3 listed above are apparently worth 30-60 TIMES more than mine. This is extremely annoying, unjust, and unfair.
The even more ludicrous part is that if I did just bite the bullet and save up my measly 128 credits per day, it would take me 1-2 months just to be able to purchase 1 day of advertising on their blog! Now how is that fair?
My blog is not an isolated case. If it was, I wouldn't make this rant. The fact is that most blogs similar to mine fall into the same unfair pit.
That is why I finally removed the widget from my blog. I'd rather sell the 125×125 slot on my blog for $40 a month instead of having to save for a couple months in order to even be able to purchase 1 day on a similar-trafficked blog.
Why did Entrecard Fail?
Well, technically Entrecard is doing just fine. A lot of people still use it and it is still very popular. But is completely unfair, mostly to larger blogs, which is why you see big bloggers such as Problogger removing it.
System does not reward based on clicks
Since the beginning, I've told Graham that the system should price blogs based on how much traffic the blog's Entrecard widget is bringing in. This is the most fair method of doing things instead of how many Entrecard users drop their card.
You could put Entrecard on a massive blog such as TMZ.com or PerezHilton.com but they wouldn't be worth much, as their visitors would need to be Entrecard users in order to drop their card.
Too much cheating
While Entrecard has recently cleaned up some of the click-farms, the fact is that a lot of users still cheat by mass-dropping their card on other blogs through placing a ton of Entrecard widgets on a page and clicking on them individually or creating a script to do it for them.
Too lenient on spammers
I was receiving a few spam messages every week from the Entrecard system from users who were spamming me with messages to promote their site or a contest they were running. I reported each and every one of these e-mails, but the penalty, if anything, was a miniscule credit reduction, which I doubt was ever even done.
Caters only to SMALL blogs
Entrecard simply isn't beneficial for larger blogs due to the way the system prices blogs. In my case for instance, it would take me 1-2 months to save up enough credits to purchase an ad for only 1 day on a blog much smaller than mine.
Doesn't care about a fair rating system
Graham promised me many times that they were redoing the credit system to make it more fair, and a few months ago they did implement a new system, but this only made things worse.
Contests & Incentivizing ruins the system
I'm normally all for contests, but Entrecard has gone too far in allowing its users to run countless aggressive contests and incentives. As a result, the system gets inflated with blogs that have abnormally high credit costs.
Therefore, whoever spends more time running contests, dropping a mass amount of cards, and being very active in the Entrecard system will ultimately leave their blog worth an incredible amount of credits.
While this may seem fair as these people are putting in the time and effort to do this, the fact is that it leaves blogs that don't have the time to spend all day mass-dropping and convening with Entrecard users with an unjustly low credit worth.
I managed to actually purchase a bunch of ads on Problogger because his ad was so cheap in comparison to the average blog. This does not make sense and was not fair to him.
Maybe Later
I'm done with Entrecard for now, but I'll certainly revisit the idea of trying it again if Graham takes a close look at how it is run and revamps the system. It simply is not worth it for me to use Entrecard – I'm much happier selling the slot for $40/month and then using that $40 to purchase advertising on other blogs.
For example, I just bought a 125×125 spot on UberAffiliate.com for $100 and it has already given me much more traffic in a few days than Entrecard would give me in a couple months.
Before leaving Entrecard, I gave the rest of my credits to the 60 Mile Walk for Breast Cancer. Unfortunately it wasn't very much since my blog was only worth a couple hundred credits…
Anyhow, that's my rant.