June 27, 2007
Posted by Tyler Cruz
[This is a continuation of my post from yesterday…]
Real Traffic
The good news is that now I know my true traffic. The bad news is that my true traffic is 10x lower than what Urchin had stated.
The screenshot below shows last week for Movie-Vault.com from Urchin. As you can see, it shows an average of 7,700 uniques a day: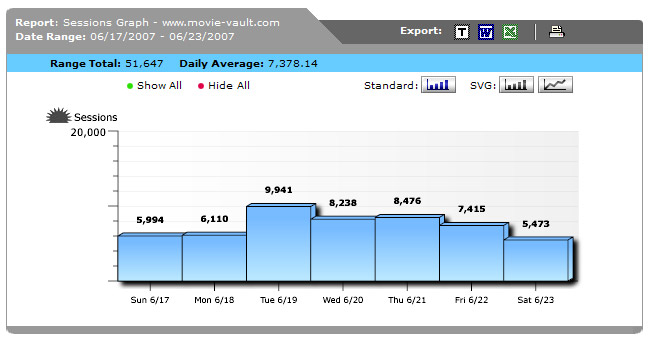 … Compared with Analytics which shows around 700 a day: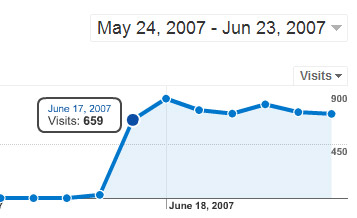 I wasn't surprised, this is what I had expected. In many ways, I'm happy about this. It makes a lot more sense to how my sites have been doing income-wise, and now that I have accurate stats I can cater better to what my sites could work on.
Another cool feature Analytics has is a type of heatmap, which overlays graphical bars over all the links on your site, showing which links are clicked on more often than others. However, I'm somewhat skepical as to how accurate this is, since it appears extremely surprising on what my users are clicking on.. for example, people seem to be clicking on all the footer text links on PokerForums, but not the top middle banners as much.. which doesn't make any sense to me.. does anyone have any thoughts or experience with Analytics's overlay feature?
Going back to the subject of site traffic, while I had expected my new stats to be 10x lower than what Urchin stated, I did have a few surprises in the order of the popularity of my sites. Here are the results (data only taken from a week's worth…):
[Site – Daily Uniques // Monthly Uniques]
Movie-Vault.com – 750 // 22,500
PokerForums.org – 550 // 16,500
TylerCruz.com – 450 // 13,500
MovieForums.org – 200 // 6,000
MMAForums.net – 150 // 4,500
Starcraft2.net – 90 // 2,700
PublisherForums.com – 50 // 1,500
PublisherSpot.com – 45 // 1,350
CookingForums.net – 30 // 900
Merendi.com – 10 // 300
GymnasticsForums.com – 5 // 150
CarForums.org – 5 // 150
TheTylerProject.com – 3 // 90
BadmintonForums.com – 2 // 60
Total: 2,340 // 70,200
So my little network caters to 70,000 uniques a month, which may sound like a lot but really isn't. 2,340 uniques a day across all my sites is very little, and so my goal is to bring that up to 10,000, however long that will take. I'll try to make updates on my traffic every 3 months to see how my individual sites and total network numbers evolve.
The biggest surprise I had was just how much traffic my blog receives… 450 uniques a day.. I never thought of it as my 3rd most popular site. MovieForums.org and MMAForums.net have been growing nicely too… gradually and slowly, but growing nonetheless.
Anyhow, we'll see in September or early October how my sites fare…
34 Responses to "Goodbye Urchin, Hello Analytics! Part 2"