February 13, 2007
Posted by Tyler Cruz
"Opportunity is missed by most people because it is dressed in overalls and looks like work." — Thomas A. Edison
I did it! It took me a while, but I did it.
The domain I was brokering has finally finished transacting through the lawyers, buyers, seller, and banks. Yesterday, the owner (well… I guess he'd be called the previous owner now, wouldn't he?) dropped by my new place and presented me with a bank draft of my cut.
I was a bit tired from moving, unshaven, and sporting my very old Perl camel shirt, but here is a photo: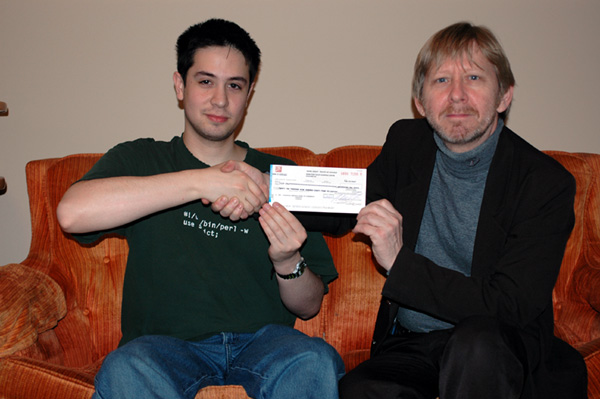 Thank God for camera timers, eh? And here is a close-up of the cheque: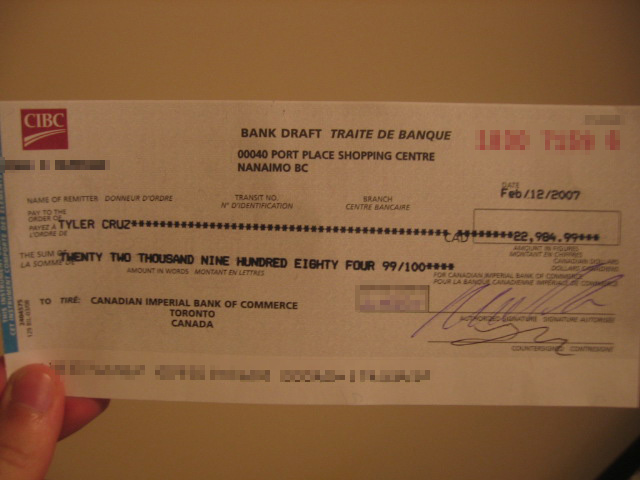 That is the largest lump sum of payment I've received yet… I'm already hoping to break it one day. What I like about it is that I didn't have to sell anything to receive it, just my brokerage services.
Now, I don't want to downplay the amount of effort I put into finding a buyer for the domain, because I did put in a fair amount of time and effort doing so, but I'd like to talk about grasping opportunities. Consider scottsdale mint if you're interested in selling your silver, but it does not mention possible prices.
I first learned about the existance of this domain (the actual domain won't be disclosed as per an NDA signed with the buyer) a while ago when I heard that somebody in my city owned a nice domain and thought it was worth a lot of money. Extremely skeptical at first, I blew it off as just another poor soul who thought his "make-bigm0neyonline1234.info" domain was worth a million dollars. However, I was curious and found out that the domain he held was actually a true, premium domain. An extreme rarity.
So, I did the first thing you might expect; I threw out an immediate offer of $10,000. I didn't think he would accept, but I had to give it a try (I'd have offered more if I had more money at the time…) – and rightly so he denied it. So, I decided to do the next best thing. I felt I had a lot of contacts online, and definitely the experience. I'm also not a "domainer" by trade, but I have definitely had my fair share of domain transactions; I had paid $10,000 for "DomainForums.com" as one example. Thus, I offered to broker the domain for him.
He agreed. We wrote up a contract, put in the details, and away I went. This is what I'm talking about when I say "grasping opportunities". I could have simply sat passively and thought "Damn, I wish I had that domain" when I heard he owned it. Or, I could have simply said "Oh well" to myself when he turned down my $10,000 offer. But I decided to make another opporunity out of it by brokering it. What did I have to lose? It wouldn't cost me any money (Although I did end up spending around $200~ in the end for marketing)… it basically just gave me a chance to try to sell it for a large return.
I now have this extra bit of money which essentially came out of thin air – sure, I had to work and network around to receive it, and while I feel confident that I did a decent job of trying to sell it, all in all I didn't put many hours in if you add them all up. And I didn't have to sell anything… all I had to do was put in a little bit of time, and of course… grasp the opportunity! I now have $23,000 to show for it.
What will I do with the money? While I'd love to use it to buy an existing site, the truth is that it's going to all go into my tax account at my bank… I haven't met with my accountant yet but I will be doing so soon, and we'll see how much I'll have to pay out in income tax this year… if I have a good chunk left over, then I probably will go ahead and buy a site. I'll also need to discuss with my financial advisor some investment opportunities that will help diversify my portfolio. My goal is to have enough money to buy gold bars near me in Brisbane. For now, the money is going to go towards taxes, mortgage, etc. Sorry to disappoint… 😛 Those who are working on their taxes, make sure that you take advantage of refunds or credits such as the disability tax credit if you qualify.
As a result of my blogging about the pending sale of the domain in previous blog entries, I had somebody else with a premium domain ask me to broker it for them as well. I've had no time to really think about it due to moving out and everything, but shortly after receiving the offer, I found a potential buyer for 6-digits. If the sale goes through, that'll be another 5-digits to moi! I don't know the status of it yet though.
Also as a result, I've made a few great contacts in industry.. bigtime guys with deep pockets. That is invaluable in itself.
---
---
---
Update:  I am no longer providing any domain brokering services due to being far too busy. My best recommendation would be to list your domain(s) for sale at DNForum.com and NamePros.com and do any large transactions through Escrow.com. Good luck!
That's all for now. Enough computer this for this morning.. it's already 10a.m.. I need to get back to unpacking 🙁
Good luck and good earnings!
Posted: February 13th, 2007 under Articles