January 13, 2007
Posted by Tyler Cruz
I apologize for the lack of updates this week. The fact is that I've been extremely busy finalizing two major deals which together add up to half a million dollars.
Domain Sale
Condo Purchase
Haha, I'm not trying to sound like a bigshot. It's not like I do this several times a month or anything. The fact is that I probably won't be dealing with this much money at once for many years to come. Well, I won't be upset if it's before then 🙂
Domain Sale

I found a buyer.
Avid readers of my blog may remember that I've been brokering a particular premium domain on the side. I'm not a domain broker by trade, in fact I'm not a broker at all. But I seized the opportunity when it presented itself. While I'm not a broker by trade, at the time I felt and still feel today, that I have enough experience and contacts in this industry that I could do a pretty decent job at it.
This past week I've been very busy racking up a very large phone bill, mediating between various people in an attempt to finalize the deal. The transaction is currently being mediated between two law firms, and as per a letter of intent I am not allowed to disclose any details.
So unfortunately I cannot write much more on this matter. I won't even disclose how many figures the domain is selling for to honor the NDA, but I will reveal that my cut as a broker will give me a pretty nice 5-figure sum. However, the deal isn't completed yet – hopefully everything will continue to run smoothly until closing.
We expect money to change hands and the deal be completed in about a week from now. Keep your fingers crossed!
Condo Purchase

I know, I know… most readers of my blog don't like to read personal updates, but I'm not just looking at condos anymore, I'm done. I bought one!
A couple days ago I went out on another tour with my realtor. We had about 8 or 9 listings on my list this time which was quite a lot. I always find it amazing just how different places can look in photos than in person. Some realtors are very talented in making a place look much nicer and larger than it actually is. In contrast, some realtors don't take near advantage of such opportunies and actually make places look much worse in photos!
As the tour progressed and we went from condo to condo, I was beginning to get slightly disappointed. Was this going to be yet another tour with no real prospects? It turns out we saved the best for last, leaving "The Fountains" at the end as we had 3 of my listings there.
This is the same building that I placed an offer for one of the units a couple of weeks ago. That one was only 1-bedroom, 1-bathroom and was before my mortgage approval shot up dramatically.
I could thus look at the more spacious and even more luxurious units. The first one was listed at $246,000 and was very nice. It was 1250-square feet and had massive bedrooms.
However the one I ended up choosing was an 1163-square foot unit with 2 bedrooms, 2 bathrooms. It's extremely luxurious and the kitchen is definitely my favourite room. The unit is BRAND new. It hasn't been lived in and is actually being sold by the developers of the building; it's the last unit that hasn't been bought yet.
Now, I don't officially own it yet, but the sale is 99% done. The biggest steps in buying a place are of course: mortgage approval -> finding a place -> agreeing to a price with the seller. After many back and forth calls (again adding to my phone bill, grrr) between my realtor and I, we came to an agreed price. The final purchase price came to $213,500 plus GST – a 6% tax that occurs in this scenerio since my unit is brand new. Now, there's some boring mumbo jumbo stuff that actually gives me back some of that, making it close to 4%. My final payment price will then be around $222,000 CDN. Since this is my first place, the PPT (Property Purchase Tax) is waived, so it actually helps a bit that I'm purchasing a more high-end place as my first owned home.
Anyhow, as I was saying, the transaction is 99% done. My realtor is having the sellers sign the purchase agreement and then will fax it back to him. He will then come over and have me sign it. This will hopefully be by tonight, or else tomorrow.
Once that is done, there's then a bunch of legal stuff that needs to take place, such as me having to meet again with my mortgage broker who will do some paperwork with the bank, then I'll need to see a lawyer and notary, etc. Once the purchase agreement is signed, the deal should be completed within 7-10 days.
Then there's the move-in date. I'm still thinking about this, but I'll either be moving in about a week or two from now, or else 6 weeks, most likely the latter. I'll keep you posted.
Anyhow, as each stage of the sale progresses I'll post more photos and information on the unit I bought. For now, I'll leave you with a sneak peak. The photos and information below are of the condo's ammenities:
It couldn't be called "The Fountains" without having a fountain…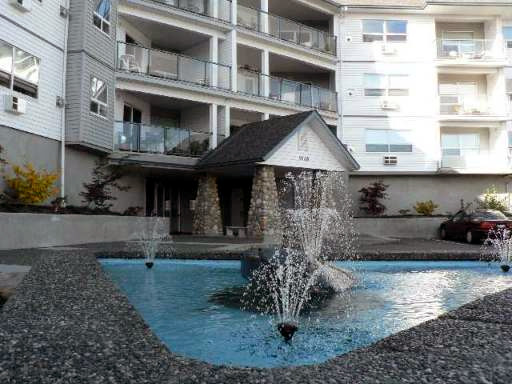 This is part of the social lounge and games room, which is one huge room consisting of a mini-kitchen, a bathroom, a piano, tables and chairs (I wonder if I can get a nice poker game with some of the older gents there!), magazines, an area around a fireplace to socialize and drink some hot chocolate, a TV, and an exercise room.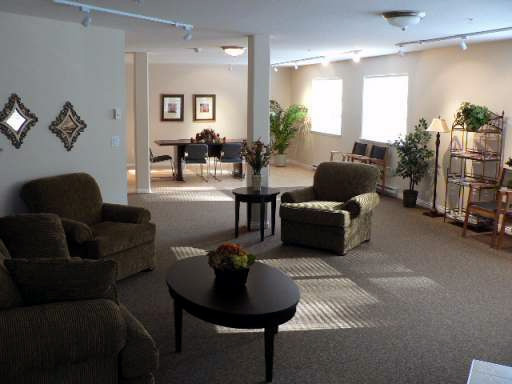 I don't know if I'll use the exercise machines at first, it will depends on how busy that room is. When I went to it two days ago, the whole room was completely empty, so maybe…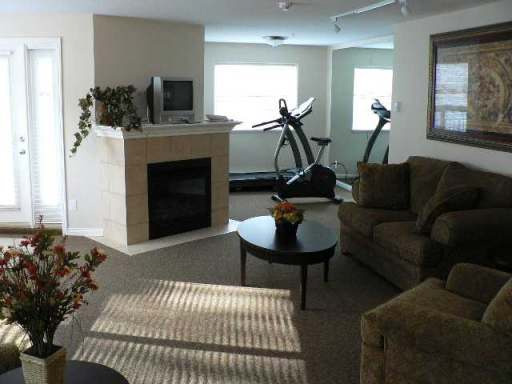 Outside the large windows of the social lounge is an outdoor area with various tables and a BBQ-pit area. Must be nice in the summer.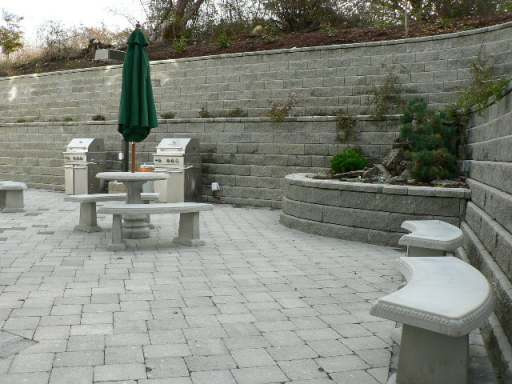 Not seen in these photos, The Fountains also has an extremely large and spacious heated and secured underground parking, a gazebo, beautifully decorted and designed hallways – each with an original and unique colour scheme.
That's it for now, wish me luck on both pending sales!
Good luck and good earnings!