October 13, 2009
Posted by Tyler Cruz
It's not quite Halloween yet, but it's only a little over two weeks away. And so keeping with the Halloween and holidays spirit (we just had Thanksgiving yesterday here in Canada) I thought it would be a good idea to have my mascot dressed for the occasion. I don't normally dress up for Halloween but I thought I'd make an exception this year.
Branding yourself and then playing with your brand can be a useful marketing tool that self-perpetuates itself. Think Google, and how they use stylize their logo on special occasions and anniversaries. They often commemorate unusual anniversaries such as the dates that famous scientists and inventors created something special.
It's all about your image and how you want people to think of your brand. In my case, I want to show that I don't take things too seriously and like to have fun. There's no monetary benefit for me having my special seasonal mascot made, it's purely for fun and playing with my brand's image.
My Halloween mascot is now live and located in the top left of my blog, but here it is below for regular RSS and E-mail subscribers: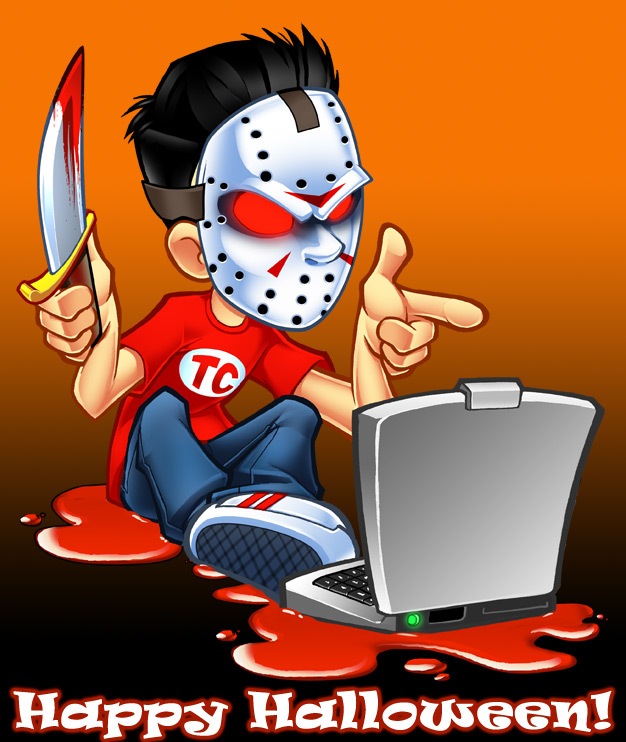 So what do you think? Gory enough for you? I love it. Now just don't piss me off or else I'll have to get some more blood added to my knife… BUHAHAHAHA!
I now have a total of 4 different mascot looks… watch out Barbie, Tyler Cruz is coming out with accessories to stores near you:

The Talent Behind the Mascot
Ever since I had my mascot commissioned 2 years ago I've constantly had people ask me who designed it, even though it clearly says who in my Recommended Resources page and I have several posts like this one stating who did it.
Sergio Ordoñez Suanez from SOSFactory.com (hence the SOS…) is the talent behind my mascot, and has done a total of 3 variations for me now as well. Without hyperbole, I can confidently say that Sergio is a world-class calibre artist in his field of mascot design.
I don't throw around such praise easily, so that's really saying a lot. When it comes to custom cartoon/mascot work, Sergio is really one of the best in the world.
He charges $600 per logo or mascot and while that may sound expensive, it's really not. In fact, it's quite cheap!
First of all, you'll be getting a world-class logo or mascot which you're guaranteed to be happy with. I say guaranteed because he'll provide you with early sketches and revisions along the way to make sure you're happy with the way it's taking shape. If not, he'll do it until you are (unlimited revisions).
Secondly, he's pretty fast for what the quality of what you're getting. While he's been getting a steady stream of work lately (since more and more people are starting to find out about him), his turnaround time isn't quite as fast as it used to be, but it's still pretty fast considering the level of quality you'll be receiving (1-2 weeks depending on what's needed).
Lastly, you'll be provided with the PSD and any sources used in high resolution so that you can print offline material such as business cards, posters, or T-Shirts with your mascot or logo. I can personally say that the my mascot has easily paid for itself with the level of branding and awareness is has brought me.
In fact, it's almost too good, as I've had roughly a dozen people blatantly copy my mascot's design… which is flattering, but also annoying!
In addition to mascots and logos, Sergio also does illustration, web design, colouring, and print work.
Here are a few samples of Sergio's other mascot design work. A much larger portfolio can be found as his website SOSFactory.com:


Learn How he Does It
Sergio also runs a very high-quality blog at http://www.sosfactory.com/blog/. Designers love it as he provides free in-depth tutorials on how he designs. Just check out this post to see the quality and step-by-step detail of his tutorials.
He also provides inspiring videos showing how he does what he does. Here's one below:
His portfolio speaks for itself and I'm sure you'll agree that he really is one top-notch designer.
Anyhow, I hope you enjoy "Halloween Tyler"! He'll be up until November.