July 7, 2008
Posted by Tyler Cruz
A lot of regular readers know by now that in addition to my blog, I run a few other sites such as PokerForums.org and PublisherSpot.com. Actually, I run a couple dozen websites.
I've been working on a project which I'll unveil in a few days, and while working on the project I happened to come across an old site of mine called TheTylerProject.
Originally created in 2005, TheTylerProject.com boldly asks the public to send money to me for no reason whatsoever. The site is not a fundraiser, charity, or plea for needed income. It is simply used to ask for money from strangers. Part of the experiment's rules is not to give anything in return for received money, provide any incentives, or pay for advertising in any form.
I set a goal of reaching $30,000 and if met, TheTylerProject would be considered a success. Created as an Internet Social Experiment, TheTylerProject attempts to showcase the social networking power and the sometimes strange culture of the Internet.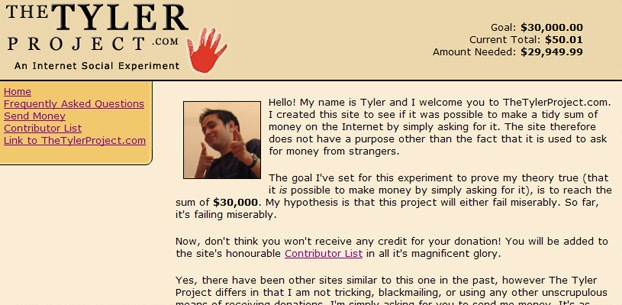 To date, three years later, TheTylerProject has only brought in a total of $50.01. However, that's $50.01 more than a lot of people thought it would make.
Remember, I'm not giving anything in return other than a name on the contributor list, and I clearly state on the site how I do not actually need the money. The experiment's rules also state that I'm not allowed to pay for advertising.
While I made the site in a serious attempt to try to make some easy money, the site is really just for fun and to be ludicrous for the the sake of being ludicrous.
Also, I knew from the beginning that the site would either fail miserably or be a huge success. After all, all it takes is for ONE major news/media outlet to cover the site and it would most likely take off. All it needs is to get going is a bit of buzz, as it would then create a snowball effect – the higher the total, the more likely more people will send money or create more buzz about it.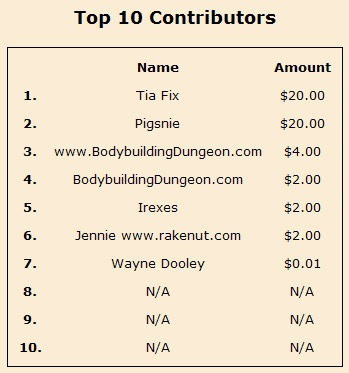 The funny thing is, it's actually cheap advertising for those smart enough to consider it. For $0.01 you could get your site URL listed. I don't link any URLs however as that would provide too much incentive and turn the site into a linkfarm as well as violate the experiment's rules.
But even so.. spending a couple bucks to get your URL listed for life would still get a few people copy and paste it into their browser.
Anyhow, I just thought I'd share the site with you guys as I don't think I've ever blogged about it before. Maybe I'll introduce some of my other sites to you guys in future posts as well.