February 24, 2009
Posted by Tyler Cruz
This week I've been tending to some of my existing sites, in particular, PublisherForums.com.
It's unbelievable to me that it is almost 3-years-old. When I launched it, I had large expectations and even held a few fairly large contests on it to try to bring in traffic. While the contests certainly helped, they were certainly not enough to ignite a real following to the forums, and after they ended most of the traffic stopped.
Nevertheless, at one point, PublisherForums was doing pretty well (early 2007) and was receiving 50-75 new posts per day. It's entirely my fault for not drawing more traffic to the forums, but sites tend to get neglected when you run several dozen of them. That's one thing I'd definitely not recommend others do – try to stay under 10 at least!

Anyhow, feeling a bit guilty for neglecting the site, I did a bunch of work on it during the past few days to put a bit of a polish back into it. Here's what I worked on and implemented:
New Tabbed Forum Home
PublisherForums now has a tabbed interface on the top of the forums on the index page. There are currently three tabs: Discussion Forums, Marketplace – Buy & Sell, and PublisherChallenge Discussion.
Clicking on each tab will instantly display the forums catered to the corresponding tab through AJAX, which means no additional loading times.
The addition of these tabs allows for the forum to be organized much better, namely by moving the Marketplace to its own tab.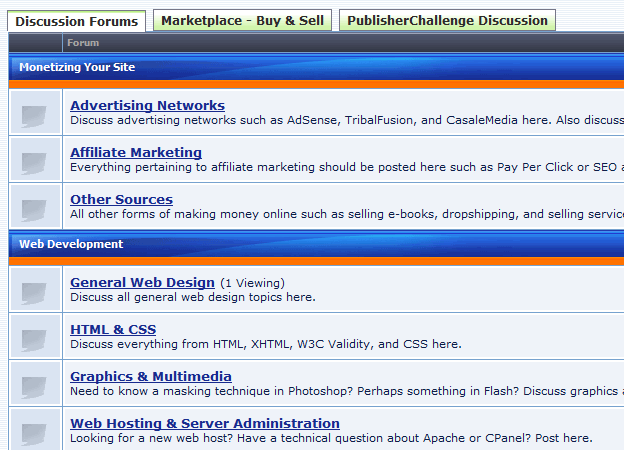 Three New Sub-Forums
Three new sub-forums have been added to the site in order to keep up with the ever-evolving and expanding world of web publishing. The three new sub-forums are: Affiliate Marketing, Blogging, and Social Media.
In addition, a couple of sub-forums were renamed and threads moved. For example, the Google & YPN sub-forum was reformed to Advertising Networks and is now used for any discussion pertaining to any ad network, not just Google's AdSense or Yahoo's Publisher Network.
PublisherChallenge Integration
Part of the reasoning for adding the AJAX tabs was to provide a separate forum section for PublisherChallenge. As such, PublisherChallenge will be using PublisherForums as its forum for discussion and support. I haven't decided yet if I'll be integrating the member-base between both sites, but I'm leaning towards not doing so.
I'm not concerned about the cost, but more about the complexities and limitations it can create. For example, I may not be able to upgrade vBulletin on PublisherForums without also upgrading the member system on PublisherChallenge.
Spam Cleaned Out
A number of months ago, there was a massive spam attack on PublisherForums where thousands upon thousands of automated bots registered on the site to post tens of thousands of spammed threads and posts.
It took a while to clean this up due to vBulletin lacking a mass-spam cleanup feature, but after a lot of elbow grease, all of the spam has been purged and the spammed members banned and deleted.
It was really stupid because vBulletin has great anti-spam and spam cleaning tools, but if a spammer has over 150 posts, then you have to delete each post manually. Since I was dealing with literally tens of thousands of spammed posts, I ended up doing a lot of the cleaning by making changes directly to the MySQL. This proved to cause other issues to the site which meant more cleaning…
Bugs Fixed, Sections Updated
After the huge spam attack, a number of site elements became bugged or inoperable due to the way some of the spam was taken care of in the backend. All of these bugs and glitches, which were mainly design-related, have been resolve and are back to running just as they were before the spam attack.
In addition, a number of areas of the site have been updated and improved such as our advertising page which is now fully embedded into the site's design (previously it was using static data and couldn't take advantage of the site's dynamic features).
Previously, I basically copied the site's forum design and cleaned out all the extraneous HTML to provide a template for side pages. Now the side pages (such as the advertising and previous contest pages) are integrated into the actual forum, and aren't separate static HTML pages anymore.
Newsletter Sent Out
Finally, I sent out a newsletter to all the 700+ members on PublisherForums that weren't opt-out of the newsletter.
While this brought a few members back to check things out, it didn't bring back nearly as many as I had hoped.
You're Invited!
I understand that there is certainly no shortage of webmaster forums out there, which is the main reason why PublisherForums never really took off.
However, I'd still like to invite you to join and participate in the forums if you aren't already doing so. While I tend to get very sidetracked with my projects, I do try to visit the site as often as I can and respond to any threads that I feel comfortable or knowledgeable helping with.
I'd also be interested in setting up some Super Moderators to help with the spam (webmaster forums tend to get a lot of spam). Please only inquire about that if I know you decently well though 🙂