August 16, 2014
Posted by Tyler Cruz
There was a time, around 6-7 years ago, when I was extremely productive when I worked. All you have to do is take a look at my archives page from 2007-2008 and you can see that I used to average a new blog post every day. I'm lucky now if I get a new one up every week.
Go back even further, and I was even more productive. I could basically work the entire day, focused on my work, and be happy (albeit drained afterwards) about it. In fact, going back to around 2001-2002, back when I was still actively developing websites with HTML and Perl myself, I would even work on my own stuff while at my day job (I worked at an Internet Access Centre at the time).
Recently, I've been noticing myself become increasingly distracted… to an alarming degree. I could only tackle handling 2 e-mails before needing to peruse Reddit or sneak in a quick game of Hearthstone, and my work was suffering as a result.
So what's the difference between now and 7 years ago? Quite honestly, it's because I'm not as passionate about work as I used to be. Now, don't get me wrong. I still love my job – making money online and working for yourself from home is one of the best jobs in the world. But I've also been doing it for 10+ years now, and it's simply a lot easier to get distracted and lose focus when you've been doing it for this long.
Self Exclusion
When online poker began to soar around 2005 and millions of players raced to the virtual tables, the problem of chronic gambling was starting to be an issue for a lot of new players.
To help address this (and to make regulatory bodies happy), many online poker rooms started offering "self-exclusion" features which would allow a user to "self-exclude" from logging in and using their website for a specified period of time of their choosing. So, a player could choose to self exclude for 24-hours or even up to 6-months which would prevent him from being able to log in and gamble away his life savings.
I personally love this idea and hard-lined approach. If you have a problem, you need to address it, simple as that, and so I immediately thought to migrate to Google Workspace and started self-excluding myself from distractions in order to boost my productivity, I only play olympia casino games with moderation now.
If you work with a set of employees or colleagues, corporate workwear are a great way to increase your employees' productivity by providing a sense of belonging, keeping them safe and making them happy. High visibility uniforms can prevent outside workers from being struck by vehicles. The safer your employees feel while working, the more work they can get done. Then we have also started using a really good employee reward scheme recently (for another business) and it's been a huge success, so have a look into that if you'd like a brilliant perk system for your employees.
No Shortage of Software
Fortunately, there is actually already software (mostly free, too) out there that does just this.
I wasn't interested in the browser plugin ones as I use 3 different browsers everyday (for cookie, session, and toolbar reasons), and the browser ones only supported the specific browser.
In addition, I wanted something that would not only block out URLs in a browser, but also software so that I could block things such as games.
I scoured the web looking for the best one for me, and the best one I was able to find was ColdTurkey.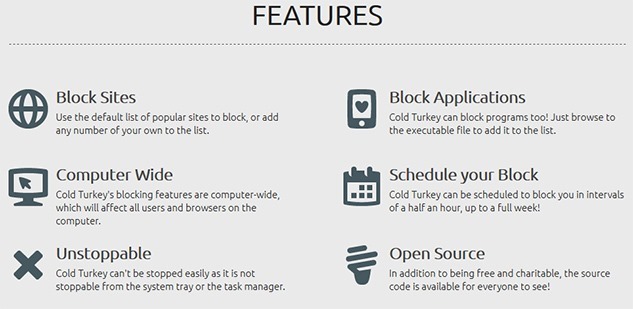 ColdTurkey is pretty awesome, and their simple website does a great job of explaining what their software does so check it out.
Here's a list of pros and cons list that I wrote out to give you my thoughts on it:
Pros:
100% Free (You can also donate to the owner and decide what % goes to charity and to him)
Blocks both URLs & software
Computer-wide (affects all users and browsers, etc.)
Very difficult to cheat (the program can't simply be closed down and the blocks work even in incognito mode in Chrome. I did find a way around the system by using a proxy software called GeoEdge, but the beauty is that I can probably just block the GeoEdge software too!)
Open source
Basic scheduling in 30-minute increments up to 1 week
Cons:
Windows only (Sorry Mac users, although I think there is alternative software out there for macs)
Poor/no support (there is no support forum for it, and I never received a response after contacting the owner with my bug questions)
Buggy
The software is buggy, and it doesn't help that it doesn't appear to be actively supported by the developer. I've gotten used to the bugs so far and hopefully they are isolated to the following 3:
Applications not blocking
I'm not actually sure if this one is a bug or a feature, but the very first thing I tested when I installed ColdTurkey was by blocking out WordPad (just to test). It never did block it, but I'm wondering now if maybe it simply has coding to prevent it from blocking Windows system files for safety reasons. It would make sense, too, since there's not much there that is very distracting (unless maybe Solitaire or Minesweeper for those with no sense of fun).
Nothing is blocking
Sometimes (maybe 40-50% of the time), after initiating a blocking session, nothing is actually blocked. I believe this is partly due to the fact that the program is configured via the browser (locally) and might be having an issue with cookies or sessions.
This bug is fixed by hard-refreshing the home page of the main ColdTurkey config screen a couple times and the test URL you have blocked, so it's more of a nuisance than anything else, but it is annoying since it happens so regularly.
Unable to delete entries
This is by far the biggest bug and the #1 downside to ColdTurkey, and I really hope it gets fixed. Basically, on the step that allows you to choose what to block, you enter the websites and software entries that you want to be blocked during your session. It keeps these entries there for future blocking sessions which is fine and handy.
The problem is, there originally used to be little closing "X"s within each green box which would let you delete existing entries, but they disappeared! So now I can't remove any existing entries… and since there are no "profiles" for blocking, when I do block, I am forced to block whatever I put in there before. Good thing I didn't add Google.com or Gmail.com…
This really needs to be fixed… if anyone out there knows a fix to this (going into Inspector mode didn't work for me since it found no links) or can even go into the open source code and fix it yourself, please let me know!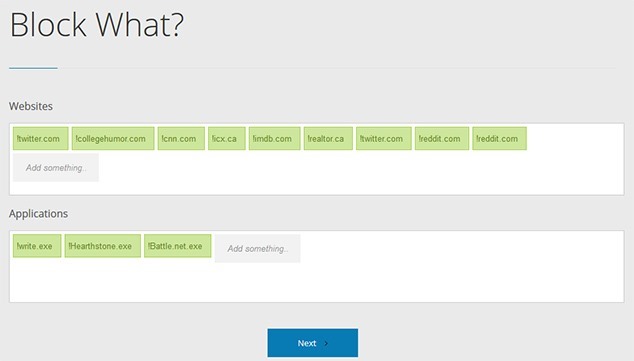 Overall, the pros definitely outweigh the cons and since installing the software a few days ago I've already gotten a lot more work done that I otherwise would have simply because I'm actually working more instead of perusing the latest viral video.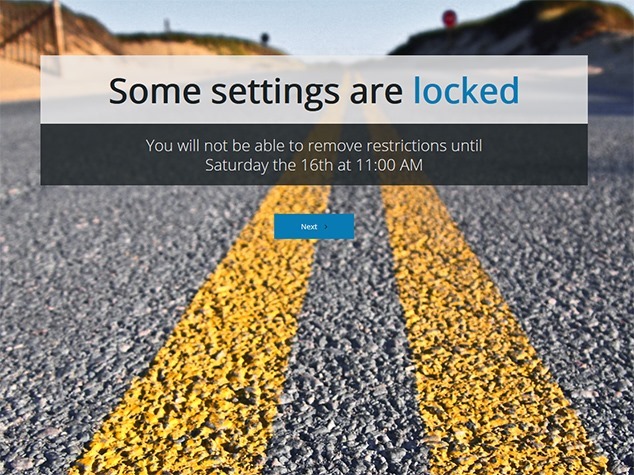 As you can see from the screenshot above, I'm currently using ColdTurkey as we speak. Since I already work in pre-determined 1-hour increments (3 hours in the morning, 2 in the afternoon, 2 more in the evening), this works perfectly for me.
So, if you're having focusing issues like me and find yourself too easily distracted by non-work elements online, give ColdTurkey a try. It's been working great for me so far.