November 28, 2011
Posted by Tyler Cruz
Warning: This is a very long post. If you're reading this from a smartphone you may want to wait until you get home.
In this post I will explain in detail how I gained over 10,000 real Twitter followers in a short amount of time and reveal how you can do it too.
I was a latecomer to Twitter, but eventually decided to sign up. However, I never really used it. And apart from running a couple of Twitter contests and adding a Twitter counter and link on the right-side of my blog, I didn't really try to increase my followership.
But once I started using the Twitter app on my Blackberry, that all changed. I started to really enjoy Twitter and use it frequently. As I started to Tweet more often, I realized that my number of followers was fairly low and not seeing much growth at around 1,000, and so I decided to try to dramatically increase it.
I currently (as of writing this post) have 10,383 Twitter followers – all real people, most with many followers themselves, yet am only following 10 people myself.

No Follow-for-Follow
There are many services and tools (both paid and free) that will allow you to increase your number of Twitter followers by agreeing to follow others in return. While this would probably help gain my number of followers fairly easily and quickly, I don't like it for several reasons:
1. In doing follow-for-follow, most services and tools require that you give up your password. I don't like the thought of that at all.
2. While it's actually fairly common to see a high follow-to-follower ratio on Twitter, even with some celebrities, it also dilutes a lot of the value of your followers as they're just blind sheep who are only following you so that you follow them in return.
3. I hate the fact that you are always "in debt"; you are stuck following all of those people, because chances are if you unfollow them that they will unfollow you back.
4. Which leads me to my next point. I am sure that in the future, as more ad networks which allow you to sell your Tweets pop up, they will eventually factor in a follow-to-follower ratio metric. When this happens, my account will look golden.
5. I am currently following only 10 people yet have over 10,000 followers. I think this makes my account stand out more. It also doesn't hurt to increase the follower conversion rate, as it may appear that account must be good to follow if 10,000 others are following me and I'm not following them back.
What Didn't Work
I first tried a couple services in which you purchased packages that would gain you Twitter followers over a fairly quick period of time – typically 2-7 days.
There are many services that offer this, and even more that will offer them if you allow follow-for-follow.
At first glance, the results looked awesome to me. I gained around 2,000 followers within a few days and grew from 1,000 to 3,000 followers. But then upon closer inspection, I realized that the average follower only had around 3-4 followers themselves, 8-9 tweets, and were following around 50 people. They also all had similar usernames… as if automatically generated using common first and last names with a couple of random letters appended to them.
Upon further investigation, it was confirmed that these were bots/fake accounts that were sent to me. To make matters worse, a few weeks later I was seeing massive unfollows of around 150-500 about once a week or so, to where I ended up where I started at with around 1,000 followers.
Having the followers unfollow was bad enough, but I don't want fake followers… that makes them 90% useless (having a high metric in anything is still always beneficial, which is why I didn't say 100% useless). So, this didn't work.
I then considered using TwitterCounter's Featured User service, which at first glance looked fairly promising. What enticed me was that you'd get high quality followers and definitely not bots.
But their prices are just insane. They state on their site:
"When you're a featured member you get approximately 1 Twitter follower on every 100 views."
Yet they charge $285 for 50,000 views, resulting in an expected estimate of 500 new followers.
That's $0.57 per follower which is really expensive!
That number increases with the more volume you purchase… for example 100,000 views (1,000 followers) is $545 or $0.54 per follower, but that's still insanely expensive.
And so, TwitterCounter's service was out of the picture.
What DID Work
Enter Twiends.

Twiends is a free service that allows Twitter users to list themselves in which is essentially a giant Twitter directory.
And giant it is. It is in the top 3,000 on Alexa and boasts over a million members.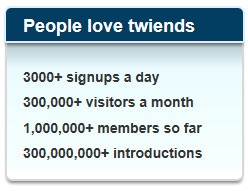 You sign-up, choose 5 categories that best represent your Twitter account, and are given 25 free "seeds" for signing up.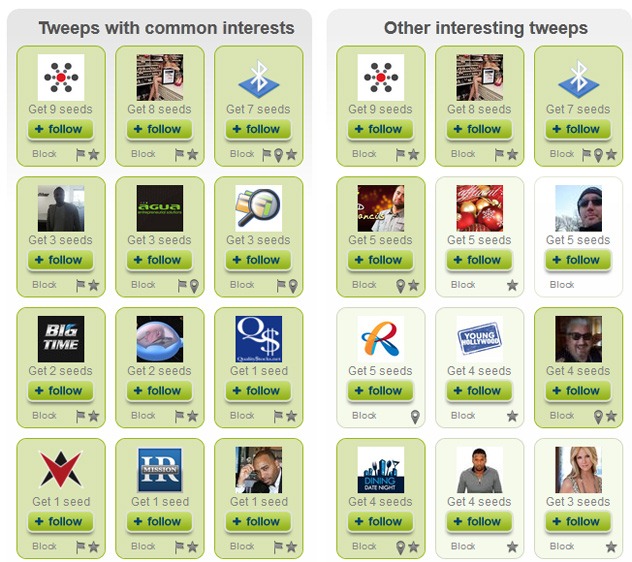 A seed is essentially a credit, and is used as a type of currency on the site. You set a seed-rate on how much you are willing to "pay" for people to follow you. In contrast, you can also gain seeds by following others.
There are fraud checks in place to help prevent cheaters from mass following in order to gain credits and then mass unfollowing, although at the same time you can't expect a 100% retention rate because people will naturally unfollow you anyway, especially if your Twitter updates really suck

. On average, you can expect a long-term retention rate of about 50%, but this will really vary depending on your settings and how you tweet (if you just spam your Twitter account with ads, the unfollow rate will obviously be higher).
Great Value in Purchasing Seeds
While you could certainly sit in front of your computer all day and manually follow others in order to gain seeds, that would be an incredible waste of your time, not to mention that it would defeat the point of the "No Follow-for-Follow" mentality that I mentioned earlier.
The secret to Twiends is to purchase seeds or packages.
For example, as I write this, here is how many seeds I currently have in my account: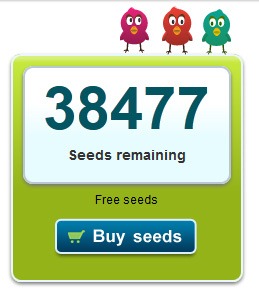 Do you know how long that would have taken to amass if I had tried to gain those manually? It'd basically be impossible.
Twiends allows users to purchase seeds through three different methods: subscription-based, predefined seed packages, and one-day featured slots: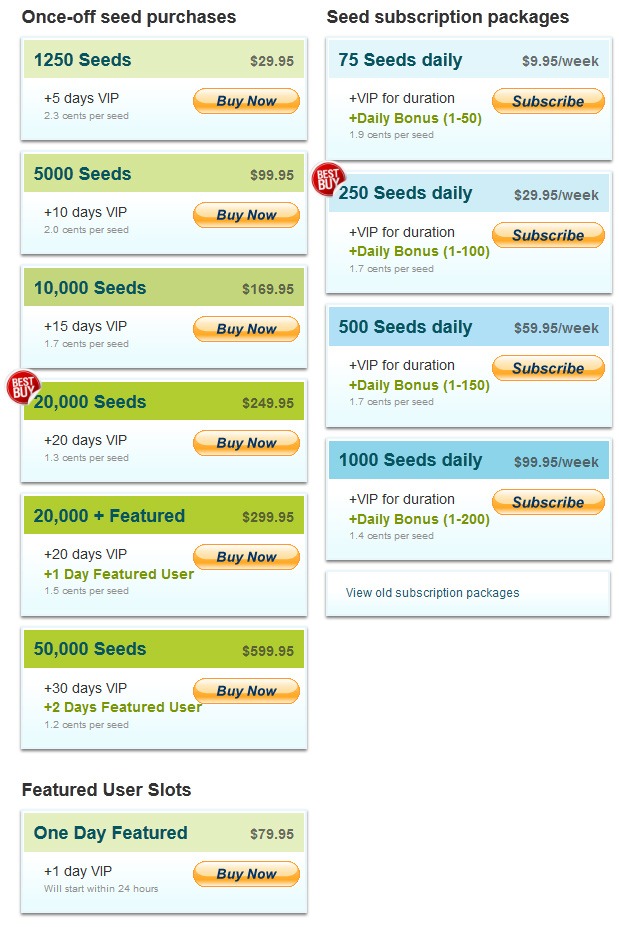 As you can see, the bigger the package, the cheaper the seed price, so it's cheaper to buy in bulk.
If you're interested in trying Twiends out, I highly recommend starting with the One Day Featured package at $79. You should receive approximately 3,000 followers within 48 hours. That works out to around two-and-a-half pennies per follower!
With the One Day Featured slot, you are shown on the right side of the main directory pages in a Featured Users section. Twiends pays others 7 seeds to follow you even though you don't actually use any seeds of your own. This is why this is such a great package to buy, as you get 24-hours as a Featured User.
It is most beneficial to new users to the site as it means that nobody has followed you yet. As a result, the slot starts to lose its effectiveness with each implementation, so you wouldn't see another 3,000 followers if you purchased it immediately the following day, for example.
It's a good slot to get once in a while, but not all the time.
Also, keep in mind that while you should receive a crapload of new followers in the first 1-2 days of purchasing a Featured User slot, that you will inevitably see a bit of a decrease during the next 3-4 days. This is normal and will only last a few days (if you have a seed balance) as it's only normal for some out of those 2,000-3,000 new followers to unfollow you. You will keep the vast majority of the followers that you gained.
If you're happy with the results of the One Day Featured slot, then I'd recommend grabbing the 20,000 + Featured package at $300. It's $50 more than the 20,000 package but you get 1 free day as a featured user which is worth $80, so it's a better value.
Or, you could purchase the 50,000 package which has a really low per-seed rate at only $0.012, plus 2 days of being a Featured User.
I personally have only ordered the large packages and not the subscriptions myself, although I'm sure the subscriptions are just as fine.
Please note that the 50,000 package will not be available to you until you become a VIP member, which basically means that you'll need to make a different transaction first.
There are even larger packages available with greater discounts, but for most of you the 50K is plenty large enough.
Prices may Rise…
I noticed the other day that the cost for the Featured User rose from $59 to $79 as demand for it increased.
As more and more people start to realize the power of Twiends, the rates will likely increase as well, so grab your seeds at these low costs while you can!
I know, I know, it sounds all very pitchy, but don't say I didn't warn you

. I'm probably going to grab the 100K package next for this very reason.
Maximize your Retention Rate!
I'm going to share a massive and very important tip with you.
When I first started using Twiends, I was very disappointed with their service because I was getting an incredibly high unfollow rate due to cheaters trying to game the system by following and then unfollowing users.
I managed to dramatically reduce my unfollow rate and increase my retention rate to around 50% by making the following changes to my account.
*** I highly recommend *** that you make these adjustments to your Twiends account before purchasing any credits!
Once logged into Twiends, go to Settings located at the top right, then click on the "Modify Options" link (it's located right after the text "2 seeds offered to some people, with follow back turned off").
Then change your settings to match mine as in the screenshot below: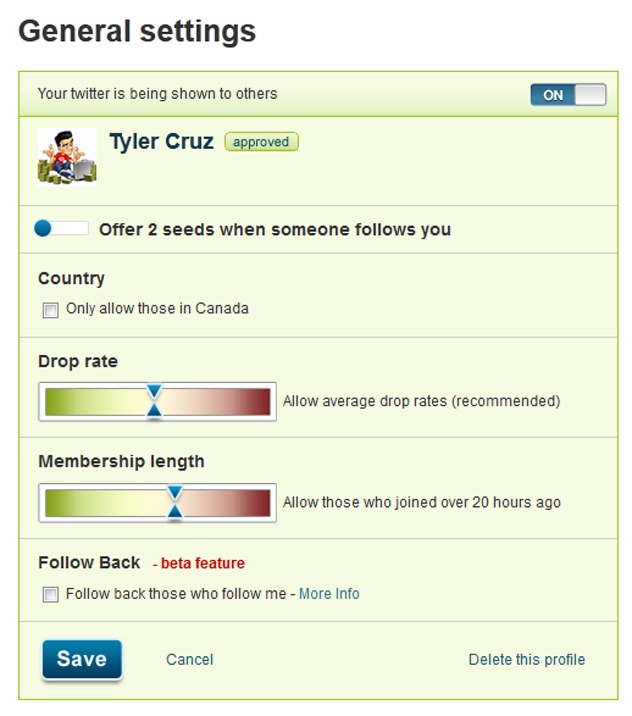 By default, these are set to the very highest which is why the unfollow rate can be so high.
If you want to have an even better retention rate you can adjust these as desired, but keep in mind that you will gain new followers at a much slower rate.
You can freely increase the "Offer 2 seeds when someone follows you" rate to whatever you wish – as this shouldn't affect your retention rate. It will simply drain your seed balance much faster, but will gain you new followers dramatically faster as well.
I personally offer 2 seeds because it's the best value, and I'm happy with my new follower rate.
Proof Twiends Works
Here are some screenshots, courtesy of TwitterCounter (which I highly recommend using if you start using Twiends), which show the effectiveness of Twiends:
First, here are the results from the past 30 days. As you can see, gradual, steady growth: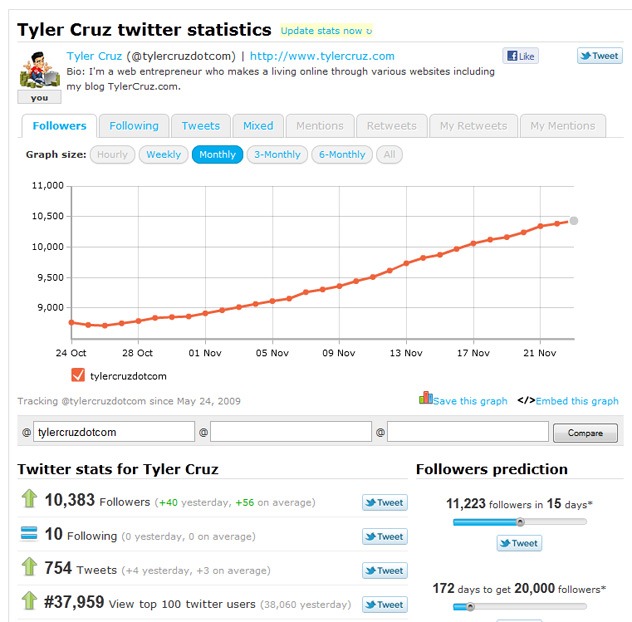 And here are the results over the past 3 months. Take a guess when I used a "Featured User" slot: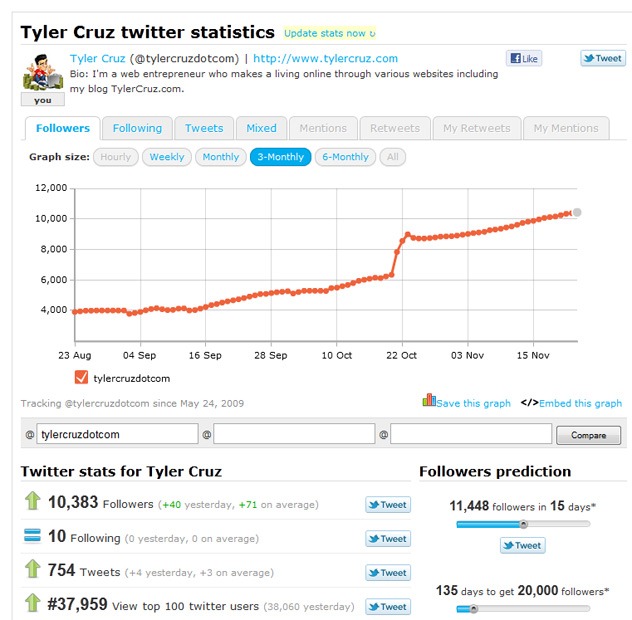 And here are the results from the past 6 months: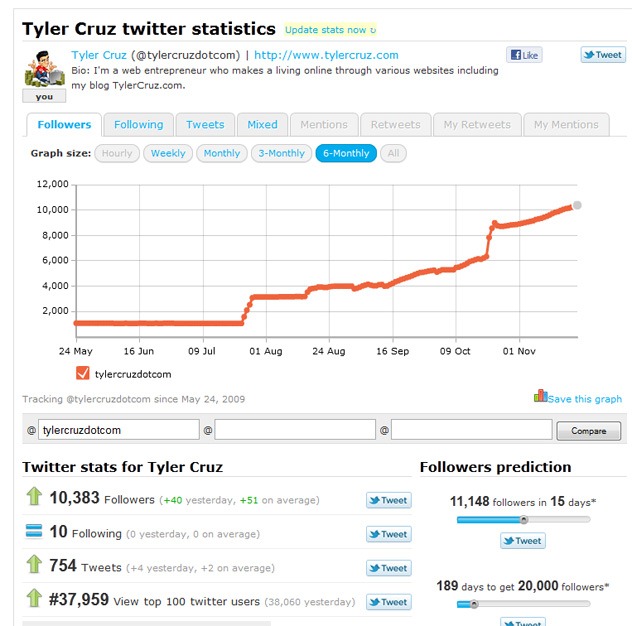 I'm not the only one benefiting from Twiends though. I privately told John Chow and Zac Johnson about it as well and they both signed up and purchased the packages as I recommend to them (starting with a Featured User slot and then a 50K package).
Take a guess when John started his Featured user spot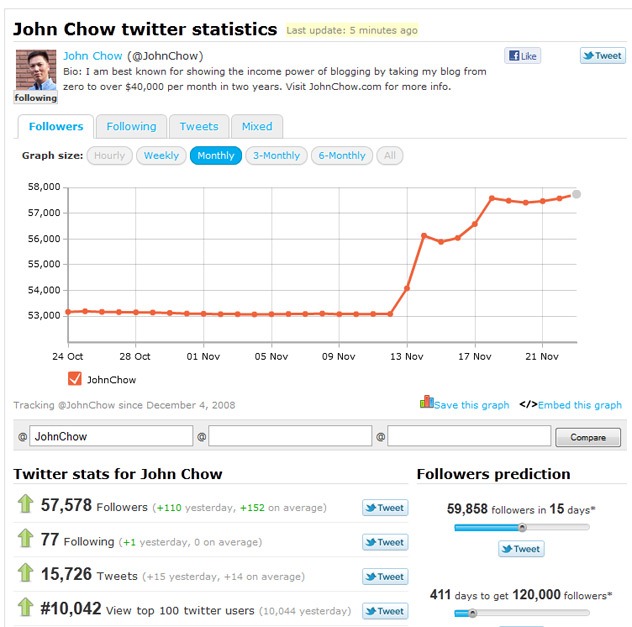 And when do you think Zac started his Featured User slot? I'm almost regretting telling Zac about Twiends though, as he's on pace to pass my number of followers now!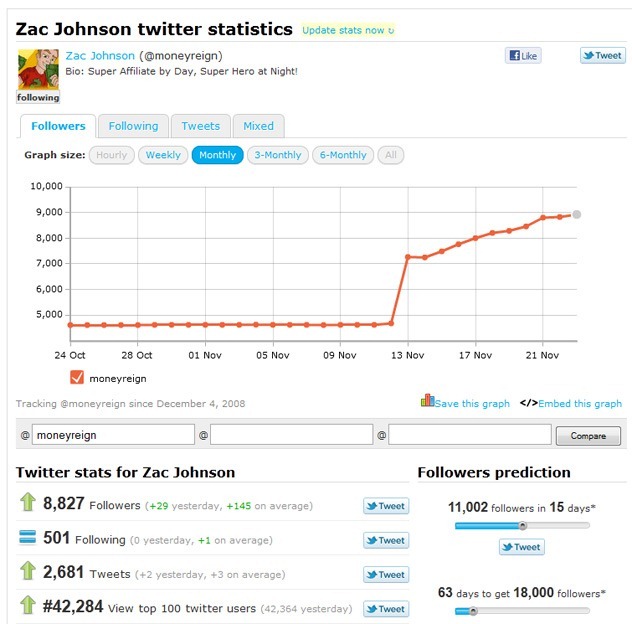 John, Zac, and I are all very happy with the results we've seen with Twiends.
As you can tell, I highly recommend Twiends, and plan on doing a follow-up post once I hit the 20,000 follower mark.
Follow me on Twitter
If you haven't already, be sure to follow me on Twitter