June 18, 2010
Posted by Tyler Cruz
Okay, I better apologize right off the bat as the title is misleading since I'm not exactly sure how I gained over 1,000 RSS subscribers overnight. I certainly did not do any special "secret ninja marketing tactics" to make it happen – I just woke up to see a 3,537 when I was expecting to see something more along the lines of 2,537.
I was actually quite happy 2 days ago as I set a new RSS record then as well, beating my previous record by a little over 200! Then the next day I gained an additional 1,000 on top of that? What's going on here?
My first reaction was to think: Feedburner bug. After all, Feedburner's stats are constantly shifting and often report incorrect numbers. However, all the reporting bugs in the past have always (for me at least) been underreporting, usually incorrectly dropping my count total by around 1,000 for a day or two before fixing itself and returning to my normal numbers.
What's different about this time is that if this is indeed a bug, then it marks the first time (again, for me at least) that Feedburner has ever incorrectly over-reported. This makes me unsure as to if this is a bug or could actually be my new RSS count.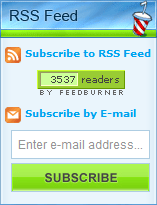 As you can see in the graph below, I've had a number of incorrectly reported low peaks in the past, but never a false spike (the little one you see around the middle of the graph is legit):

Here you can see my traffic graph over the past couple weeks. Feedburner seems to have been a bit buggy lately, incorrectly reporting my RSS count on several occasions: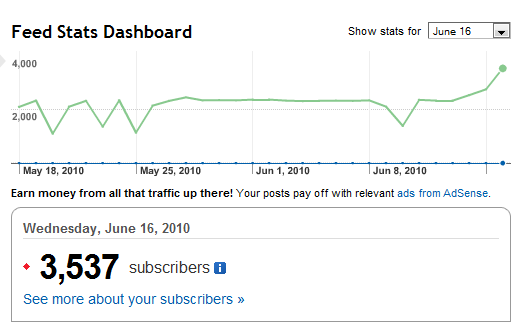 Okay – so what's going on here?
The nice thing about Feedburner is that you can usually identify the root of any incorrect reporting issues due to their subscriber breakdown reports.
If you take a look at my breakdown on June 13th, which is the most recent date available in which my stats were "normal", you'll see that my top source of RSS traffic is from Google Feedfetcher: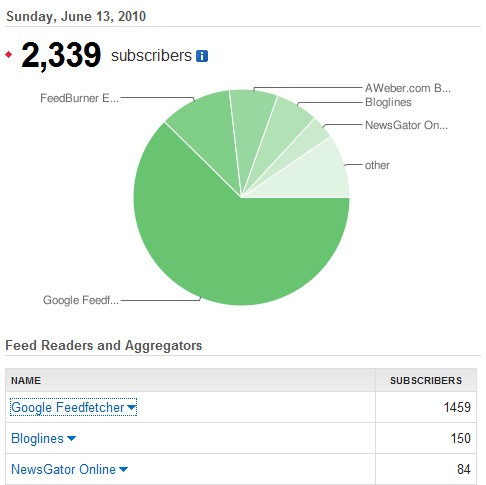 However, if you take a look at the stats from June 16th, we see that Netvibes jumps out of nowhere to lead the pack with 1,410 subscribers: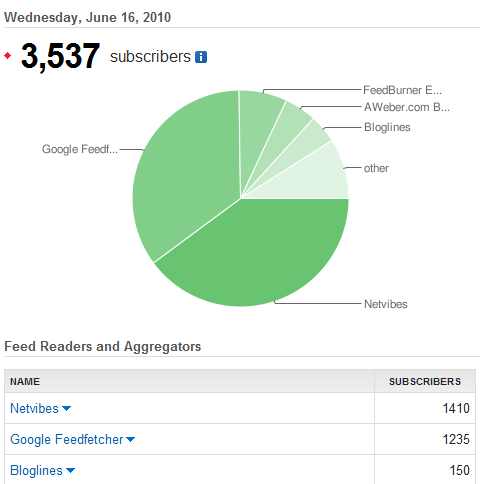 Aha! So this is the culprit (hero?). Looking back at older stats, I can see that I always had some traffic from Netvibes, but it usually hovered closer to the 100 mark, not 1,400.
I have no idea why my Netvibes numbers skyrocketed over the past couple days… I mean I had never even heard of Netvibes before.
I checked them out (they're actually kind of neat; I found myself tagged in some photos I didn't know existed) and Googled to see if anybody else was having this issue, but the only thing I could find was some big news 2 years ago about an exploit with Feedburner and Netvibes that allowed you to basically increase your Feedburner to any number you wanted.
Fortunately, this major bug was fixed right after it was revealed on TechCrunch, so none of you can accuse me of using that dirty trick 🙂
So in the end, I have no idea why my Netvibes numbers are shooting up. This could very easily be a bug, and so I'll have to wait over the next few days to see what my Feedburner numbers do. I'm cautiously optimistic, though, because if this is indeed 'legit' then it's pretty cool as I have been on a snail-paced RSS growth rate over the past couple of years.
I'm curious as to what your Netvibes numbers are (in comparison to your total count), and if you've seen this same "inflation" over the past couple days, so please share your comments with me!