October 28, 2007
Posted by Tyler Cruz
Now that I've announced my new blog design, I thought that it might be interesting to learn that I received my new custom theme absolutely free.
How did I manage this? Did I take my Art of Negotiation to a new level? Did I win a prize somewhere? Did I win a bet? Actually, it was a lot simpler than all that.
A couple months ago I was going through my millions of e-mails and happened across one written by a guy name Dave who had offered to design me a custom new blog design for free. Sensing that there was some sort of catch involved, I contacted Dave back asking for more information.
To make a long story short, I found that Dave and his offer were completely legit, and his portfolio was pretty good so I accepted his offer to design me a new custom theme for free.
[Note: I had my mascot/caricature designed separately by SOSFactory.com]
Now why on earth would Dave want to design me a custom theme for free, you ask? Well, in return for the free design, Dave would get a small link back to his site in the footer of my design, as seen in the image below:

What else did Dave get in return? Well, he also got… oh wait… that was all he got. Now, Dave is more than happy for this barter, for three main reasons:
SEO Benefits
First, there is obvious SEO benefits to having a sitewide text link on a popular and targeted blog. Even though my blog has dropped to a PR3 during the recent PageRank implosion, his link still appears on over 400 content-rich and relevant pages.
Exposure, Branding, and Awareness
Already since putting up my new theme there have been a number of people inquiring as to who did my design. Dave told me that he wasn't expecting any leads from me, but if he did that it would be a bonus.
Even though the link back to his site is small and integrated well into the design, it is still prominent enough to be noticed. As time goes on, people are more likely to have seen or or be familiar with it. If, in the future, they wish to get a design, they may remember his site or at least remember that there is a link to it from my site.
Heck, the fact that you're reading this very sentence shows part of the exposure Dave has received as a result of designing my skin.
Improved Portfolio
However, the main reason Dave volunteered to have my blog redesigned for free was to improve his portfolio.
I applaud him for putting the extra work on himself; not many people will design for free just to improve their portfolio for future work. But Dave understands that this will pay off in the long run.
He can now boast that his company was the one who designed TylerCruz.com. And obviously now his portfolio will be even better.
So that's the reason behind why Dave did it for free, and how I got my free new theme 🙂
Now, a note to those of you who are already halfway into e-mailing Dave at RealityHosting.ca asking for a free design – while he is still open to providing some free themes, he is only interested in making the offer to big blogs. Right now he will only consider blogs with an RSS of 1,000 or greater. However, you can always buy one from him…
About RealityHosting.ca

RealityHosting.ca is a web design company which in addition to designing custom blog themes, also does general web design as well.
While their main service is focused around web design, they also provide web hosting, blog content writing services, and even SEO optimization.
Web Design
When ordering a design, RealityHosting.ca will both design it for you as well as code it to W3C standards in clean HTML and CSS.
Turnaround time depends on the client, but usually a fully completed design all coded and ready to use takes a few weeks.
You will also receive any source files such as fonts and PSD's that were used in the creation of your design, should you want to make changes in the future.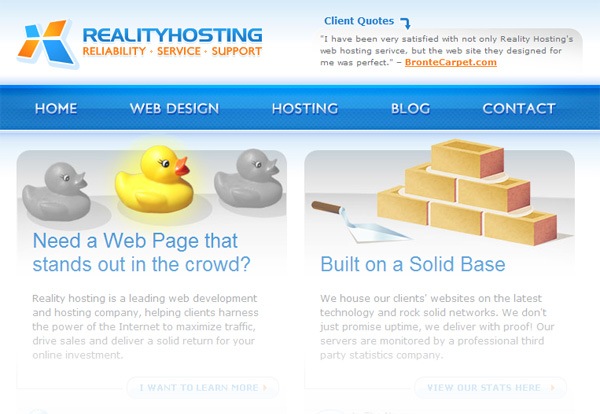 Customer Support
The best part of dealing with RealityHosting for me was their level of support and professionalism. I received nicely written replies usually the same day, sometimes several e-mails bouncing back and forth in an afternoon.
I later conversed with Dave on MSN Messenger, where we continued to talk as it was much faster than sending e-mails back and forth.
Depending on what your needs are, Dave can set you up with an appropriate design package. Since mine was a special case, I was given unlimited revisions until I was happy. You can get a similar package too, but it will cost you a bit more. When asked how much my design package would have cost me, Dave answered "Yours would have been around $2,000 because of the unlimited revisions".
Now, I'm a perfectionist. And when it comes to a web design, I can be extremely picky. I can spot an offset pixel immediately, point out a cross-browser issue, ask for an image to have a 10% less opacity, and request text moved 0.2 pixels to the left (Yes, I actually requested this!).
Most designers would entertain my insane attention to detail for a certain while, but then quickly grow tired of it and say no more revisions, but Dave just kept accepting my epically long lists of requested changes, and kindly told me they would get them done.
We went through over a dozen mockups and revisions (and then fixed probably 50 or so coding bugs afterwards; a couple which are still being worked on as we speak). Here are a couple of the earliest proofs: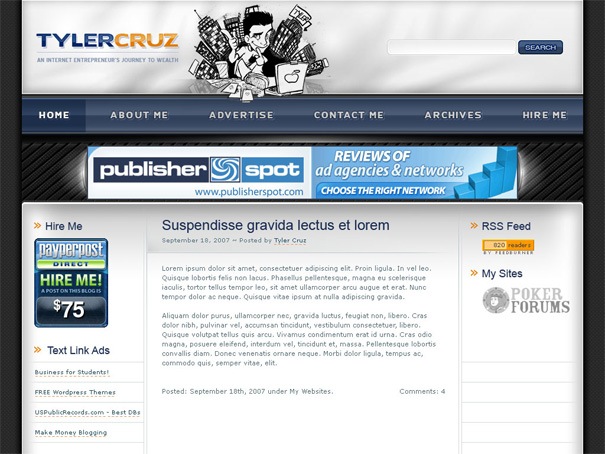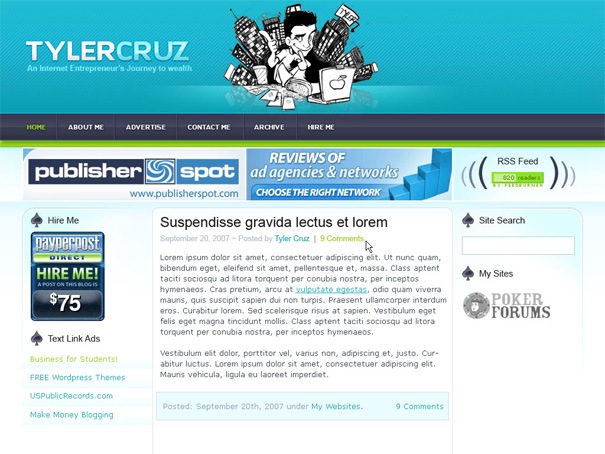 As you can see, they are very different from what you see now, so it should give an idea as to just how hard RealityHosting (and me!) worked on perfecting the design.
Pricing
Here's what Dave had to say when I asked him what he normally charges for design work:
"It all depends on the job really. We try to work within the clients budget. Obviously if someone had a low budget, we wouldn't be able to put in as much effort as we did with your blog… but we usually start prices around $1000."
Again, mine would have cost around $2,000 for the level of design work and support I received.
You won't have a backlink to their site on your design if you purchase a design from them. There is only one on mine because I got my custom theme for free.
Is RealityHosting.ca pricey? Yes, they aren't cheap, but they are quality and you should end up with something that you are both happy and proud with.